Where To Go
So you're on your way to San Pedro de Atacama (or like us already there) and you're wondering what the must see places are, how to get there, and which you should do. We wrote a guide on how to explore Atacama by car in two days which you can read here. In this post we will go into more detail about what each sight is, what you should do there, and why you should see it.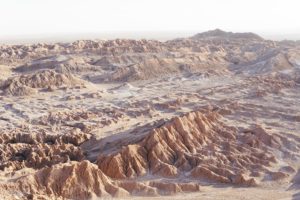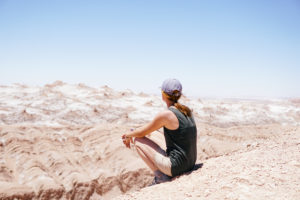 1. Valle de La Luna
This spot is located just a few minutes outside of San Pedro. If you go in the morning the entrance is a little bit cheaper than if you go in the afternoon. There are also a lot fewer people since most of the tours come later in the day. Your entrance will also give you access to the viewpoint above the valley which is a good place to watch the sunset, if a little overcrowded.
The first stop will be some salt caves. It's a path through some unique salt and rock formations. At some points you will go through a few tunnels. You will then drive a little further and visit the Grand Dune. Hiking behind it you can continue along the ridge and see an amazing view of the entire back side of the valley. Its incredibly beautiful and definitely a must see!
There are a few more sights in the valley but if you are pressed for time you can skip them. Further on is another viewpoint similar to the one behind the dune except a little bit different vantage point. You can visit a litle salt mine and at a rock formation known as the Three Mary's. One of them was knocked over unfortunately so its more like 2 1/2 now.
The views here are very unique and one of a kind. Prepare to find yourself in awe at every turn. If you are just passing through, this is probably the top spot to go to.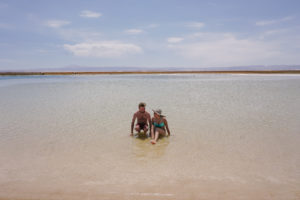 2. Laguna Cejar
South of San Pedro you will also find Laguna Cejar. When you arrive here you will actually encounter three Laguna's . The first one over a bridge straight ahead is only for taking pictures at. Here you will more likely than not be able to see a few Flmingo's. If you walk along the path to your right you will see a few buildings to the left and right. On the right you will find some restrooms, and on the left are a few open air showers and changing rooms.
After changing into swimming clothes you'll continue forward to the next Laguna's. The one on the right is being preserved so no swimming is allowed. They might change this year to year to make sure to double check. On the left you'll find a salty Laguna with little lean to's surrounding it. You can claim one for your belongings and go for a swim! The water is typical lake temperature and shouldn't feel too cold at first. We were surprised to find, however, that after a little while you actually start feeling a bit chilly. Most people stay in for under 30 minutes. This is due to the fact that you don't need to put any energy into staying afloat and consequently your body is affected by the cold quicker.
After relaxing in the sun for a few minutes you'll be glad to wash the salt off of you in the showers. The water is solar heated so you will find it warmest if you come during the middle of the day.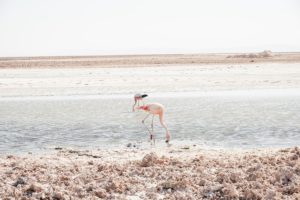 3. Laguna Chaxa
A little further south, past Laguna Cejar, you will find Laguna Chaxa. This is a wide, shallow, and salty lake which is also a Flamingo Preserve. There is a gravel trail that takes you out on the lake. It allows you to get relatively close to the flamingos depending on where the majority of them are feeding that day. If you have never seen flamingos before, you must see this.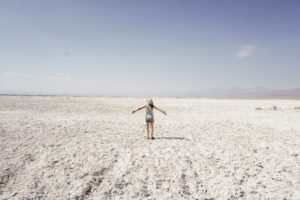 4. Salar de Atacama
If you missed the salt flats in Bolivia you will see a lot of salt in the Atacama Desert! Of course it doesn't compare with Uyuni salt flats but it is still fun to stop and take pictures! The ground is covered with salt especially in the area around Laguna Chaxa.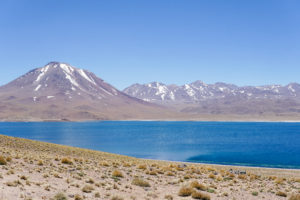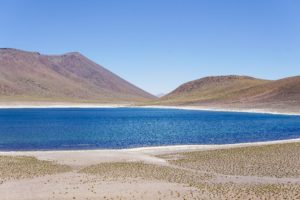 5. Laguna Miscanti and Miniques
Driving further south you will reach Laguna's Miscanti and Miniques. They are located in the same park. Once you turn off the road to you will drive up a hill. Upon cresting it you will see appearing before you the Laguna Miscanti. Stretching before you this large lake is a uniquely blue color, surrounded by bare mountains. There is some parking down a little further, and you can walk along a designated path. Often in this area you can see a few Vicunas.
Driving a little further you will arrive at a parking lot with a view to the next Laguna called Miniques.  This one is considerably smaller than Miscanti but no less beautiful. One interesting thing we noticed was a trail that goes off into the valley and connects to the road on the other side. I would imagine this would be a very beautiful trek. When we were there, however, it was closed.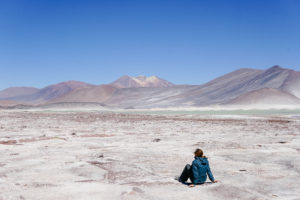 6. Piedras Rojas
After leaving the park you will continue driving south for approximately one hour. When we were here there was a good deal of paving being done on the road. When you arrive at Piedras Rojas you will be stunned at the beauty. Having a 4×4 will be helpful here since you will be able to drive relatively close to the lake shore. It has a large quantity of salt and has a soft minty look. As a result of the wind, the hills surrounding the lake are softened in color by the salt and overall the area has a very surreal feeling.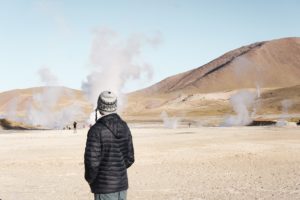 7. El Tatio Geysers
These Geysers are located to the north of San Pedro de Atacama. Getting there entails driving about 1 1/2 hours to the north. The road begins fine and slowly devolves into a bumpy stretch of misery. Upon arriving you can either visit a field off to the right or keep going straight to a further parking area. Both have about the same number of geysers. It's a lot colder here than in Atacama so you'll want to bring layers.
To describe it more concretely, this is a large field of geysers, having around 80 active geysers. The geyser effect is created when the warmed water hits the cold stone and air as it comes out of the ground. For the most part what you end up seeing is large columns of steam with bubbling water underneath. Not the Old Faithful, but interesting in its own way. The highest spray of water we saw was about 6-8ft tall. There used to be a hot spring up here as well, but when we visited it had been closed down.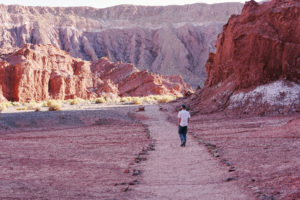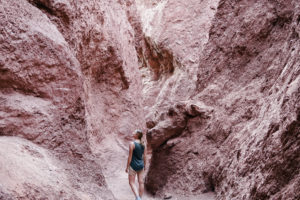 8. Valley Arco Iris
We had not heard too much about this place before hand, and only came here because of an offhanded comment we heard from a fellow traveler. The few pictures we saw of it did not nearly do it justice. This is definitely a place you'll want to come with a 4×4 although you could get away without one.
The name Arco Iris means Rainbow in Spanish and it is aptly named. The rocks and the vegetation all interplay with each other to create a valley of many colors. We stopped multiple times in order hike along different trails and take in the views.
Bonus: Puritama Hot Springs
This one is a bonus because its actually not a must see in Atacama. Or rather we found it to be a bit disappointing. You will pay about 15,000 Chilean Pesos per person to enter which for two people is roughly $50. The hot springs themselves are pretty enough that if a bit cheaper would perhaps be worth it. As it was, the water was only slightly warmer than pool temperature. It all felt a little bit like a rip-off, and if you are pressed for money or time, you can definitely skip this place.