The Dream
As a young teenager I would scroll my way through Pinterest and pin all the beautiful places I planned to eventually visit and see with my own eyes. One of those pins was the Adventure Skylodge Suites.
To describe it, it's a transparent capsule that hangs from a cliff in the Sacred Valley of Cuzco, Peru. Each suite (there's 3 of them) can hold up to 8 people, comes with four comfy beds, a dinning area and a private bathroom. The capsule itself is constructed out of aerospace aluminum and weather resistant poly-carbonate. From within the Skylodge capsule you are able to get a 300 degree view of the Sacred Valley.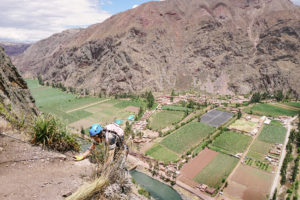 Some Dreams do Come True
Our day started out by getting picked up at our hostel around 8 am and then driving over to Sacred Valley. This was approximately a 2 hr drive from Cusco. You could also go from Ollantaytambo which is nearby. Here we started our adventure up the cliff.
We both really enjoy rock climbing so the prospect of climbing up a tall cliff did not scare us. This time we would be climbing not just on the rock but on metal stairs embedded into the rock. We put on harnesses similar to those used for rock-climbing. This way of climbing is called Via Ferrata and is popular in the Alps. The harness has carabiners which clip into a cable running along the route. If you were to fall it would be limited due to the safety cable and harness.
We both got the hang of clipping in and climbing fairly quickly. This was a very new sort of experience for us. The way you climb is different from rock-climbing. It's sort of like climbing a ladder that doesn't end. As I looked down to see how far we have gone my heart raced. We were very high and the views were breathtaking.
The group consisted of around 10 people. We split into two groups. Five people chose to climb up and the others hiked. There were people of varied ages. A father and his young son followed behind a couple of teenagers who were having a blast. It is definitely an activity that can be done by anyone.
The Owners Vision
The vision of the owner was just that. He wanted people of any age and without any experience to have a mountain adventure. A former rock-climber he loved spending nights on a cliff face, looking at the stars, while tackling a route.
When we climbed 3/4 of the way up we sat down to indulge into our sack lunches which included a sandwich, fruit, nuts and a chocolate bar. After about an hour and half we made it to the top! We were able to see the capsules from the outside and admire them for what they were. The view of the valley below is breathtaking. You can see the river below and the farms spreading out.
If you decide to stay at the Skylodge you will be able to climb up Via Ferrata and have dinner on the cliff face. The rooms have a bathroom but no showers so be prepared. The next morning after a delicious breakfast with a view you would zip-line back down.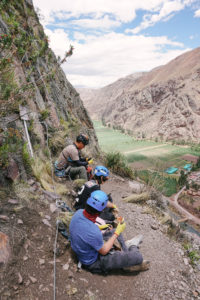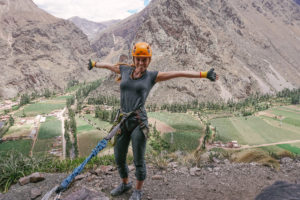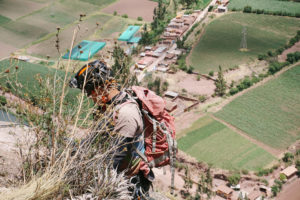 Ziplining
The second half of our adventure was now to get down. We went on 6 different zip-lines down the cliffs. It was a thrilling experience to soar with speed across to the other side. The zip-lines were in great condition using extremely strong cables with beefy hardware.
Once we were at the bottom it was almost time to go. We washed up at the portable bathroom, gave back the gear and climbed back into the van to get back to Cusco.
Our Takeaway
Would I recommend this adventurous experience? Absolutely! To be honest, we have never heard of this enjoyable activity and it was only when looking up information about the Skylodge that we discovered it. It was so much fun that we look forward to trying it again at the Alps at some point.
The staff was friendly, well equipped and very professional. Their gear was up to date and we felt completely safe. The guides we went with spoke great English and made the whole experience enjoyable and fun!
You might be wondering at this point why we didn't stay inside one of the Skylodge suites. Staying a night here is not prohibitively expensive if done with a group. Our big stumbling point was that all the rooms are booked months in advance! If staying a night at this beautiful place is on your bucketlist make sure to plan ahead. Going here would be a perfect combination with a trip to Machu Picchu since they are in the same valley.