Seeing It All
Not everyone wants to explore the entirety of the Atacama Desert. If that's you, you can just skip this post. If, however, you want to see it all, and do as much as you can, read on!
The best way to explore all of the Atacama Desert without it completely destroying your budget is to actually splurge a little and rent a car. You can easily find someone to split the costs with you and in just two days to can see all the highlights of the Atacama Desert by car.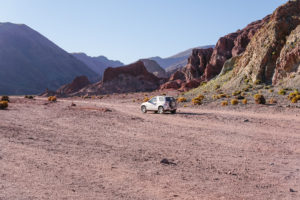 Costs
All costs are in the Chilean Peso. Renting a 5 person truck for 2 days will cost you about 65,000 a day and approximately another 60,000 in gas. That's a total cost of 190,000 for two days. Split 4 ways this is 47,500 per person or if you have 5 people only 38,000 a person. You'll be able to see all the major sights in the desert, and have random stops whenever you want to. For extra savings, if you all have tents, you can pitch them in the desert outside of town and save even more.
Where To Go
We'll do a separate posts describing in a little bit more detail the various sights. For orientation purposes San Pedro de Atacama is located pretty centrally in the desert. Most of the places you'll want to visit, however, are actually located to the south. In the north are the geysers and one of the main valleys. To the south are most of the lagunas and Valle de la Luna. We'll do a breakdown of a full itinerary assuming you pick up your vehicle in the morning around 9 am.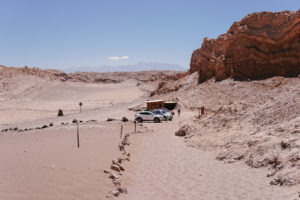 Atacama Desert by Car: Day 1
Located about a 15 minutes drive outside of San Pedro is Valle de la Luna. Explore the salt cave, and afterwards head to the Great Dune.  Spend some time exploring the various trails. After this you have one more viewpoint a little further down the road that offers a stunning view. Once you finish, it's now around 12 o'clock.
From here drive about 45 minutes over to Laguna Cejar. This is one of the lakes you can float in. Coming midday allows you to have the warmest water without many tourists. After floating for a bit you'll get cold and want to get out. Showers are provided although there's no privacy. You'll spend about an hour here total after taking pictures and swimming.
Your next stop is the Flamingo Reserve, Laguna Chaxa approximately a 45 minute drive counting a 15 minute stop for pictures along the way. Here you can get up close and personal with flamingos eating in the shallow salty water. At the flamingo reserve expect to stay for at least 30 minutes.
It's now about 3:30pm if you stopped for lunch somewhere. About 45 minutes down the road are two Lagunas, Miniques and Miscanti. They are located in the same park which you can drive into and walk along the trails. Exploring around the Laguna's will take another 45 minutes approximately.
Your last stop of the day will be Piedras Rojas about 1 hour drive away. The view here is amazing and the atmosphere of this place is unique. You can drive your vehicle close to the lake and explore around it.  Easily one hour can be spent here.
Driving home will take about 3 hours. As soon as you get to town go to sleep right away because the next day entails a very early rise.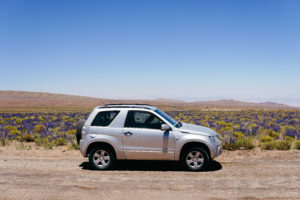 Extra Costs for Parks
Some of these costs go up in the evening such as Valle de la Luna and Laguna Cejar. These costs are for one person.
Valle de la Luna: 2,500
Laguna Cejar: 10,000
Flamingo Reserve: 2,500
Laguna Miscanti and Miniques: 2,500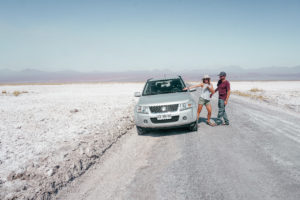 Atacama Desert by Car: Day 2
You'll want to leave San Pedro de Atacama no later than 1 1/2 hours before sunrise. That's right, depending on what time of the year you are visiting this could be as early as 4am. It's all worth it if you have never seen a huge field of geysers before. With 80 active geysers you will be treated to a unique sight at the El Tatio Geyser field. There are two main bunches of geysers, you can either turn straight away or go to the further one. The geysers are best viewed in the morning light during which time they are at their strongest.
Being a bit tuckered out take a break, you've deserved it. Head back to the city for some grub and maybe take a quick nap. For the best value grab some empanadas and because its hot you'll want some ice cream too. If you are really epic you can rent a bike and explore Quebrada del Diablo at this time.
Around 4pm head on over to Valle de Arco Iris. You'll get there in the evening light and spend a few hours hiking around. Here there are really beautiful rock formations and a lot of trails.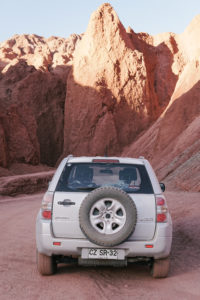 Extra Costs for Parks
Geyser Field: 10,000
Quebrada del Diablo: 2,000
Bonus morning
You have the car till 9! Take it off-roading, explore the little village behind Valle de la Luna or just sleep in.
You may be wondering if you missed anything worthwhile at this point. Although there a few more sights around such as Salar de Tara as well as a few more lagunas there are not too many other places that are worth visiting. You could of course spend a long time here discovering unique locations that are not written about, or known by others. With this guide however you would see all the main sights that are high quality and worth visiting in just a few days.