A Visit to Ollantaytambo
Ollantaytambo is a small village in the Sacred Valley. It's located next to Urubamba River and is surrounded by tall mountains making it a beautiful place to visit. It is also known for massive Inca fortresses, terraces and store houses which are situated on the cliffs. The village's old town is made of cobble stoned streets and old buildings that take you back in time. The main source of income for the people of the valley is farming.  Driving through the valley you might notice terraced fields, granaries and the Urubamba River that meanders down the green valley.
This is also the place where you can take off on the train to Machu Picchu. It is also the starting point for the Inca trail. If you have a day or two I would recommend seeing the ruins and doing a farm tour & a Pachamanca Lunch with El Albergue a local hotel & restaurant. If you want to know more about what a Pachamanca Lunch is please read this article.
We stayed at a great hotel called La Casa De Abuelo. The name means "Grandfather's House" and it felt extremely cozy. The rooms were very clean and we were greeted with a beautiful swan put together with towels. We met the owner who was a friendly single mother. She had moved from Arequipa to help some friends. Upon becoming pregnant she decided to stay in town due to the better quality of life found here. Breakfast was included and we had fruit, bread with jam and butter and a choice of scrambled eggs or a fried egg. There was coffee and tea available at any time. It's located not too far from the main square in a quiet corner away fro all the noise. It was close to Hearts Coffee Shop and Sunshine Cafe where we enjoyed our lunch and coffee time!
On the corner you will also find a cafe named Cafe de Abuelo. The owner of Casa de Abuelo bought it a few years ago. Earlier it had been a bar that played loud music all hours of the night. When it was converted into a cafe the environment of the neighborhood changed dramatically.
Day trips & things to see in Ollantaytambo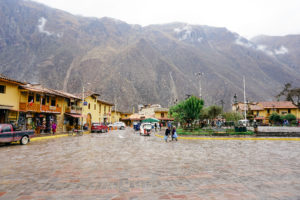 Ruins in Ollantaytambo
The town's primary attraction is the fortress that was built upon the hills. Many terraces were built for farming and an irrigation system. The terraces make up what is called the Fortress or the Temple Hill. The town was home to Inca nobility. There you can find "The Temple of the Sun" which served as a calendar for the Incas.
To enter the Temple Hill you will need to buy the Tourist Ticket that will give you access to most of the ruins in the area of Cusco  & The Sacred Valley.
It includes entrance to 16 attractions: Saqsayhuman, Qenko, Pucapucara, Tambomachay, Museo de Arte Popular, Museo Histórico Regional, Museo Municipal de Arte Contemporáneo, Museo de Sitio de Korikancha, Centro Qosqo de Arte Nativo, Monumento de Pachacutec, Tipon, Pikillacta, Pisac, Ollantaytambo, Chinchero & Moray. The most popular being as Saqsayhuman, Pisaq and Ollantaytambo.
It is valid for 10 days. Price is S/. 130 (US $47) There are also partial tickets that you can purchase for S/70, valid for one day. For more information please visit this site.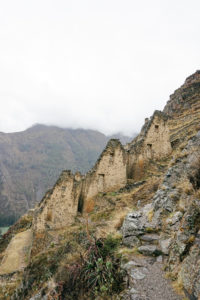 FREE Pinkuylluna Mountain Granaries-
If you don't want to spend the money to see the Fortress, there are some free ruins that you can still visit in the area. They are just a few minutes walk from the main plaza. You will have to do some up-hill hiking to reach them but the views are totally worth it! From there you can see the entire view of the town and the Fortress terraces.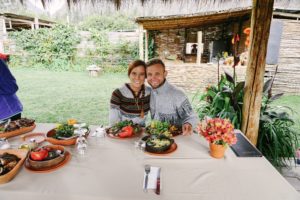 Part of our travels is to discover the culture and traditions of the country we are visiting. During our stay in Ollantaytambo we experienced a traditional Pachamanca Lunch
🥗 at El Albergue.
El Albergue is located conveniently right by the train station in Ollantaytambo. Since 2010 they started a small farming project of their own which produces many vegetables, corn, quinoa and potatoes. They also have some animals that they keep for food. The owners work the farm is without the use of chemicals or fertilizers. They use traditional techniques such as plowing with oxen, rotating crops and using biological controllers to regulate pests and disease. Their restaurant is sustained by their growing farm.
Pachamanca comes from the Quechua language pacha "earth", manka "pot". It's a traditional Peruvian meal that is prepared with the aid of hot stones. The earth oven is prepared by heating stones. If you want to hear about our experience and what it's like click here.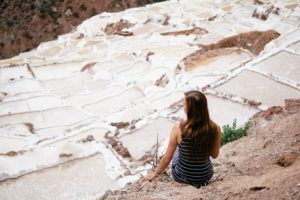 Maras Salt Ponds
Located just about 40 kilometers north of Cusco is a town called Maras which is well known for its salt evaporation ponds. The salt pools have been around from before the time of the Incas. Each family in the surrounding community has a pool from which they harvest the salt. Each pool is filled with the slat water which then evaporates and the salt is left. Onsite you can also buy salt that has been harvested and put into small packages that tourists can buy and take home.
Moray Ruins
It's an archeological site that contains unusual Inca ruins consisting of terraced circular depressions. It also has a irrigation system.  It is possible that this place was used by the Incas to study the effects of different climate conditions on crops.
Urubamba
Urubamba is a town in the Sacred Valley region which sits on the Urubamba river and is a great place to stop for a day or two if you are interested in doing any adventure activities or site seeing like the Maras salt pool and Moray. Some of the adventure activities that you can do here include rafting, ziplinning, climbing, horseback riding, bike tours, lessons and workshops, and more!
Also, if you like beer, you can visit the Cerveceria del Valle Sagrado for some craft brews.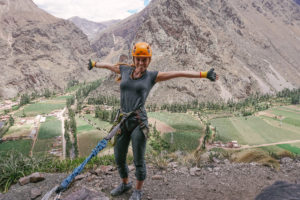 For some adventure visit Natura Vive, Skylodge Adventure Suites
To describe it, it's a transparent capsule that hangs from a cliff in the Sacred Valley of Cuzco, Peru. Each suite (there's 3 of them) can hold up to 8 people, comes with four comfy beds, a dinning area and a private bathroom. The capsule itself is constructed out of aerospace aluminum and weather resistant poly-carbonate. From within the Skylodge capsule you are able to get a 300 degree view of the Sacred Valley.
If you don't have the time or money to stay at the Skylodge Suites, but you would like to just see them you can do a ziplinning & climb up Via Ferrata tour. It's great for groups, couples and families!
To read our experience with Skylodge Adventure Suites Ziplinning and Climbing click right here.
A ride on a train to Machu Picchu
The cheapest place to depart from is Ollaytaytambo and this also gives you time to explore the town and its surrounding in the Sacred Valley. There are two companies that you can choose from Peru Rail and Inca Rail. The trains will arrive at Machu Picchu Pueblo (also known as Aguas Calientes). From there you can take the shuttle up to Machu Picchu itself. For more information about our experience and Machu Picchu please click here.
Places to eat at
Hearts Coffee Shop- This is a great place to get some soup, sandwich or even breakfast. They have lots of room and reasonable prices.
Sunshine Cafe-This is a new little cafe that opened up recently. The owner bakes fresh pastries every day, makes delicious coffee and great appetizers.
La Esquina- We found this place on our last day in town. It was so delicious! The owner is very friendly and cooks
El Albergue Restaurant- If you want something more fancier this is the place to go. They have their own garden from which they cook delicious food!
Mercado San Pedro- This is the locals market where you can buy fresh fruit and vegetables. We also fell in love with the fresh fruit smoothies they make on the top floor of the market building.
The town has many cafes and restaurants scattered around the main plaza and further out on the streets. The best deal is to get the "Menu del Dia" because that will include a soup or salad, a main dish, a dessert and usually some kind of fruit juice or tea. There are also many places that make pizzas.