Arriving in Atacama
We took a night bus from the city of Arica over to San Pedro de Atacama. It was about ten hours long and we knew to get the most comfortable bus available. Thankfully we were able to get some sleep. We arrived early in the morning and walk a few blocks to the main square. Here we were able to get some free WiFi and while Katie waited with the bags I investigated all our options for lodging
San Pedro de Atacama is much more expensive than other places in Chile and definitely more expensive than what we are used to in Peru. We decided to camp here in order to save money. I walked about 1 1/2 hours to almost all the places which had camping available in order to find the best one. We wanted a place that would be a good base from which to explore the desert.
After looking around for a bit we decided to go with Casa Campestre. It was a little more expensive than some of the other campsites. In contrast with them, however, it had great bathroom and showers, along with a wonderful kitchen, WiFi, and really great shade.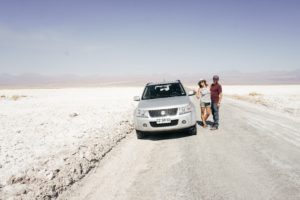 Renting a Car
After doing some research online and seeing the various prices in town we decided that the best way to see the Atacama Desert was to rent a 4×4 and do it ourselves. While on the bus from Arica we had met a couple of Brits who loved the idea. We were able to split the rental cost with them. This made the cost of renting a lot cheaper!
The only downside to renting in Atacama was that the next available car was a few days away. We contemplated taking a bus to Calama and renting from there. When asking a few people about it and researching online we found that the prices in Calama were a little cheaper only if you didn't get a 4×4. We wanted a 4×4. Deciding to wait, we relaxed and enjoyed the warm desert days.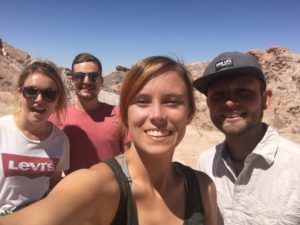 Our First Day Atacama Exploring
On the first day of our exploration we tried going to Laguna Baltinache. Unfortunately about 3 different places in Atacama are named Laguna Baltinache. We found that the one with no roads leading to it is not the one. Nearby was Laguna Cejar which you can also float in. It was a little more expensive than Baltinache, but we still found it a blast. It contains a fair amount of salt in it. As a result there is absolutely no way you can sink!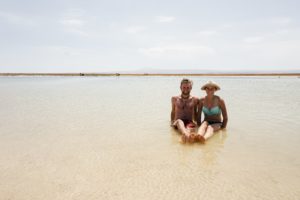 After showering off from the salt we kept driving to the Flamingo reserve. When I was a kid looking through National Geographic I remember seeing pictures of Flamingo's. To me these otherworldly creatures were incredibly fascinating. In my mind, however, it also seemed incredibly unlikely that I would ever see one in real life. As a result, it was really mind-blowing when I found myself standing just a few feet away from a whole bunch of them!
We ended the day by driving over to the Valle de la Luna (or Valley of the Moon) viewpoint to watch the sunrise. Valle de la Luna is named so because of the many interesting earth formations found there. From a distance it can be said to look like the the surface of the moon. We personally found it more evoking of Mars and the movie The Martian!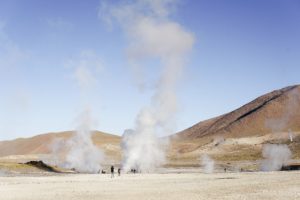 Second Day in Atacama
The next morning we awoke extremely early in order to capture El Tatio Geysers in the morning light. We drove for about 1 1/2 hours and arrived just in time. There are two main fields of geysers and we enjoyed walking through them. The sun came up over the horizon not long after we arrived and the pictures were amazing. Unfortunately, the hot springs on site were closed so we didn't get a chance to soak in them.
After the geysers we returned back south. We stopped in San Pedro for delicious empanadas.
Our destination was Piedras Rojas. Along the way we visited two Laguna's; Miscanti and Miniques. They were located over the crest of a hill in the same park. The color of the water was very beautiful due to the salt and bacteria inside. The surrounding scenery was majestic and we really felt that frustration you get when you cannot capture the place into pictures. The vastness and the color can only partially conveyed, while the ambiance of the moment not at all.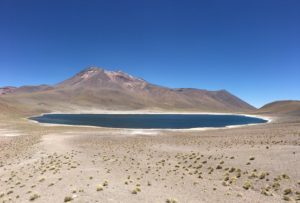 An hour down the road we arrived at Piedras Rojas. I don't even have the words to begin describing this place. We felt like we had been transported to a different planet manufactured for a different sort of species. I truly did not know that such scenery existed on our planet or any planet. After spending some time here taking in the sight we returned home.
Our Third Day Exploring Atacama
The next morning we explored the inside of Valle de la Luna. This Valley was very unique. Constantly in Atacama we marveled at how many firsts we have seen. Inside the Valley we explored a cave made out of salt. Afterwards we visited the Great Dune. The trail leading to it continues along a ridge and when we went down it we arrived at a really amazing sight. From a high vantage point we were able to see the back side of Valle de la Luna, with numerous rock formations contrasted by the ever present salt. It was amazing. A little further down the road another viewpoint trail offers the same view from a little different angle.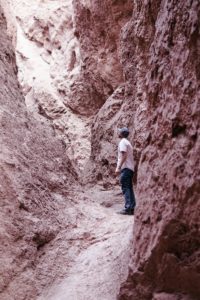 We took a short midday break and finished our day out at Valle de Arco Iris. Located about an hour away from San Pedro this was a place we were extremely glad we did not miss. We arrived around sunset time and had a wonderful time exploring. With our 4×4 we were able to make the most of the off-road tracks! The valley has very interesting rock formations and is extremely colorful.
In the evening we took a stargazing tour. Atacama is a great place to do this. The air is very dry and in addition to the high elevation gives a very clear night sky. Our tour picked us up from the city at midnight and we drove out to the desert away from any light pollution. They had 10 telescopes on site and the tour included an explanation of the night sky, a chance to look at various sky phenomena's (I really enjoyed the nebulas) and at the end your choice of hot chocolate, tea, or coffee.
The Last Morning
We didn't need to return our car until midday. Taking advantage of the time we had, we decided to visit the hot springs nearby. The water comes from a hot stream of water, and pools are made in various places that you can swim in. We enjoyed the first pool which was the warmest. In one spot you can duck behind a small waterfall which is always fun!
Having our own vehicle really made us feel like we left no stone unturned in the Atacama Desert! There were a few spots we didn't quite make it to but overall we got to see almost everything. One of the things that we found a little difficult was not knowing all the distances exactly, trying to piece together the best itinerary, and seeing all the places at just the right times. We also looked at the different options for doing the Atacama Desert wether by bike, by car, or with tours. In order to help other travelers, we want to put together a comprehensive guide to visiting the Atacama Desert with prices, times, and descriptions. Stay tuned!