Arriving In The White City
After visiting Machu Picchu we were ready for some time off. We decided to visit a missionary family living and working in Arequipa. Bob and Noel welcomed us to their home. We visited their church and participated in a few of the outreaches they help out with. You can read more about them here.
From Cusco to Arequipa we took a night bus. Although we try to save money when we can, we have found that night buses can be quite uncomfortable. We decided to splurge a little and get a bus capable of full 180 degree beds. This was incredibly comfortable, they had all kinds of movies to watch, a snack and warm blankets with pillows.
The weather in Arequipa was much different than what we had previously experienced in Peru. Although still at a high elevation the air was much drier. The surroundings were much less green. We also struggled a little bit with the dry air, our skin really dried out and my nose bled a little.  It is called the white city originally because it was founded by white Spaniards, and later because of all the white volcanic stones it was rebuilt with after a devastating earthquake.
Eating In Arequipa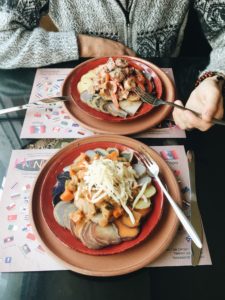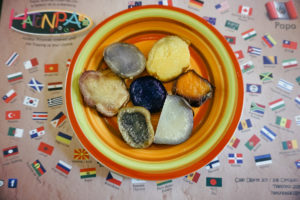 Hatunpa-Authentic Peruvian Food (potatoes)
They are famous for their potatoes. South America has 3,000 different types of potatoes and in the restaurant we were able to try 7 different types with a topping of our choice. Alex tried alpaca meat here for the first time and found it delicious. They also have a vegetarian choice!
Crepisimo-Crepes, Salads & Sandwiches
If you want some really delicious crepes with any filling that you can think of, this is the place to go! It's located close by the Santa Catalina Monastery in a colonial building. We went there for lunch and had their menu of the day which included a salad, lemonade, a vegetarian crepe and desert. We also tried a smoked salmon dill sand-which. It was delicious!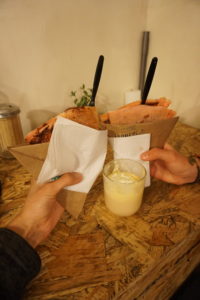 La Petite Francaise- Coffee & Crepes
After dancing through Santa Catalina's dreamy streets and houses we walked into this French inspired crepe cafe to indulge into a Nutella strawberry and banana filled crepe. It was Halloween and the cafe had a Harry Potter theme to it. We are big time fans! We ate our crepe and drank butterbeer.
Chelawasi- Beer, Burgers, Onion Rings, Fries & Wings
This place is run by a gringo from our home city of Portland! This place has really good microbrewer beers on tap. They have delicious burgers that come with fresh cut fries. There's also a vegetarian option. You can also order onion rings and chicken wings. Every meal is served with their awesome sauces!

El Turko- Mediterranean Food
We went here twice for some falafel wraps. They also have a really delicious vegetarian wrap with falafels.
Huayruro Peruvian Coffee Shop- Baked Desert, Sandwiches & Coffee
Great coffee shop with good quality coffee and snack food. We spent an afternoon here working on our laptops.
Chaqchao Organic Chocolates- Chocolate EVERYTHING!
This is a perfect spot to watch the sunset or people passing by down below while you sip on some hot chocolate. They have lots of room inside or outside. They also sell chocolate and other artisinal goods.
Munanqui- Tea Shop
This is a tea cafe/shop and they have a variety of flavors to choose from. They use local herbs, flowers and fruit to create really good tea. They also have some breakfast foods and sandwiches that you can choose from.
Chifa- Chinese Food
We love Asian food, so after a two months of travel in South America we started missing it pretty bad. There are many Chifa places that you will see, and most should be good. The one we went to was on street called "Mercaderes" it's the street lined with a bunch of stores and cafes.
El Buda Profano- Vegan Sushi
I know it might sound a little weird but there is vegan sushi and its good! The menu is 100% vegan and my meat loving husband enjoyed it with me. The prices are reasonable and you can get a lot for a good price. We got the sushi platter with different types of sushi made from veggies and fruits!  Yum!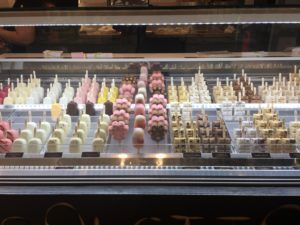 Palettas- Ice Cream
We found this ice cream shop in the mall plaza in the northwest side of town (Av. Ejercito). They make their own ice cream bars. You can choose from a fruity bar to a very creamy bar. For an extra charge they dip it into chocolate and almonds. It's my FAVORITE ice cream so far!
Things to do in Arequipa
Barrio San Lazaro-Beautiful Neighborhood
It's basically a small little neighborhood made from volcanic white stone. The houses have wooded doors and flower pots hanging off the walls. It's very picturesque.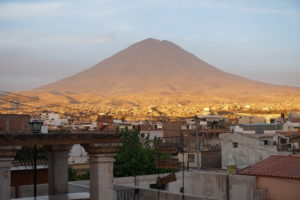 The Best Viewpoint-Yanahuara
Not far from the city center is a really great viewpoint. It's called Yanahuara. We walked out there grabbing snacks from little food carts as we went. After walking up a hill we arrived at a pretty little park. From here you can see a great view of the Misti volcano right outside the city.
 
Alpaca Museum
On the way to the viewpoint you will walk nearby an Alpaca museum. This is definitely a great place to visit. As we walked in one of the staff gave us a tour of museum. There are also a lot of plaques with writing in English to help explain the exhibits. Inside there are a few Alpacas that you can pet.
Afterwards we enjoyed walking around the overpriced store pretending we are rich. The clothes for sale there are actually really high quality and if we were going home right after this visit we might actually have bought some of the really nice coats for sale.
Plaza De Armas Arequipa
A beautiful fountain with a cathedral on one side and many shops lining the other sides, it's a perfect place to rest on one of the many benches. Across the plaza you will find a supermarket called  "El Super" where you can stock up on water or snacks. Also, there are many great ice cream shops around the plaza.
Monasterio de Santa Catalina
One of the most beautiful places in Arequipa to visit would be the monastery. We went here in the evening (4-6PM) and loved the way the setting sun inter-played with the beautifully painted monastery. When we arrived we were greeted with an English speaking tour guide. It was great to hear about the history of the place.
After about an hour tour we were able to continue exploring on our own. There are hidden passageways, rarely explored rooms, and additional information on plaques for those of us who are nerds. We definitely recommend seeing this monastery even though it does cost about $15.50 per person with the tour.
A trip to Colca Canyon
2-3 days Colca Canyon is one of the worlds deepest canyons. You can also spot condors as they soar early in the morning. This is a great place to visit for a couple of days. You can go on an organized tour from Arequipa where you would be taken to Colca Canyon on a bus, hike down the canyon and then back up. Along the way you will also stop to see the condors.
Next to Colca Canyon there's a little town called Chivay where they have Hot Springs in which you can swim. We visited Colca Canyon on our own without doing a tour. It gave us more time in the canyon and it was a lot more relaxed. Read about it here. To enter Colca Canyon or to see the Condors you will need to pay for a park pass (5 days, 70 soles)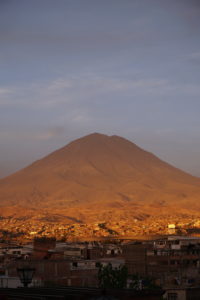 Climb a Volcano
Did you know you can actually climb the volcano you see from Arequipa? The volcano you see is called El Misti (5822m) and there are guides that can take you up there. You can also do it solo but it is advised not to. Another great peak that you can climb is called Chachani (6075m) There are many tour offices right next to the plaza that offer guided tours. Some of the tour companies that are recommended by Lonely Planet are Carlos Zarate Adventures, Colca Trek, and Naturaleza Active.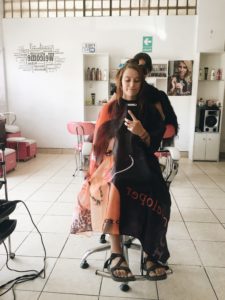 Abigail Spa-Get Pampered
After climbing some volcanoes, hiking in Cola Canyon or if you are coming from Machu Picchu, you definitely will want some pampering. This is a great salon to get your nails done at, waxing, massages, or hair cuts. They have low prices and great service. I was in need of a hair cut and waxing. I was skeptical about going to someone I didn't know and especially in a foreign country, but the ladies who work there did an awesome job. They didn't speak great English but we were able to communicate through pictures, sign language and my broken Spanish.
Arequipa is a beautiful city and with a lot of things to do and eat! We hope this has been helpful and if you have any questions or comments please let us know below 🙂
Have fun,
Alex and Katie