Getting to Cusco
We decided to fly to Cusco. The bus from Lima to Cusco seemed a little sketch and flying was much quicker. Instead of sitting on a bus for 14 hours we were able to fly to Cusco in 1 1/2 hours. We did a lot of research on which company to fly with  before finally settling on Avianca Airlines. Although they were a little more expensive they were also more reliable. By reliable we mean that instead of the flight being canceled at the last minute it was only delayed by an hour. The price to fly was only a little bit more expensive so we felt that for this time it was OK to splurge a little.
The Gateway to Machu Picchu
Cusco is considered the gateway to Machu Picchu. It's the largest city near Machu Picchu and the point from which you begin heading there. There are a few ways to do so, some more budget friendly than others. Since there are many ways we'll actually go into it in a later post.
Another reason it is the gateway, is that this was the original capital city of the Incas. This would also be the city where they would begin traveling to Machu Picchu. As such there are a significant amount of history in the area. There are ruins you can visit, along with museums, various treks in the area, and other activities to get acquainted with the Inca and the current Peruvian culture and history.
El Balcon: A Home away from Home
While in Cusco we stayed at one of our favorite places so far. It's just a short walk from the main plaza. A hotel called El Balcon, it had everything we could ever want and need. We walked in and were greeted with a wonderful herbal aroma. The hotel has a garden in the center and all the plants combine to give you some much appreciated fresh air in the center of the city.
One of the most frustrating things about South America is the WiFi. Once we stayed at a place that allowed a maximum amount of 10 devices on before it clonked out for everyone else. We were delighted to find the WiFi here to be stellar. It even popped up from a block away.
Our room was amazing, with candles, fresh water and fruit, and a great shower. It's amazing how after traveling for a little while, such little things make such a difference. The room came with a little portable heater, the first one we've seen in South America. To my amazement they even had rubber insulation around the door. We were really impressed with their attention to the little details.
We were also treated to complimentary tea during the day at the onsite cafe/restaurant. The fireplace was on and sipping on some hot tea while it was raining was perfect.
In the morning, we had a delicious breakfast of yogurt, granola, fruit and fresh juice. We had a choice between pancakes and an omelette. We went ahead with the omelette and fresh toast. YUM!   Afterwards, we were able to make use of the space to work. They had beautiful wooden tables and a large selection of tea bags and loose leaf teas.
The staff were all so kind, helpful and spoke English! We definitely recommend a stay at El Balcon if you are traveling to Cusco.
Exploring Cusco & Its surroundings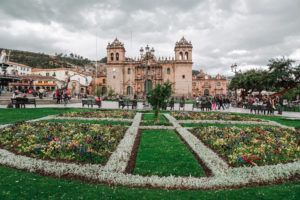 Plaza de Armas, Cathedral Basilica of Our Lady of the Assumption & Cathedral of Santa Domingo
We really enjoyed exploring the city of Cusco. From our hotel we walked a few short blocks to the main plaza. Standing in the center we almost felt like we were in Europe. The architecture was very grand with cute shops lining the plaza and not one but two large cathedrals!
Choco Museo
We stopped into a chocolate museum where we were given a tour of the chocolate making process. What we really came for were the samples of course. This place had a variety of samples and even some chocolate liquers for us to try. It also had a cute cafe where you can order a drink and look out the balcony at the little plaza below.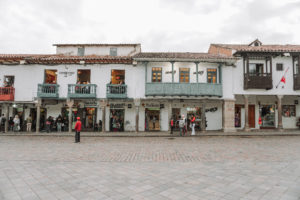 Shops in the Main Plaza
It was also delightful to stop into all the little shops selling alpaca wares. We bought a sweater for me and a few knickknacks for souvenirs. The feel of alpaca wool is quite amazing. Its very soft and when you put it on you feel like someone just hugged you.
Ruins of Saksaywaman
We didn't get a chance to explore these ruins,but heard many great things from people who did. First, you will need to purchase a Turistic Ticket that will give you access to most of the ruins in the area of Cusco  & The Sacred Valley.
It includes entrance to 16 attractions: Saqsayhuman, Qenko, Pucapucara, Tambomachay, Museo de Arte Popular, Museo Histórico Regional, Museo Municipal de Arte Contemporáneo, Museo de Sitio de Korikancha, Centro Qosqo de Arte Nativo, Monumento de Pachacutec, Tipon, Pikillacta, Pisac, Ollantaytambo, Chinchero & Moray. The most popular being as Saqsayhuman, Pisaq and Ollantaytambo.
It is valid for 10 days. Price is S/. 130 (US $47) There are also partial tickets that you can purchase for S/70, valid for one day. For more information please visit this site.
San Pedro: Cusco Market
If you like markets this is a great market to check out for fresh fruits and vegetables. It's also just interesting to walk around to see the variety of products that the local people are selling.
Museums to see
We didn't get a chance to explore the museums in Cusco, but here are some museums that you can possibly go explore: Planatarium Cusco, Choco Museum, Qorikancha, Pre- Columbian Art Museum, Museo Historico Regional, Museo Inca, Monumento Pachacuteq and a lot more.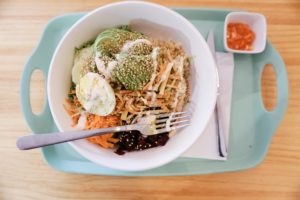 Places to eat at in Cusco
According to Trip Advisor, Lonely Planet & us these are some of the best places to eat at in Cusco!
La Bodega 138-Pizza
Jardin Secreto- Peruvian
Marcelo Batata-Peruvian
Pachapapa-specializing in high-quality, traditional Andean cuisine.
Cicciolina-all types of cuisine (Peruvian, Italian, Mediterranean and so on)
Las Frescas Salad Bar- you can get a delicious soup and make your own salad. We loved this place! So fresh and they make their own fruit drinks!
Per.UK
Organic
Morena Peruvian Kitchen
Le Buffet Frances
Green Point My Vegan Restaurant
Cafe Cultural Ritual
Museo Del Cafe
Cafe Loco
Cafe Punchay
La Valeriana
The Meeting Place
Jack's Cafe
La Rabona Peruvian Deli
Tea World
Museo Del Cafe
Eusebio & Manol
Day trips from Cusco or Ollyantaytambo
(or if you are heading to Ollyantaytambo to catch the train these are on the way)

Maras Salt Ponds
Located just about 40 kilometers north of Cusco is a town called Maras which is well known for its salt evaporation ponds. The salt pools have been around from before the time of the Incas. Each family in the surrounding community has a pool from which they harvest the salt. Each pool is filled with the slat water which then evaporates and the salt is left. Onsite you can also buy salt that has been harvested and put into small packages that tourists can buy and take home.
Moray Ruins
It's an archeological site that contains unusual Inca ruins consisting of terraced circular depressions. It also has a irrigation system.  It is possible that this place was used by the Incas to study the effects of different climate conditions on crops.
Urubamba
Urubamba is a town in the Sacred Valley region which sits on the Urubamba river and is a great place to stop for a day or two if you are interested in doing any adventure activities or site seeing like the Maras salt pool and Moray. Some of the adventure activities that you can do here include rafting, ziplinning, climbing, horseback riding, bike tours, lessons and workshops, and more!
Also, if you like beer, you can visit the Cerveceria del Valle Sagrado for some craft brews.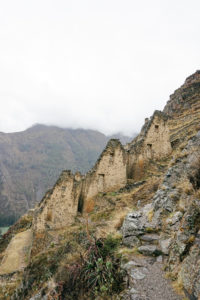 Ollayantalltambo
Ollantaytambo is a small village in the Sacred Valley. It's located next to Urubamba River and is surrounded by tall mountains making it a beautiful place to visit. It is also known for massive Inca fortresses, terraces and store houses which are situated on the cliffs. The village's old town is made of cobble stoned streets and old buildings that take you back in time. The main source of income for the people of the valley is farming.  Driving through the valley you might notice terraced fields, granaries and the Urubamba River that meanders down the green valley.
This is also the place where you can take off on the train to Machu Picchu. If you have a day or two I would recommend seeing the ruins and doing a farm tour & a Pachamanca Lunch with El Albergue a local hotel & restaurant. If you want to know more about what a Pachamanca Lunch is please read this article. Some great places to eat at while you are in Ollayantalltambo is Heart's Cafe & Sunshine Cafe.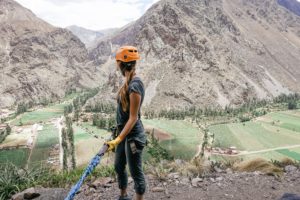 For some adventure visit Natura Vive, Skylodge Adventure Suites
To describe it, it's a transparent capsule that hangs from a cliff in the Sacred Valley of Cuzco, Peru. Each suite (there's 3 of them) can hold up to 8 people, comes with four comfy beds, a dinning area and a private bathroom. The capsule itself is constructed out of aerospace aluminum and weather resistant poly-carbonate. From within the Skylodge capsule you are able to get a 300 degree view of the Sacred Valley.
If you don't have the time or money to stay at the Skylodge Suites, but you would like to just see them you can do a ziplinning & climb up Via Ferrata tour. It's great for groups, couples and families!
To read our experience with Skylodge Adventure Suites Ziplinning and Climbing click right here.
A ride on a train to Machu Picchu
The cheapest place to depart from is Ollaytaytambo and this also gives you time to explore the town and its surrounding in the Sacred Valley. There are two companies that you can choose from Peru Rail and Inca Rail. The trains will arrive at Machu Picchu Pueblo (also known as Aguas Calientes). From there you can take the shuttle up to Machu Picchu itself. For more information about our experience and Machu Picchu please click here.
I hope you enjoyed the post and if you have any questions or comments please let us know below! Thank you.
Sincerely,
That One Adventure Couple