Our Journey to Sea
After exploring almost everything in the Atacama Desert we made our way over to La Serena. We decided to go there as a good mid-way point between the Atacama Desert and Santiago. We needed a place to relax. Our first part of the journey was getting on a bus to the town of Calama. We barely made it to the bus we needed! Upon arriving in Calama we were disappointed that there was no availability that night for our favorite bus company in Chile (Turbus). We used Pullman instead. Fourteen hours later we arrived in La Serena.
La Serena
La Serena is a city on the coast of Chile. It's known for it's long beaches, the monumental lighthouse, and its colonial architecture. It's also very close by to Elqui Valley which is the birth place of Pisco. In the Elqui Valley you can go wine tasting, go to a Pisco distillery, go bike riding, go on an astronomical tour, go camping and much more! It's a great place to visit if you are stopping in La Serena and want to take a day or two to explore the beautiful valley.
We arrived late morning and made our way down the old streets of the city looking for a coffee shop. Walking along the street we spotted a lighthouse. I mean Lighthouse Cafe. A cute coffee shop with a modern touch to it. They also roast their own coffee in a small shed in the back of the cafe. We ordered a French Press coffee and a small breakfast to fuel up for the day!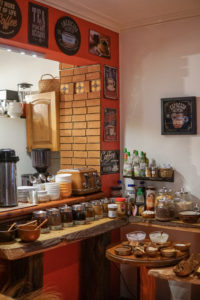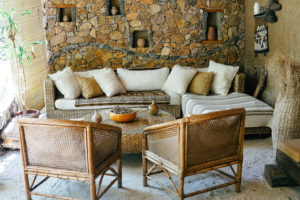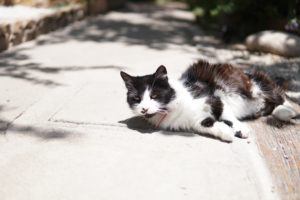 Hostal Terra Diaguita
After eating a delicious breakfast we were on the hunt for our hostel. We meandered along the streets until we came to a colonial looking building painted a dark mustard yellow color. When we came in we were greeted by the owner who was very kind and welcoming! The hostel was more than we ever expected. It was decorated with different artifacts, pots, plants, and seating areas. There was a fire pit and heating lamps for the evening.
In the trees we spotted birds and down on the ground was a black and white cat that enjoyed basking in the sun every chance it got. Our room was outside in a small cottage looking place. We had a double room with a big window out to the garden area. Our room was beautiful and very comfy. It made us feel at home. We even had a blanket heater in our bed that kept us warm at night.
During the afternoons and evenings we enjoyed sitting in the garden area in one of the gazebos. During one of the evenings, we were given a free coupon to a restaurant right across the road for a Pisco tasting. We were given a few different types of Piscos to try along with delicious samples of food. Pisco is produced in the winemaking regions of Chile which is in the Elqui Valley (very close to La Serena). It is made by distilling fermented grape juice into a spirit.
Every morning we looked forward to breakfast because everything you could imagine for a healthy breakfast was there! One of the mornings we started thinking more about what all the decorations and the name of the hostel meant. After asking Catty, the owner and doing some research we were able to understand and appreciate the work and thought that was put into making this hostel a place of significance and honor towards the indigenous people of Chile.
"There are 1,565,915 indigenous persons in Chile and nine different indigenous groups. The Mapuche represents 84 per cent of the indigenous population, while the Aymara, the Diaguita, the Lickanantay, and the Quechua peoples together represent 15 per cent.
According to the Ministry of Social Development, 30.8 per cent of the indigenous population live in poverty…"
"A continuous struggle for the Mapuche peoples is their rights to the lands and territories, which legally and/or ancestrally belong to them. In the Region of the Araucanía and Los Ríos, the rights of the Mapuche people have been gravely threatened by the expansion of extractive, production, and infrastructure projects…"
"Although a new legislative bill raises questions on the part of indigenous peoples and has created the Biodiversity and Protected Areas Service (SBAP) and the National Protected Areas System (SNAP), it fails to recognize the contribution of indigenous peoples to biodiversity, does not protect indigenous rights against public and private conservation initiatives, nor recognizes or protect indigenous and community conservation initiatives."
"The Diaguita are a much smaller group living in the more northernly regions of the country. The situation of most indigenous people is one of poverty and marginalization as a result of the discrimination from which they have historically suffered."
All throughout the hostel we spotted beautiful pots and artifacts that represented the Diaguita people.
"In artistic terms, the Diaguita are known above all for their
distinctive ceramics, which feature two-colored geometric
designs applied on a base of a third color. This kind of decoration
is found on a variety of vessels they produced,  such as pots,
urns, duck-shaped pitchers, and bowls."

La Serena by Bike
One of the afternoon's Catty offered us the hostel's bikes. Honestly, this is one of the best ways to explore La Serena. We rode them to the Plaza de Armas and then along the streets in search of some food and drink. Close to the plaza is a small food cart area called "Boulevard de Food Carts" with different varieties of food. We had sushi, kebabs, coffee, and waffles while enjoying the seaside breeze. Feeling drawn by it we decided to head to the beach. On the way to the beach we passed many street markets with snacks, fresh fruit smoothies and handmade goods. The smoothies were so fresh and delicious.
One of the things we really enjoyed in La Serena was the the boardwalk along the beach. Bikes have a separate lane which was very pleasant. We stopped along the way to enjoy the rolling waves and rested in the sun. A fun area to be around was by the Monumental Lighthouse La Serena it's a big white and red lighthouse right on the beach. It's a great place to start the bike ride or a walk along the beach.
Moving On to Santiago
It was really nice to rest up in La Serena and we were ready to move on. We scored a really great deal for a full-cama on TurBus. We napped, watched movies, and relaxed on the 6 hour bus ride to Santiago!
A Guide to La Serena
Hostel/ Hotel-
Hotel Terra Diaguita
Food –
Food Cart Boulevard La Serena
Ayawasi Organico y Natural
Terracota Cafe
Lighthouse Coffee Shop
Sushi and Flowers
Places to see & things to do-
Monumental Lighthouse La Serena
Plaza de Armas, La Serena
Rent a bike and ride along the beach bike trail
Eat seafood in La Serena
Take a day trip to Elqui Valley
Go camping in Elqui Valley
Visit the small town of Vicuña-a great place to go stargazing
Go stargazing at Observatorio Mamalluca
Go to a pisco distillery-Planta Capel
Horseback riding in the valley
We hope that you enjoyed this post and it has helped you plan a trip to La Serena and the Elqui Valley. We would love to hear your thoughts or questions. Let us know by commenting down below!