Three months out
A few months before leaving for our trip we started looking into what backpacks, clothes and essentials we would need for our one year trip around the world. It was overwhelming but exciting at the same time. We did lots of research and then dedicated a little corner of our living room to start packing our stuff together.
Backpacks
What we looked for:
A good suspension system was essential since we plan on doing treks along the way.
We looked for a front loading pack which would allow us to open it more like a suitcase. This gives easy access without unpacking the whole bag for one item.
A pack that is versatile, allowing us to both trek, and travel with. It needed functionality without being too bulky or covered in loops and straps.
We tried really hard to get carry on size hoping to have our packs with us as much as possible due to airlines consistently losing our bags.
We spent a few weeks visiting REI looking at and trying on backpacks. After a few weeks of intense online research and trying on different packs in the store we went along with Kelty Redwing 40L & Osprey Kestrel 48L. We also brought a technology backpack WANDRD 31L which we won during a giveaway a few days just before flying out! It was God's gift to us. We really needed it, but didn't have the budget for it.
Many people bring much bigger packs for a trip of this sort, however, we consciously decided to get smaller ones. We believe in mas o menos being minimalistic, and we know that as humans we tend to think we need more than we actually do. Our goal was to force ourselves to think critically about what we brought, and to pack only the essentials. Additionally, having smaller bags translates to less weight which is very important.
Here are some other great packs we considered that might work for you depending on your fit or preferences:
3. Tortuga Travel Backpack 44L
Alex's Pack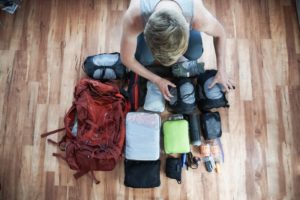 Clothes:
4 t-shirts
3 dress shirts
sweater
2 long sleeve shirts
casual pants
shorts
swimming shorts
set of thermals
12 stretch cotton underwear
hat
Toiletries:
beard trimmer with attachments
Nail Clippers
Deodorant
Shoes:
   Katie's Pack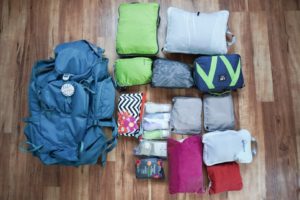 Clothes:
4 t-shirts
3- tank tops
dressier tank top
jean button up blouse
hooded sweatshirt
2 pairs of shorts
pair of active shorts
yoga pants
athletic pants
active skirt
2 simple knee length dresses
long simple dress
2 swimsuits (one piece & bikini)
2 bras
sports bra
10 pairs of underwear
packable rain jacket 
Accessories:
active cap & 1 warm hat & 1 sun hat
short scarf
simple earrings
2 necklaces to dress things up
A few hair ties & bobby pins
2 bandanas
Toiletries:
Floss
Hairbrush
Face Cleanser & Face Oil ( I use Gressa Skincare and I love it! It's very travel friendly and organic!)
A packet of Exfoliator
Moisturizing Face Lotion
Mineral Pressed Foundation
2-lip balms
Shaver & 3 refills
Lunette Cup (instead of tampons & pads)
Silicon Tubes of Shampoo, Conditioner, Body-Wash & Body Lotion
Coconut Oil (great makeup remover &  moisturizer)
Makeup Remover Wipes (great when we are camping)
Baby Wipes (great for when you need to wipe off dirt or when you don't have a shower)
Shoes:
Chaco's (great for around town, short hikes & walks)
Trail Running Shoes Brooks Cascadia 12 (So much lighter than bulky hiking boots! Great ankle support & light-weight)
Flip Flops (great for when you are taking a shower or at the beach)
Technology Pack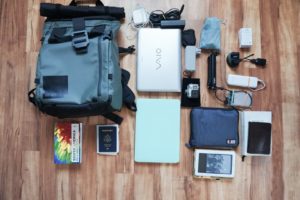 Medical Kit
Organic Bug Spray
Spirulina-nutrient dense, antioxidants, helps with allergies
Probiotics -help boost your immune system and help with unfamiliar germs and bacteria
Digestive Enzymes-help the body absorb more nutrients and improve gut health
Ibuprofen-headaches
Pepto Bismol-Nausea, Heartburn, Indigestion, Upset Stomach and Diarrhea
Anti-itch cream
Advil Cold & Flu
Essential Oils (Lavender-soothing & great to relieve mosquito bites, Peppermint- focus & nausea, Tea Tree- for cuts, bites)
Activated Charcoal-effective for food poisoning/digestive distress.
Bandages
There are pharmacies everywhere and it's not hard to get what you need if you accidentally forgot something or you got sick. It's not expensive and very accessible, but it is very nice to have a basic medical with you.
Travel Essentials & Other
Tent
Sleeping bags
Ultralight spoons
Day Pack (We picked one up once we arrived to Quito, Ecuador. This is essential because we take it with us during the day or on day trips)
Tips on Packing
1. Pack for the type of trip you are going on. We knew that we were going to be doing many treks & outdoor activities, therefore, we brought more active and quick dry clothing items. If you going to be visiting more museums & sites vs. outdoor activities then you might want to bring more casual clothing.
2. Pack for the weather & country. We chose to chase summer around the globe and that means our wardrobe consists more of lose & less bulky items. We did not expect South America to be so chilly, so we definitely needed to pack more warmer clothes & less shorts!
3. Pack & buy clothing items that have a good color scheme and you can mix & match with. We chose to buy colors that are easy to work with for example, light grey, dark grey, navy blue, maroon, dark green, & khaki. These also are harder to get dirty and are great for mixing and matching.
4. Don't forget that even if you forgot something or need something there's always stores that you can find to go shopping at. It might be even cheaper abroad and better quality. 
5. Lastly, don't pack last minute. Take time to think through the things that you will need and what you really want to bring and what you want to leave out.
If you have any questions about any of the gear we packed with us please comment below or send us an email we would be happy to help out!
As you are well used to by now all the links to Amazon are affiliate links and if you end up liking any of the items a purchase using one of the links helps us travel longer!
Love you all 🙂
Alex & Katie