The wind-sculpted sand dunes of the Oregon Coast stretch for 40 miles from the charming old town of Florence to Coos Bay. The Oregon Sand Dunes are the largest stretch of coastal sand dunes in North America.  The dunes and the little coastal town of Florence hold numerous opportunities for adventure and serenity.
I've always wanted to be in a desert and experience wide open sand and this weekend we both got a taste of what it might be. I literally mean, taste because we had sand everywhere including our mouths.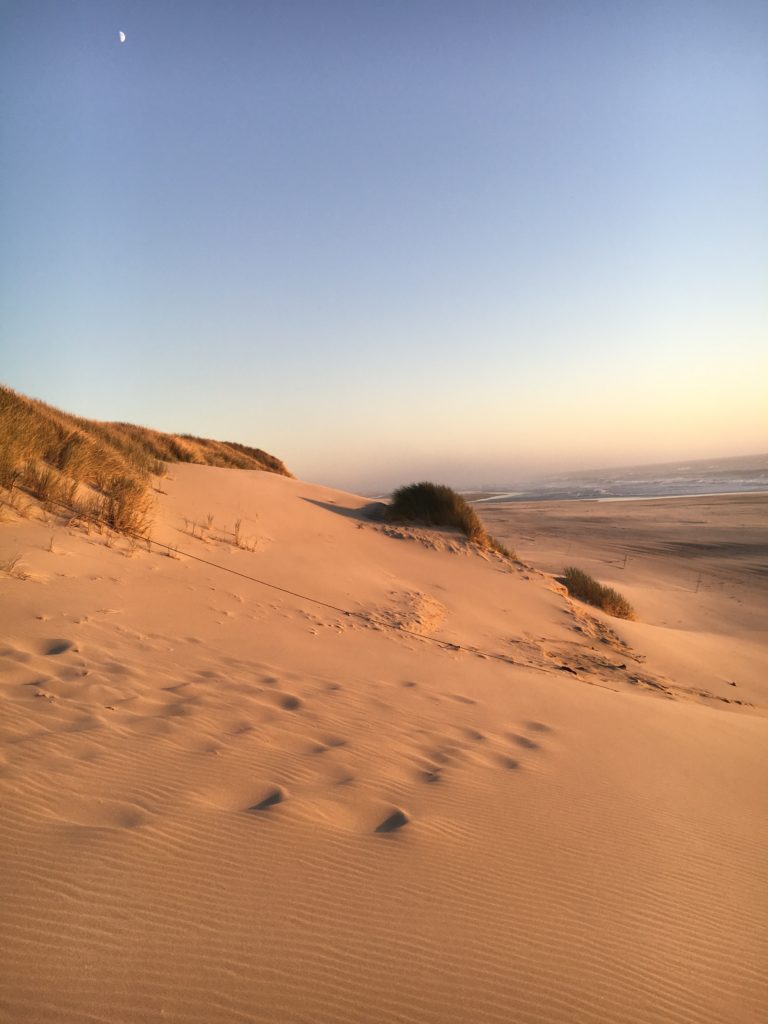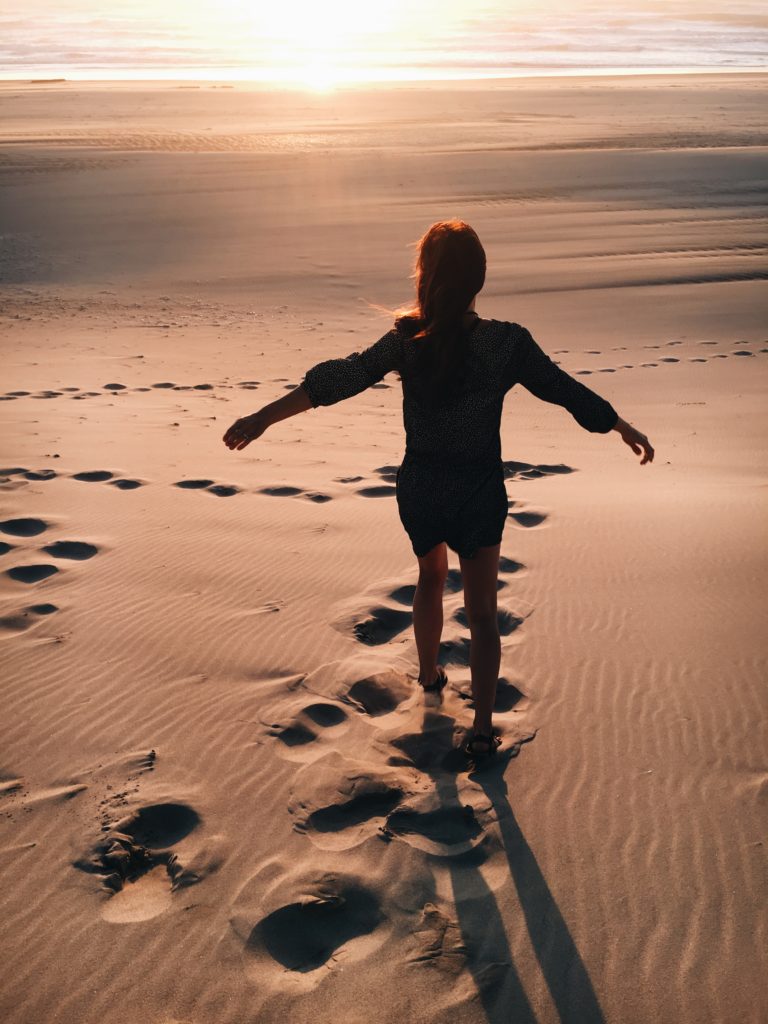 We drove into Florence, OR late Friday evening. Crossing the Suislaw River Bridge into Dunes City. On either side of the road we passed many campgrounds. We made a turn on Siltcoos Rd to watch the setting sun from dunes. The wind was playing with our hair as we were running down the massive sand hill towards the glimmering ocean that looked ablaze with fire from the sun's rays. We twirled and danced and then ran towards the car to warm up and figure out where which campground we would stay at.
Waxmyrtle campground it was. The cost per night was $20, but because we had a National Recreation Pass we got 50% and ended up paying only $10. The night was chilly and in the morning we woke up to the sound of the ocean. We made some hot tea, cashew nutella sandwiches and enjoyed the early chilly morning in our camping chairs while reading books. After our morning dose of inspiration, we drove to the Oregon Dunes Day Use Area to hike and really experience the dunes.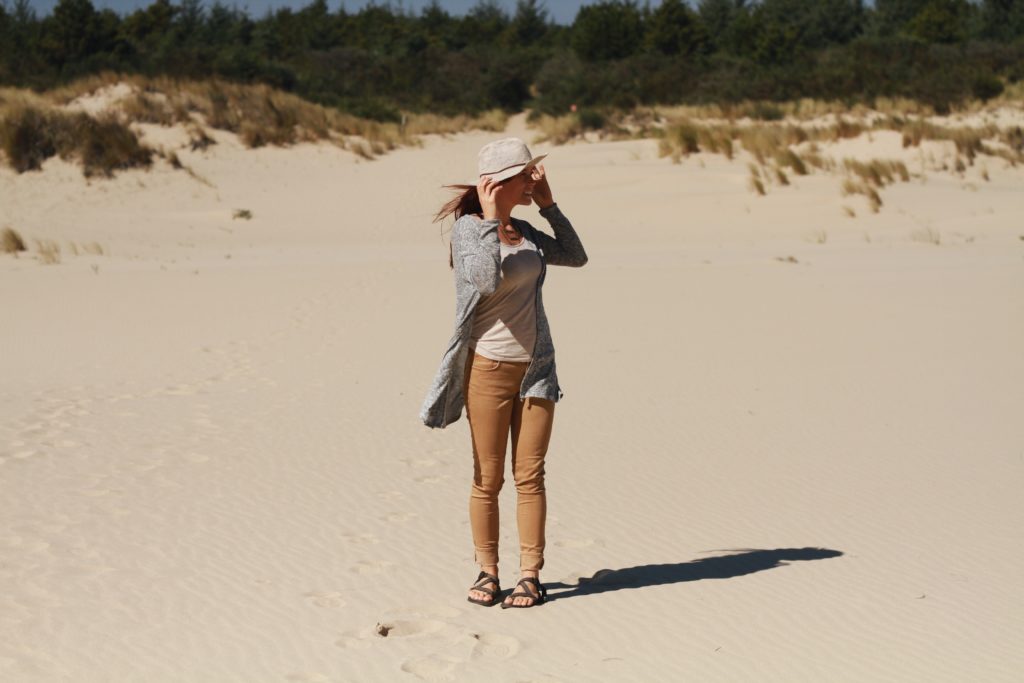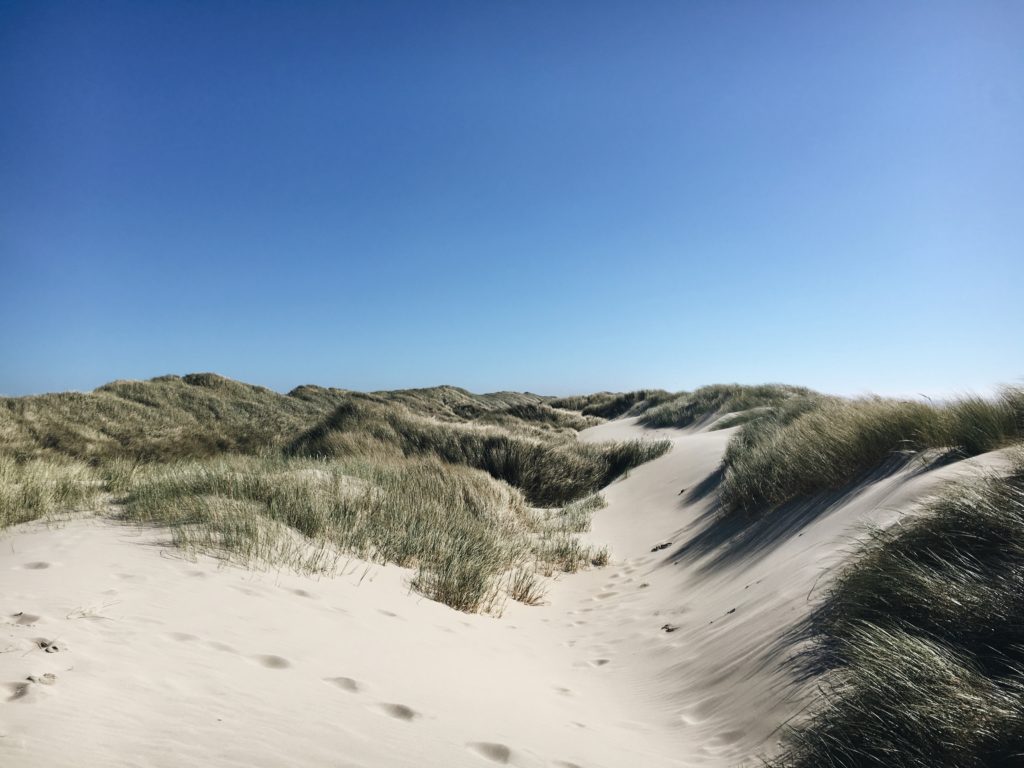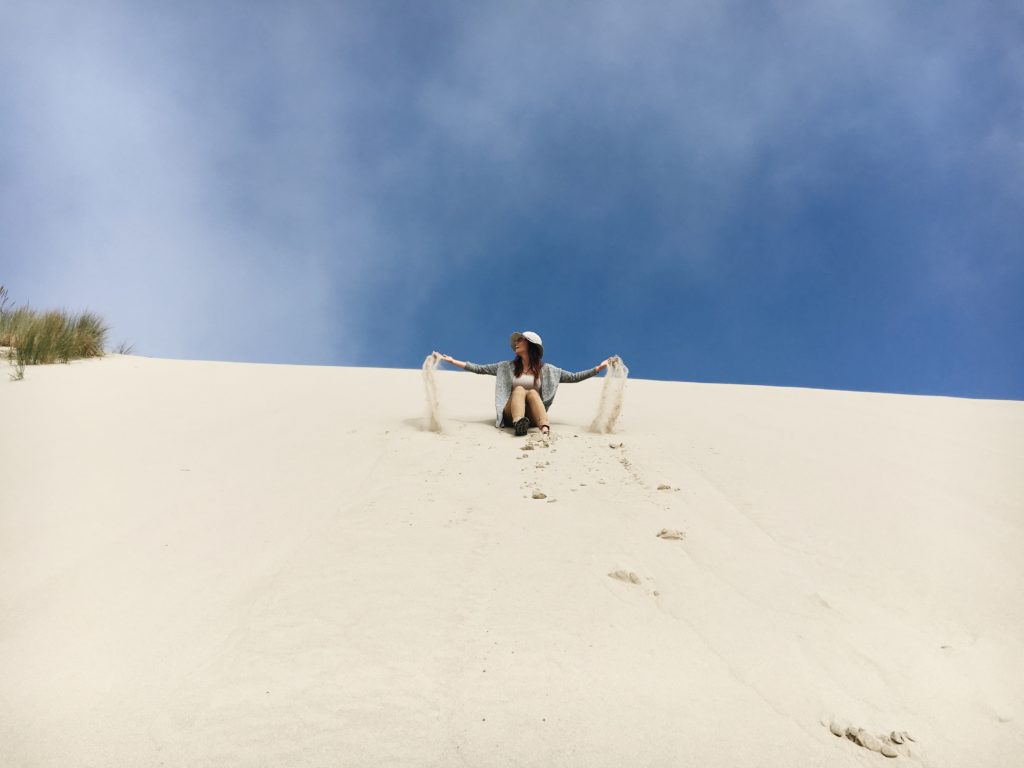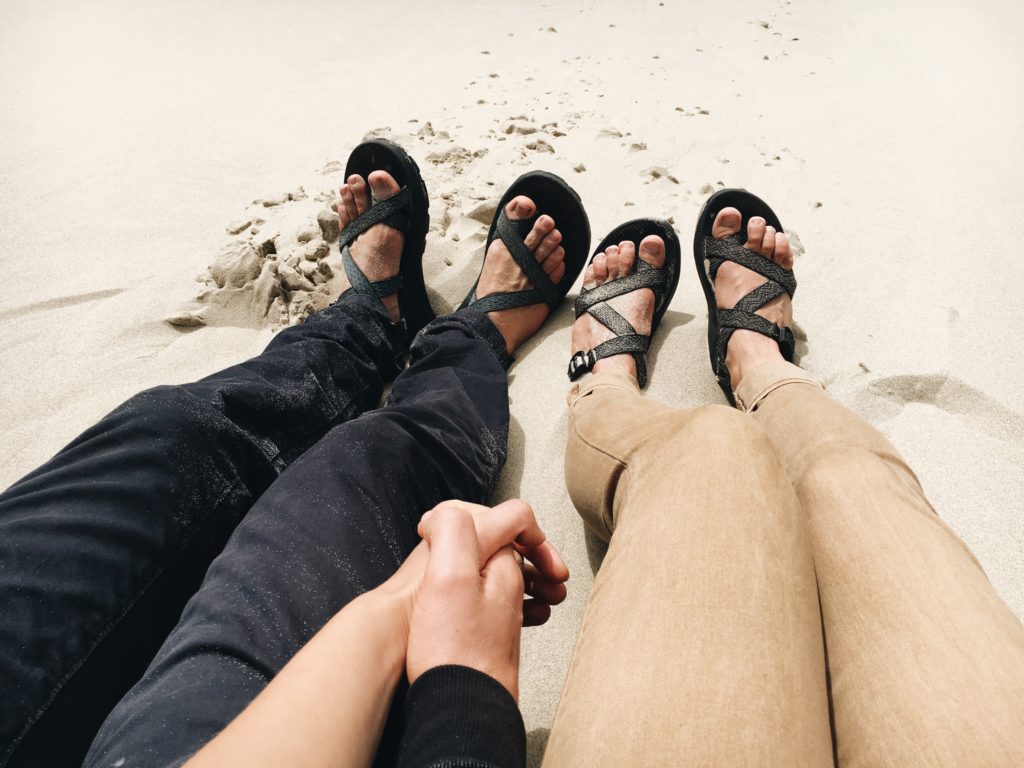 The hike was 4.4 miles long and took us through a coastal forest, through the dunes and towards the ocean. We walked along the shore for 1.5 miles picking up shiny seashells and searching for perfect sand dollars. A section of the dry white sand between the beach and the sand dunes was off limits because from March through October it's a nesting place for the endangered Snowy Plover birds.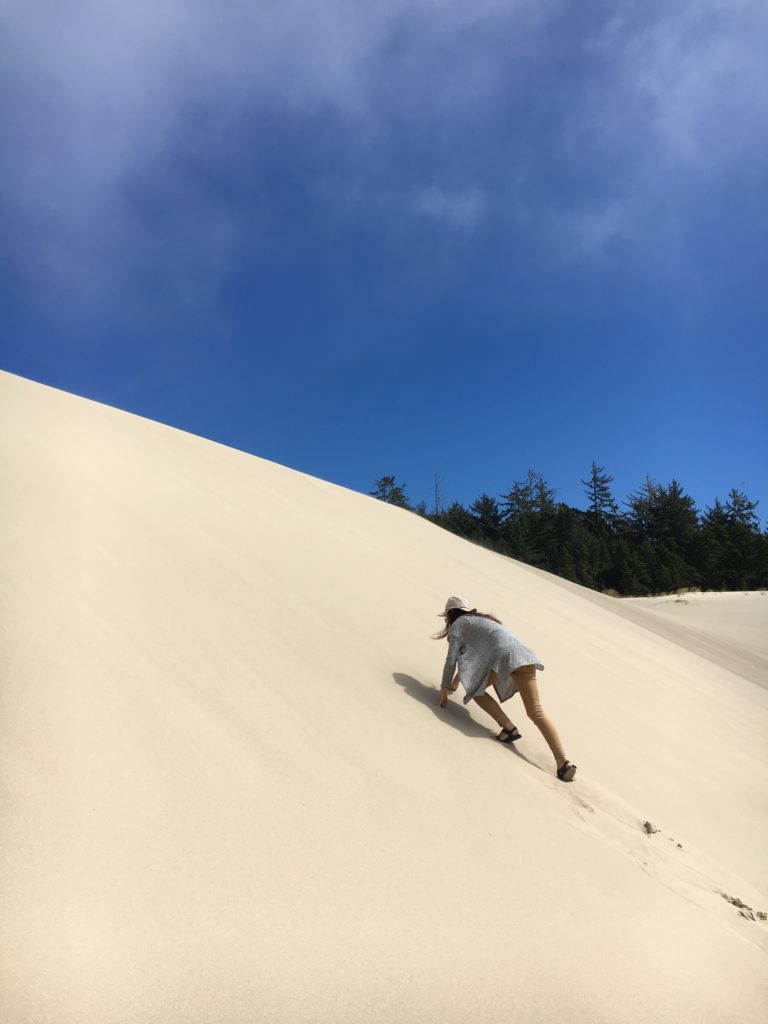 After our walk along the beach the path took us back to the sand dunes. We had to scramble up the sand hills and let me tell you that is one hard workout. It was like doing the Stepmaster with your resistance being the wind and the sand that was sliding from under you. The views were unbelievable and the hike was rejuvenating. There is something about the ocean that calms your soul and rejuvenates your spirit.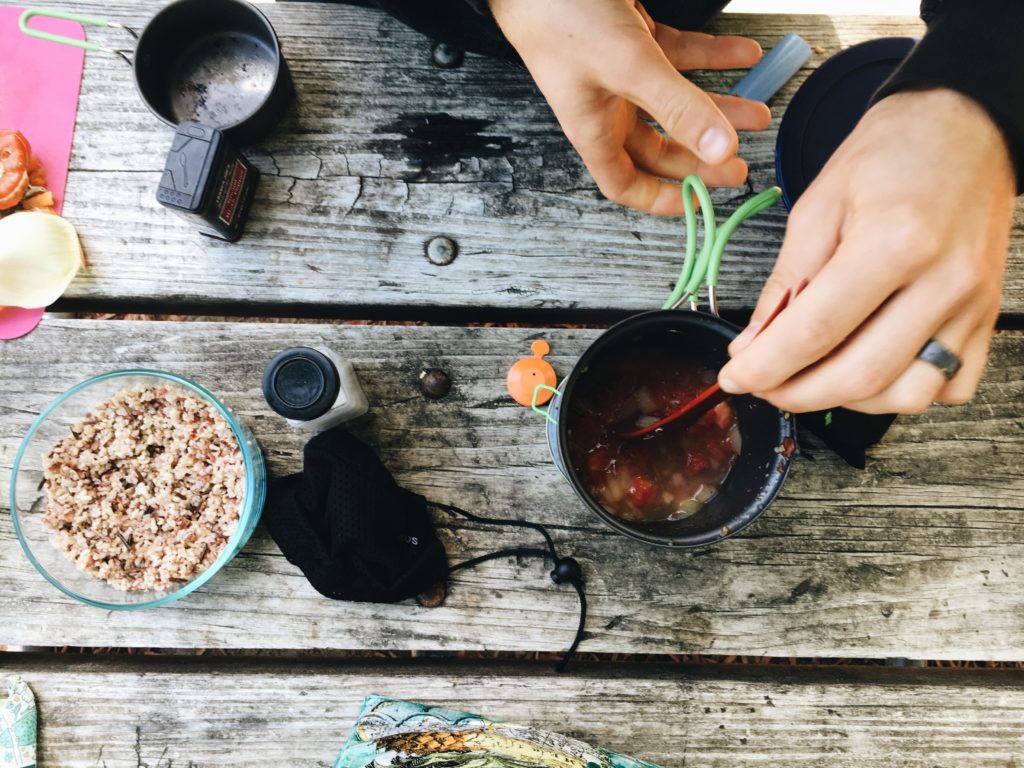 We came back hungry for some lunch and that's when Alex cooked up a delicious quinoa and rice lunch with our mini stove. I cut up my grandmother's fresh garden tomatoes that were exploding with flavor and juice and when Alex finished with the rice/quinoa mix we delightfully ate it all up.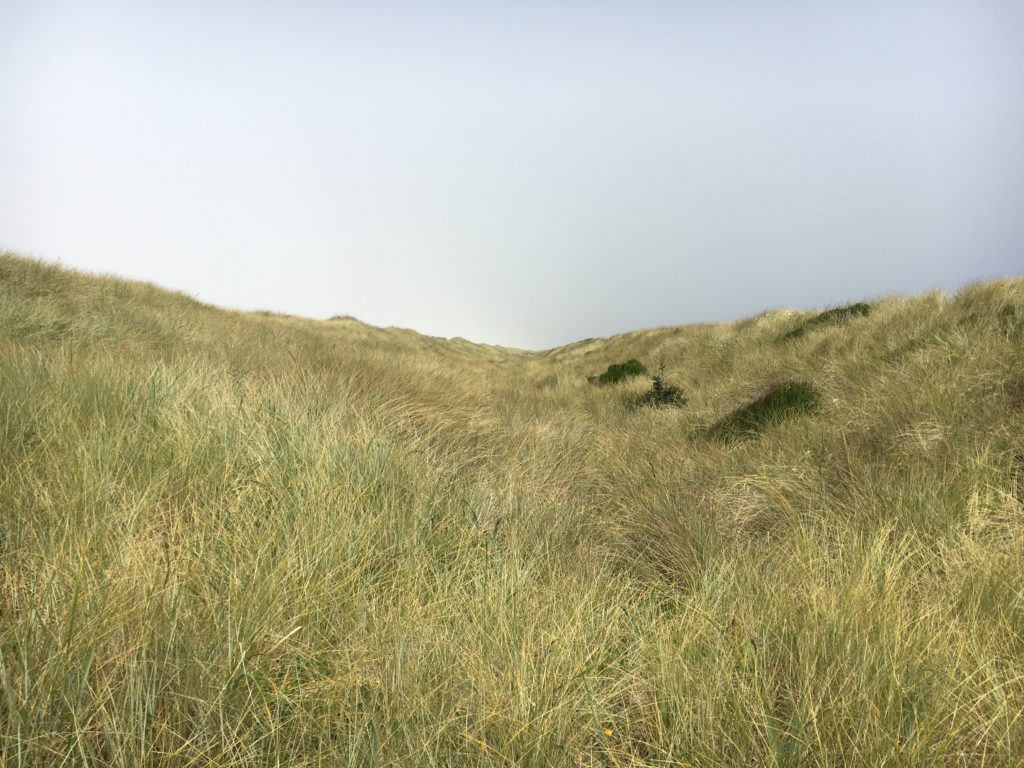 Shortly after having lunch we headed back north to explore the South Jetty where we found all of the 4×4's, sandrails, dune buggy's and other OHV's riding the dunes. Nearby were many small business shops that rent out sand boards, 4×4's and other adventure equipment. For this trip we decided not to rent a 4×4, but come back some other time and devote more time to it.  Further down the South Jetty we found people crabbing and others enjoying the short access walking trails to the ocean.
Making our way back to the small cute city of Florence we parked our car in the the Old Town area to walk the boardwalk and the historical old streets. Along the way we stopped at Old Town Coffee Roasters to indulge into a cup of hot tea for me and coffee for Alex before getting dinner.
It took us awhile to find a place to eat dinner at. Most places were full and had long lines. If we were to do it again, making reservations would be wise. After checking out most of the places we finally got a table at Traveler's Cove. It was a Mexican restaurant with live music and a view of the long stretching Siuslaw River. I ordered halibut fish and chips and Alex got soft tacos. We came out full and happy.
It was getting getting dark and the city lights started to sparkle. We finished off the day by walking the Siuslaw Bridge. The fog started covering the trees and it gave off a medivel look to the bridge and its surroundings.
We hit the road and drove back home with a crave to return back soon.
-Katie
Here is a mini guide for your trip to the Oregon Sand Dunes:
Places to stay in Florence-
Best Western Pier Point Inn

Comfort Inn Florence Hotel

River House Inn

Landmark Inn
Camping-
There are many areas for camping and recreation activities. Each area has campgrounds that you are able to stay at. From North to South:
Activities-
Hiking-
Places to eat at-
According to TripAdvisor the Top 10 places to eat at in Florence, OR are:
Waterfront Depot
Bridgewater Ocean Fresh Fish House and Zebra Bar
1285 Restobar
Spice Bistro
A Taste of Hawaii
Little Brown Hen Cafe
La Pomodori Ristorante
Chens Family Dish
Bay View at Best Western Pier Point
Mo's Seafood
Best Coffee Shop in town is Siuslaw River Coffee Roasters
Directions-
Oregon Dunes National Recreational Area: 855 U.S. 101, Reedsport, OR 97467
In Washington and in Oregon, most national forest recreation sites require you to pay a day use fee. If you are camping then that counts as your pass for the day. Passes that they honor are National Forest Day Pass ($5), National Forest Annual Pass ($30), Interagency Annual Passes (Free-$80), 5 day and Annual Oregon Pacific Coast Passport ($10/5 days or $35 /year.