Exploring Mindo
From Otavalo we took a bus back to Quito and then onwards to Mindo.
The bus trip sort of prepared us as we drove through a starkly different landscape. The forest became much denser and the rolling fog through the hills offered beautiful views. We arrived in Mindo with mist falling and found a lovely hostel with a gurgling river right outside our room. Mindo is known for eco-tourism and we were not disappointed!

El Quetzal
Being right next to a chocolate factory "El Quetzal" we went for a tour of the chocolate making process. It was very interesting to see the whole process from the trees to the actual chocolate bar. Afterwards we tasted all the flavors they make and had a delicious brownie with cacao tea. 
It was our favorite place to spend time at. It also has a hostel, chocolate factory, and cafe all rolled into one! We enjoyed having breakfast here and the WiFi was good. In addition, they make their own ginger ale and ginger beers which were very delicious.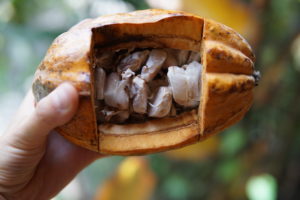 I (Katie) got sick so we took an extra day to recover and spent time resting and indulging in the homemade vegetable soup.
Zip-linning
Our next stop was zip-lining at an adventure park. The park had 10 zip-lines and we tried both the superman and butterly pose. It was a lot of fun!
Hiking through the Rainforest
Nearby was a waterfall trail which we visited afterwards. Uniquely it had a cable car across a gorge and it felt like we were entering a different world as we zipped across. It was a lovely hike with about seven different waterfalls. Our real adventure began when we realized that we should have worn mosquito repellent! We had never before experienced such ferocious mosquitoes. It took about a week for the bites to clear! We mixed lavender oil with coconut oil and put it on for relief, it helped A LOT! 
One of the things that everyone will tell you about Mindo is that nothing is free. If you want to hike you have to pay. If you want to see butterflies or hummingbirds or frogs the size of your fingernail you'll need to pay. It's not prohibitively expensive, but you need to be prepared to fork out some money here and there.
There is one service that the town offers completely free (besides the WiFi in the park of course). Everywhere you go a random local dog or two will take it upon itself to be your official chaperone as you walk to your next destination. In one case we had two "chaperones" accompany us for 3 miles. Afterwards they even tried joining us on a cable car but unfortunately the operator put a stop to that.
Our next destination the amazing Quilotoa loop!
Favorite places in Mindo:
La Casa de Cecilia– that's the hostel we stayed it. We got a private room with a bathroom right next to the river, $25 /night. Clean room, a little bit small but in a great location.
TIP! To save money you can go camping at the local hostels. We saw a few people do that, but at that time we didn't have sleeping mats so we couldn't.
"El Quetzal"- Chocolate tours, delicious cafe with drinks, sandwiches, and everything homemade!
"Beehive"- a great cafe to grab lunch at but it's more on the expensive side.
"El Canaveral"- a fun cafe to get a cheap snack, lunch or dinner at. Great menu for vegetarians.