When Eleanor Roosevelt saw Iguazu Falls she said "Poor Niagara"
This massive body of water falls with such force it boggles the mind. The waterfalls of the Iguazu River are on the border of Argentina and Brazil. They are the largest waterfalls system in the world. There are numerous islands along the edge that divide the water into many waterfalls that can range from 60-82 meters in height. Eighty percent of the falls are on Argentinian side and twenty percent are on the Brazilian side. During our trip to Iguazu Falls we stayed on the Argentinian side. For U.S. citizens you need a visa to visit Brazil, and we decided to leave Brazil for another time.
The area around Iguazu is Atlantic Rainforest and it's an incredibly biodiverse region. It's a significant part of the last remaining Atlantic Rainforest and you will be amazed at all the plants, trees, and animals in the region. The weather is warm and humid all year round making for a very pleasant stay.
Getting to Puerto Iguazu
We knew that Iguazu Falls was definitely a place we wanted to see in South America. After exploring around Buenos Aires for a bit we looked into our options. Our choices were to either take the bus or fly to a town called Puerto Iguazu. The flight is an hour and a half, but can be twice as expensive as the bus ride, which is 18 hours. We decided to try both of the options, taking an 18hr bus to Puerto Iguazu , and then flying out from there back to Buenos Aires.
Bus- Deciding to take the bus to Puerto Iguazu, we reserved tickets a day in advance and paid extra for seats that turn into a bed (Bus Cama 180 degrees). Our ticket included a very nice fancy dinner, snacks and breakfast. Each seat had a mini TV, a blanket and a pillow. The bus was very clean and had a bathroom. We actually were surprised at how comfortable it was. Before we even knew it we were already there. We made sure to get on an evening bus so that we arrived around noontime at Puerto Iguazu. We actually really enjoyed going on buses in South America. They are a lot cheaper and if you pay a little bit extra you can get very comfy!
Cost-  $242 bus ticket (one way for two people)
The bus terminal is located pretty centrally in town, and upon arriving we immediately bought a bus ticket to the waterfalls the next day.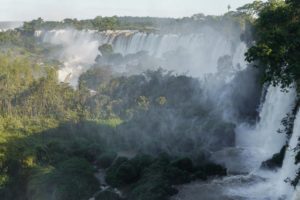 Visiting the Waterfalls
The actual waterfalls are located about 20 minutes outside of the city. You can easily get a taxi to take you there, or for about half the price look for a bus saying 'Cataratas' on it, the Spanish word for waterfall. When you arrive to the park you'll need to pay about $25-30 per person for the entrance fee.
Upon entering there are two areas that you can explore. The area relatively close to the entrance has a few really beautiful trails, a couple of restaurants and a little store. You can also get a boat tour of the waterfalls, which is a ton of fun! Taking a little choo-choo train you get to a second area of the park which has a trail out to an amazing viewpoint overlooking 'The Devils Throat'.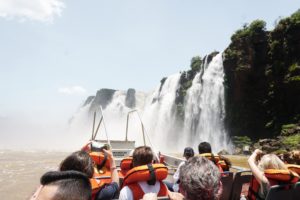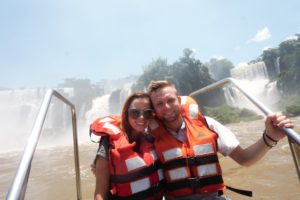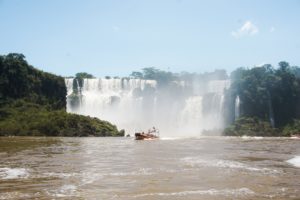 Our Experience
Upon entering we were quickly enticed by the boat tour. It's not every day you are at such an amazing place and we figured we would get a one of a kind experience. The cost was $50 per person. We joined other people on a tour through the rainforest before arriving at the dock. We were given dry bags for our belongings and off we went. The boat did a few passes right up to the different sections of the waterfall and we got thoroughly drenched!
Afterwards, feeling hungry, we stopped at an all you can eat buffett called 'Fortin' for a delicious and filling meal. Not wanting to miss seeing The Devils Throat, we decided to take the train right after. We walked along the walkway leading out to the edge seeing lots of wildlife along the way. Once we go there we were stunned at the beauty. It is truly indescribable. The amount of water flowing, as well as the sheer largeness of the place. There were birds flying overhead and a constant rainbow.
We took the train back and hiked along one of the trails called Paseo Superior. It had a number of wonderful viewpoints passing right over the top of the waterfall. We enjoyed walking along this trail looking at the wildlife around us (we saw birds, lizards, monkeys and more) and taking in the waterfalls from different angles.
The day we went we had a little bit of a late start, and got to the park at around 11am. The park closes at 6PM and we figured this would be plenty of time. We found out it was just barely enough. The park is large and there is so much to see and do. The boat tour takes time, as well as the train ride, and you need time to eat. If you go here we would recommend getting an earlier start!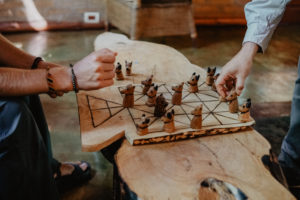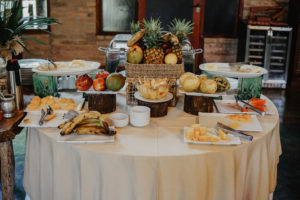 Where to Stay
While in Puerto Iguazu we stayed at two different hotels to get a taste of what the town had to offer. One was located outside the city and the other one inside quite close to the bus terminal.
Night One: La Aldea de la Selva is an eco-lodge located a few minutes drive outside the city. It had a strong emphasis on conservation. We found the lodge hidden away in the jungle. You can hear the sounds of the rain forest, and see lizards cross your path on the way to your room. The rooms were incredibly high quality with even a hot tub in ours! The lodge had an indigenous theme, and the staff taught us how to play one of the local board games. We also enjoyed the large pool and a delicious breakfast in the morning.
Night Two: In the city we stayed at a place called Hotel Saint George. It was centrally located and was near to many restaurants and souvenir shops. During the evening we enjoyed taking a short walk to a nearby food cart called The Van Burger. We devoured two delicious juicy burgers at half the price of what we would pay at a fancy restaurant.
We really loved this little town and our experience at Iguazu Falls. It was MAGICAL! We enjoyed the warm humid weather, the rainforest and all the unique animals we got to see. We spent a total of two nights and then flew out the next morning. Our airline was LATAM (a great airline & reliable) and within an hour and a half we were back in Buenos Aires. Of course we paid more than if we would have taken the bus, but we didn't want to spend another 18 hours on a bus. We decided time was more precious and decided that flying was a good decision.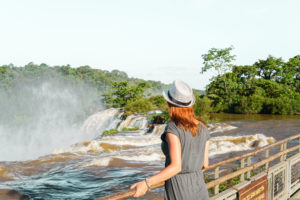 Some things to keep in mind when visiting Iguazu Falls:
The weather is very hot and humid
Bring bug spray & sunscreen
Wear quick drying clothes & bring a swim suit if you are going on the boat ride
Bring lots of water into the park (water is expensive to buy)
If you don't want to eat there, make sure to bring a snack
If you have a dry bag bring it, you can put your camera & phone in there while getting sprayed by the falls
GoPro is perfect for this park because you don't have to worry about it getting wet (put on underwater case)
Go during the morning because that will give you enough time to explore the entire park
Wear comfortable shoes! There's lots of walking to do here
Iguazu Falls will always be one of our favorites! It was absolutely gorgeous and just like the song, "somewhere over the rainbow blue birds fly"
Stay Adventurous,
Alex & Katie 🙂