The Beautiful Laguna 69
Laguna 69 is one of those lakes that pops up on Pinterest as being so picturesque it gives you a reason to travel. To be truthful this lake is one of the main reasons we chose to go to Huaraz. We were really excited to see it. What we didn't know, however, was how difficult that would end up being.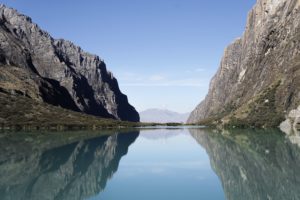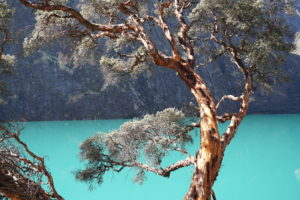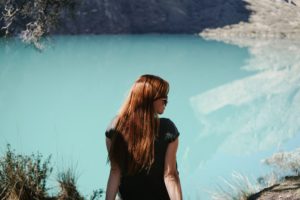 Getting to the Lake
To begin, we needed to wake up extremely early. Our current schedule is pure freedom and we generally don't wake up until around 8 o'clock. For this hike we were being picked up at 5:30 and needed to be ready by then. We had bought a few snacks the day before so thankfully we were mostly ready.
The bus drove about 1 1/2 hours before stopping at a small restaurant for all of us to grab breakfast. We discovered that it's a good idea to actually grab a relatively small breakfast here. The road after this point is unpaved and it twists and turns as you gain a tremendous amount of altitude.
Along the way we stopped at Laguna Chichan Cocha. This lake was incredibly beautiful and we really enjoyed this stop. Later we discovered you can take a separate tour to this lake and even hike around it, canoe on it, or camp nearby.
One thing to note about this hike is that it is located inside Huascaran National Park. The fee schedule for this park is 10 soles per person for one days use, and 65 soles for 21 days use. If you are planning to do the Santa Cruz trek you will need the 21 day pass. We recommend getting the pass inside the city if you are doing other treks like the glacier first, since only this entrance and the city office sell you the 21 day pass.
Safety Considerations
Upon arriving to the trail head we were given a short safety talk by the guide and then set free. The guides task consisted of following behind the slowest person both on the way up and on the way down to be sure that no one was left behind. Furthermore, if someone wasn't able to handle the altitude they would be sent back to the bus. This was a necessary measure since the lake is at an altitude of 4,600m. If not properly acclimated it is possible to get quite sick.
After hiking a few times at elevation, notably our trek around Quilotoa loop, we were well aware it would be challenging. We brought a backpack full of snacks, our GRAYL water bottle/filter, and a few additional layers to take off or put on as the weather dictated. The pace we chose allowed us to stay in about the middle of the group, we didn't want to be the last ones but it is important not to push too hard. We stopped multiple times along the way to catch our breaths, drink plenty of water, and eat snacks.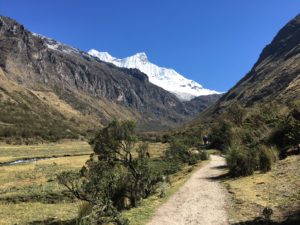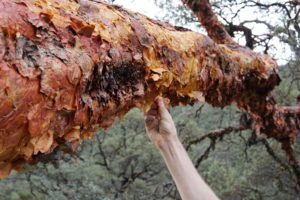 Hiking to Laguna 69
The hike begins in a beautiful meadow with a creek running through it. Along the meadow you see free-range, grass-fed beef munching away. Nearby are some unique trees. Twisted and gnarled, they have interesting bark of the sort we've never seen before. It's composition is similar to tissue paper and it peels off when you touch it. It actually worried me since it seemed like I was damaging the tree. When I saw a fallen tree, however, I saw that the bark was actually quite thick.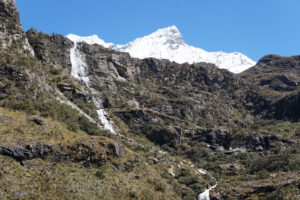 This hike has two major uphill sections. The first one comes not long after the meadow. There are lots of traverses, however, so the difficulty level mostly stems from the large elevation gain. It is definitely difficult to breath as you ascend. At the top of the first uphill section is a great viewpoint of the valley below, and a nearby waterfall. We stopped here to rest and have a snack while enjoying the view.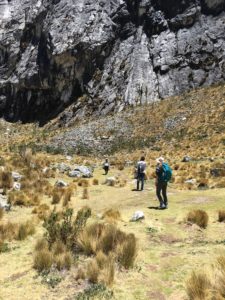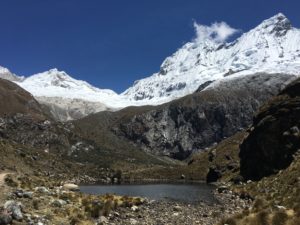 After a short relatively flat section we arrived at another hill. Along the way we passed a small Laguna as well as a trail to the right, leading to yet another Laguna. Before us the hill looked very daunting. Thankfully the trail has many traverses. We felt the elevation gain, however, to a great extent. Once we overcame this last section we were almost there!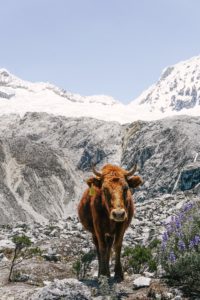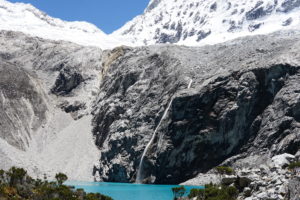 Arriving at Laguna 69
Finally we crested the hill and arrived at the lake. The beauty of it was astounding. My legs buckled from the experience and I just had to lay for a bit. Ok, just kidding. I felt exhausted from the hike and the high elevation was almost too much. I took a few minute nap at the shore before finally feeling up for exploring.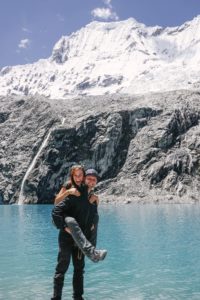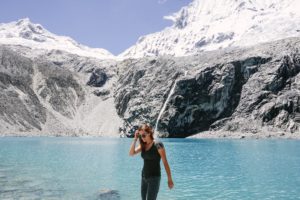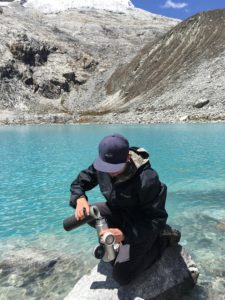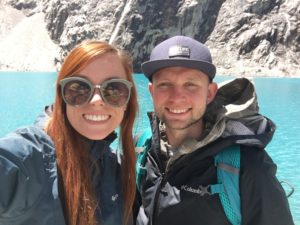 The lake and its surroundings are very pretty. The color of it was mesmerizing, almost inviting you in for a swim. Feeling the water, however, we had to marvel at the few daring souls who did so, since it was freezing cold! We enjoyed taking pictures, drinking the delicious alpine water, and relaxing. Surrounding the lake are gorgeous mountains and glaciers. After about one hour the guide let us know it was now time to return.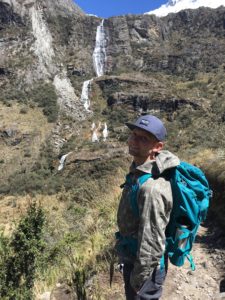 The Way Back
Hiking down from Laguna 69 was not too challenging. It is important to note, however, that part of acclimation is not just going up but also coming back down. We found that on the way down we developed little headaches that progressively grew stronger. When we finally reached the bus we were glad to rest for a bit.
The drive down was a bit of a nightmare. We were still struggling with our headaches, and the bumpy, twisty road made matters worse. At time I almost threw up and there were no stops to rest. We were glad when we finally reached the paved road.
Overall the hike was amazing and we had a very enjoyable time. The scenery was beautiful up to the Laguna, and the lake itself was really amazing. This hike was also a great preparation for our Santa Cruz trek!
Packing List
-A small backpack
-A water bottle or two
-Breakfast: you will get picked up early from your hostel so you will need to have breakfast with you or bring some extra money to buy a snack at the little restaurant you will be stopping by before heading out to the trailhead. TIP: consider drinking some coca tea before leaving the cafe.
-Snacks for during the hike and after the hike (you get really hungry make sure to bring enough) Apples, Oranges, or Bananas, trail mix (dried fruits & nuts), chocolate, pre-make sandwiches
-Coca Leaves ( it helps if you suck on them while hiking up or even down) Acclimatization is when you hike UP and then DOWN. We both got crazy headaches after hiking back down. I had to take an Ibuprofen pill.
-Consider taking ibuprofen just in case if you get a crazy headache
-Sunscreen ( the sun is really strong up in the mountains and even on a cloudy day you can get burned)
-A hat from the sun or the cold depending on the weather
-Sunglasses
-Windbreaker (the weather can change quickly)
-Wear: hiking shoes, hiking pants (yoga or sport pants) something that you can hike easily in, layers (a quick dry shirt and a light sweater)
-Toilet paper (all the bathrooms that you might stop at don't have toilet paper)