Colca Canyon one of the deepest canyons in the world. Twice as deep as the Grand Canyon. One of the most beautiful things about it are the Condors flying in the morning above the cliffs.
We didn't really know what we were getting into but we hiked down to the bottom.
Right before climbing back up Alex rolled his ankle so he got to ride a donkey all the way up as I climbed up
We made it out alive! And we made some new friends from Luxembourg
Here's our experience and we would like to share it with you!
From Arequipa to Colca Canyon
From Arequipa we took a bus straight to Cabanaconde. If you go to the bus station around 8-8:30 you will be able to catch a bus around 9:30 AM.
Cabanaconde is a few hours past Chivay and right at the edge of Colca Canyon. Upon arriving we settled into our hostel, Pachamama Hostel, and got all the info for our hike from the hostal manager. We were provided with an amazing topographical map with descriptions of all the treks in the area.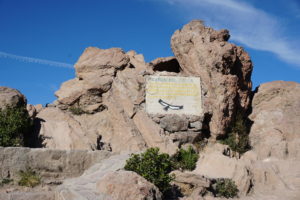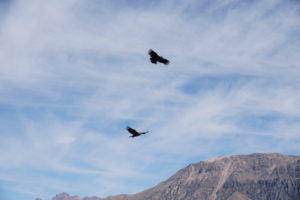 Cruz Del Condor
The next morning we grabbed breakfast at 6AM and headed to the plaza. One of the buses leaves at 7 am allowing us to get to the condor viewpoint (Cruz de Condor) just in time.
Shortly after arriving we saw one little baby condor. It flew around for a little while by itself. Soon a few more Condors arrived. These beautiful creatures soar so gracefully it was breathtaking. At one point we saw around 6 or 7 of them souring right over our heads. The best time to see them is from 8-9 AM.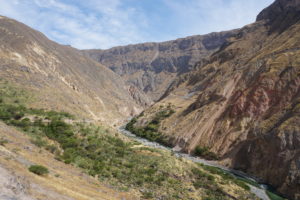 Day 1- Hiking to Llahuar
At about 9 am we were able to catch a passing bus back to Cabanaconde. We stored most of our gear in the hostel we stayed at and set out to Llahuar. This town is about a 5 hour hike from Cabanaconde. Alternatively you could also take a bus there, unfortunately, by the time we got back from viewing the condors and repacked our bags the last bus had already gone.
The hike was all downhill into Colca Canyon. We found this to be somewhat challenging on our knees and in retrospect would have preferred to take the bus. The views here were very pretty and it was a unique experience to enter into such a deep canyon.
We arrived in Llahuar and stayed at the Llahuar Lodge. There are a few bungalows and we found to our disappointment that the one reserved for us was made out of bamboo. What this meant for us is that they were not at all insulated or bug proof. We decided to upgrade to a bungalow that was fully insulated for a small cost.
We enjoyed soaking in the hot spring next to the river. The temperature of the hot springs is not extremely hot so I have no idea how some people decided to jump into the freezing river.
Hike from Cabanaconde – 5 hours
Llahuar Lodge– 75 soles for a cabin for two people (included breakfast and hot springs)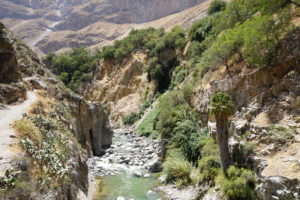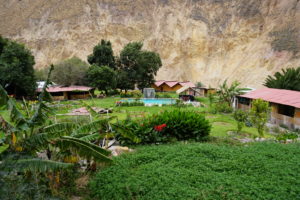 Day 2- Hiking to Sangalle
From Sangalle you can hike, but we honestly don't know why bother. Colca Canyon is pretty and you can see it just fine from a bus driving you to Sangalle. We decided to take the bus instead and save our feet. The bus drops you off in a town called Malata (make sure to let the driver know and also watch out for it). From this town we hiked down into Sangalle (1.5 hours of hiking down)
Upon our arrival I rolled my ankle pretty badly. We stayed in Sangalle where I soaked my ankle in the pool hoping it would get better.
People often refer to Sangalle as the "Oasis" because it is green with grass and palm trees and most of the hostels there have pools. We stayed at the second hostel because that is where most of our friends stayed at.
Lluhuar to Sangalle- Took the bus (10 soles) at 9 am to Malata and then hiked down to Sangalle (1.5 hours downhill)
Oasis Paraiso Eco Lodge – a double room (40 soles) for two people. This did not include breakfast or dinner.

Day 3- Hike from Sangalle back to Cabanaconde
We awoke the next morning extremely early. Most people choose to hike out from the canyon well before the sun rises. It's about 3 1/2 hours uphill the whole way and you can imagine how hard that would be in the blazing heat.
Due to my hurt ankle it would have been impossible for me to hike up. Instead I rented a donkey to take me (60 soles). I was very thankful that this option was available. It was a much different experience than hiking and afterwards my behind was a bit sore. Thankfully I was able to avoid aggravating my hurt ankle and it is now on the mend.
Katie, woke up at 5 and started hiking as the sun rose. It took her about 2.5 hours to hike up to the top.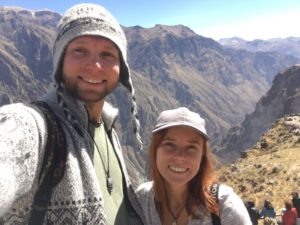 Getting To Puno From Colca Canyon
We were a little disappointed to learn that there is no direct public transport from Colca Canyon to the city of Puno our next destination. There was one private company (4M) that would take you. It offered touristic stops along the way to see some sights and was quite expensive (around $50 per person).
After asking around we discovered an alternative route. From Colca you take a local bus (one at 7am & another at 9am) to a place called Patapampa. We didn't see the name show up on the map, but the bus operators knew exactly what we meant. If you look at your map the place we were dropped off has a toll booth called "Unidad de peaje Pathuasi". From here we waited for about 30 mins before a bus going directly to Puno passed by and we were able to get on. It wasn't hard to get a bus we just had to wait and wave down busses to find the one that was going directly to Puno. If you are going to do this make sure to go on the morning busses from Cabanaconde otherwise you will have a hard time finding a bus to Puno. You don't want to get stuck there.
Packing List & Tips:
Daypack
Light weight pants and shirt, it gets hot during the day so you can bring shorts & tank
Swimsuit
Travel Towel
Sunscreen (its very hot and the sun is strong)
Water-bottle & Water
Snacks (fruit, nuts, chocolate, granola bars, cookies)
Hiking pole (if you have one, it helps with the downhill part)
A hat from the sun
A lightweight coat ( it gets chilly in the evening)
Camera
Bring enough money because there are NO ATMs inside the Canyon
We hope this guide has been helpful in preparing for your hike! Let us know down below if you have any comments or questions. If you hiked Colca Canyon, share your experience 🙂
Safe Travels,
Alex and Katie