Where to Begin
We've all seen the pictures. A city in ruins on a mountain, steeped with history and mystery. It's a place that everyone in their lifetime should visit.
First of all at the risk of being obvious, Machu Picchu is located in South America the country of Peru. The capital of Peru is Lima and it's where you will most likely fly into on an international flight. From there you'll want to get a flight to the city of Cusco. Cusco was actually the capital of the Inca Empire and has a lot of history.
Getting to Machu Picchu actually means getting to a city either named Aguas Calientes, or Machu Picchu Pueblo. Once you arrive in this city you can either walk up to, or take a bus to the ruins.
Before going to Machu Picchu there are a number of things you can do in order to make your trip an amazing experience!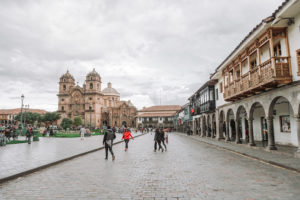 Acclimatize
Cusco sits 3,399 meters above sea level. Many people have a hard time breathing and don't feel well when they first fly in. Before heading to Machu Picchu the best thing to do is to spend a few nights in Cusco and explore the Sacred Valley. Some things that we did to acclimatize was to take it easy. Get enough sleep, eat good and healthy food, and drink herbal tea like Muna or Coca tea. We also just walked around the city and drank lots of water. The most important thing is to not be in a rush and to take it easy otherwise your body will have a harder time adjusting.
We recommend visiting the beautiful plaza and checking out the museums. You'll be able to understand the culture that created Machu Picchu better. Check out the post on our visit to Cusco here. You can also do a few other activities in the area while you are acclimatizing!
Urubamba
Urubamba is a town in the Sacred Valley region which sits on the Urubamba river and is a great place to stop for a day or two if you are interested in doing any adventure activities or site seeing like the Maras salt pools and Moray. Some of the adventure activities that you can do here include rafting, zip-linning, climbing, horseback riding, bike tours, lessons and workshops, and more!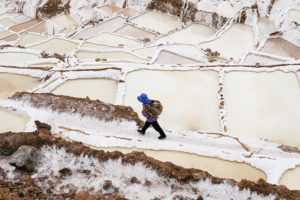 Maras Salt Ponds
Located just about 40 kilometers north of Cusco is a town called Maras which is well known for its salt evaporation ponds. The salt pools have been around from before the time of the Incas. Each family in the surrounding community has a pool from which they harvest the salt. Each pool is filled with the slat water which then evaporates and the salt is left. Onsite you can also buy salt that has been harvested and put into small packages that tourists can buy and take home.
Moray Ruins
It's an archeological site that contains unusual Inca ruins consisting of terraced circular depressions. It also has a irrigation system.  It is possible that this place was used by the Incas to study the effects of different climate conditions on crops.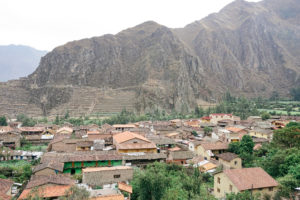 Ollayantalltambo
Ollantaytambo is a small village in the Sacred Valley. It's located next to Urubamba River and is surrounded by tall mountains making it a beautiful place to visit. It is also known for massive Inca fortresses, terraces and store houses which are situated on the cliffs. The village's old town is made of cobble stoned streets and old buildings that take you back in time.
This is also the place where you can take off on the train to Machu Picchu. If you have a day or two I would recommend seeing the ruins and doing a farm tour & a Pachamanca Lunch with El Albergue a local hotel & restaurant. If you want to know more about what a Pachamanca Lunch is please read this article.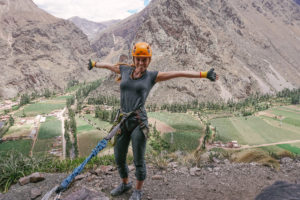 Natura Vive, Skylodge Adventure Suites
To describe it, it's a transparent capsule that hangs from a cliff in the Sacred Valley of Cuzco, Peru. Each suite (there's 3 of them) can hold up to 8 people, comes with four comfy beds, a dinning area and a private bathroom. The capsule itself is constructed out of aerospace aluminum and weather resistant poly-carbonate. From within the Skylodge capsule you are able to get a 300 degree view of the Sacred Valley.
If you don't have the time or money to stay at the Skylodge Suites, but you would like to just see them you can do a ziplinning & climb up Via Ferrata tour. It's great for groups, couples and families!
To read our experience with Skylodge Adventure Suites Ziplinning and Climbing click right here.
Choosing which tickets to buy
Machu Picchu Main Grounds
Adult: $46 USD
This ticket includes the main ruins, terraces, and temples that you see in photos of Machu Picchu. If you want take the famous picture of Machu Picchu you will be able to by just purchasing this ticket. In order to take the classic picture of Machu Picchu head straight away to the Guard Shack. Llamas commonly hang out nearby and the view is truly wonderful.
Machu Picchu & Montaña Machu Picchu
Adult: $62 USD
This ticket price includes the grounds of Machu Picchu and also the climb to the taller mountain, Montaña Machu Picchu. This is not an easy climb but will provide you with higher views of Machu Picchu. You can only climb it at a certain time so you will have to choose between 2 time slots, 7-8AM or 9-10AM.
Machu Picchu, Huayna Picchu & Temple of the Sun
Adult: $62 USD
This includes the ground of Machu Picchu and a more busier mountain called Huayna Picchu. It's the one you see in the background of pictures that are taken of Machu Picchu. From up top you will see beautiful views and get great pictures. It is a climb and it can get pretty busy with all the tourists trying to climb it. If you want to climb this mountain you will have to purchase tickets ahead of time since they are usually sold out pretty quickly!  You will have to choose between 2 time slots, 7-8AM or 10-11AM.
Where to buy tickets
The best option is to just buy the tickets once you fly into Cusco. There are usually many tickets available and they actually never had a time where they were completely sold out. This is what we have been told by the lady who sold us our tickets. Since we are traveling in the off season we actually got the tickets a few days before in the city of Cusco. You can also buy them online or at the city of Aguas Calientes. If you are wondering about how many tickets are still available you can check the official government website.
You have three options to buying tickets:
Buying in-person in Cusco
You can buy the tickets at Ministerio de Cultura (open Mon-Sat, 7AM-8PM) It is near the Museo de Chocolate. You will need to bring your passport and a credit card or cash.
Buying in-person in Aguas Calientes
You can buy the tickets at Machu Picchu Cultural Centre (Mon-Sun, 5AM-10PM) Make sure to bring your passport and cash.
Buying tickets online
You can purchase tickets from the Government Website. You will be able to see the website in English but when you try buying the tickets it will all be in Spanish. The whole process of trying to buy the tickets online is a little bit complicated but can be done.
Best time to go
Dry season ( May to September) you will have a lot more sunshine and dryer weather.
Rainy season is one to avoid if you want perfect views and weather for your visit. It is from October to April. This is also the time when you can get better deals on hotels and tours. There are less tourists during this time.
Time of day
If you want the least amount of tourists there with you then going from 6AM to about 8AM is a good time. You will also be able to see sunrise and watch the clouds lift. Another good time to go at is in the late afternoon from around 2PM-4PM. If you are going during the off season then going in the morning is important because in the afternoon/evening it usually is raining.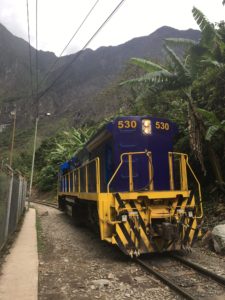 How to get to Machu Picchu
Go By Train
One of the famous ways to get to Machu Picchu is by train. Some will even tell you that this is the only way to get there. Due to the difficulty of the other methods this is definitely the most comfortable. The tickets to take the train, however, are quite expensive. If you still want to take the train no matter what you can take a bus to the nearby town of Ollantyatambo and take the train from there it's a lot cheaper than taking it from Cusco. Plus, you get to explore the Sacred Valley which is BEAUTIFUL and full of ruins to visit. There are two companies that you can choose from Peru Rail and Inca Rail. The trains will arrive at Machu Picchu Pueblo (also known as Aguas Calientes). From there you can take the shuttle up to Machu Picchu itself.
Estimated Cost= Assuming that you will take the train from Ollantaytambo (cheaper than Cusco) it will cost you around $135-150 round trip with Peru Rail on the Expedition (economy) to get from Cusco to Ollantaytambo (collectivo $3, private taxi $23-25)
Go By Bus
2-3 days Another way you can get to Machu Picchu is by bus. People have different opinions about this method since you will be traveling along roads that are very twisty and towards the end unpaved. Some have found the roads to be more than they can handle which is perfectly understandable.
Another element of taking a bus tour is that you are part of a 'tour group' where the bus drops you off and picks you up the next day. This may seem like a little bit of a time rush due to the fact that after the bus drops you off you still need to hike for about 2 hours along train tracks to Aguas Calientes. You then need to hike back the next morning after visiting Machu Picchu. We found, however, that the city of Aguas Calientes has very little to offer and there is no need to stay there any longer than a trip to Machu Picchu.
Estimated Cost=( $25 this only includes transportation to and from the Hydroelectrica. From there you have to then hike along the train tracks into Aguas Calientes)
Go by Collectivo
2 days We found out that there are also collectivos (group vans) going to Hydroelectrica Station. These are unorganized tours, you won't get a guide and this is only one way. You basically just grab a ride in a collective van with other tourists who aren't interested in doing an organized tour and want to save money. This is what we took when we were in Ollantaytambo. They usually leave around 9 or 10 am and arrive at the station at 1-1:30PM. From the station you will have to walk along the tracks into Aguas Calientes. To get back to Cusco or Ollantaytambo from the station is a little bit challenging because most of the vans that parked there are waiting for the tourists that went along with the organized tour by bus,$25 (the option above). This is a cheaper option for those who want to save money.
Estimated Cost= ($18.50 this includes transportation to and from the Hyroelectrica. From there you have to then hike along the train tracks into Aguas Calientes.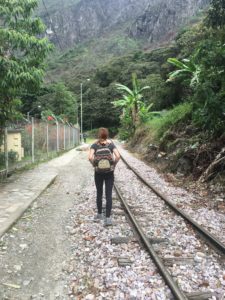 Go By Foot
You can skip the entire collectivo ride and hike from Ollantaytambo. This way is basically following the tracks that the train takes from Ollantaytambo. You would start from Kilometer 82 and hike 28 Kilometers until Aguas Calientes. From what we saw a few people go this way. It is free and the views are said to be quite stunning. You will need to be mindful of any dogs along the way so carry a stick or pepper spray.
Estimated Cost=( $3 to get from Cusco to Ollantaytambo. This does not include food, lodging , entrance ticket, or the way back)
Hiking the Inca Trail
4 days This method of getting to Machu Picchu might be the most adventurous and authentic way, but you will pay a lot more for it. You can choose from a number of tour companies located in Cusco. You do need to book ahead. The trail isn't the easiest but it is rewarding. The Inca Trail can ONLY be hiked with a tour. You can't go on your own.
Estimated Cost= It can really range from $500-800 (includes transportation to the trailhead from Cusco, a guide, porters, three meals a day, hiking permits, entry to Machu Picchu, and tents)
Jungle Trek
4 days We met some friends who did a different trek to reach Machu Picchu. It's called "Jungle Tour" and they booked it while they were in Cusco.  Most hostels and tour agencies along the streets advertise this option. The trek is 4 days and 3 nights through the jungle with many activities planned for each day. It included white water rafting, mountain biking, zip-linning, chocolate tour and sleeping in huts. Altogether, it cost them about HALF the price of what the Inca Trail tours go for. From what they said it was around $200-250. That's including all the activities, food, transportation, lodging and entrance to Machu Picchu.
Estimated Cost=$200-250 (transport, guide, mountain biking, whitewater rafting, zip-lining, meals , three nights accommodation, and the entrance to Machu Picchu.
Getting to the Ruins
All of these methods actually get you to the city of Aguas Calientes. From there you have two options. You can hike up a set of stairs which shortcut the twisty road heading up to Machu Picchu. This takes about half an hour. These stairs are fairly steep and are uphill the entire way. Going down will hurt your knees so be prepared. Alternatively you can pay around $12 to take a bus up to the ruins. It's another $8 for a round trip.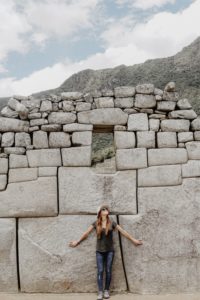 Hiring a tour guide at Machu Picchu
Whatever you choose to do the one thing that we suggest is to hire a tour guide at the entrance of Machu Picchu. If your tour includes a tour guide then you won't need to do this. When you arrive to the entrance gate you will see many guides who will offer you a tour. They usually try to get a small group together so that the price is low. We paid around $7.72 per person for a 1.5 hour tour of Machu Picchu. Make sure to speak to your guide and see how well you understand him/her. Some are better than others. Shop around 🙂 We enjoyed our tour and learned a lot.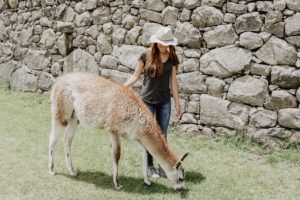 Tips and What to Bring
There are a few things that will be helpful to know about the ruins that will help you plan your tour better. First of all your entrance gives you a specific time slot in which you can enter the ruins. We had the morning slot from 6am to 12pm. This is a fairly long time to be without food or bathroom breaks. You are allowed a small backpack in with you to the ruins. Most people use it to bring a small snack with them.
In addition you can actually enter the ruins twice so if you need to use the restroom part way through your visit you can do so. Another detail that we did not really see mentioned anywhere is that there is actually a one-way route through the ruin. If you feel like you missed a certain spot there are guards all over the ruins preventing you from going back.
Another thing to keep in mind, there are a lot of bugs up there! I forgot to put on bug spray and I seriously came back with red spots on my legs. They are very itchy. A trick we heard was to put on use shampoo as a lotion on your arms and legs, I know this sounds very weird, but it works a lot better than bug spray.
We hope that this has been a helpful guide in planning your trip to Machu Picchu! If you have any questions or comments please let us know below.
let's go!
-Kate & Alex