Munich, Germany
It all started when my mom surpised my dad and younger sisters on Christmas with tickets to Europe. Of course we couldn't pass up this opporutnity, so we started searching for tickets of our own that day. On New Year's Day, we found the best deal yet, $400 roundtrip per person and decided to book immediately.
March couldn't come sooner so of course when the day finally came to leave, I had a cold and packing was done last minute.
My parents flew in two days before us and met us at the airport with our new ride! A nine seater Mercedes van. We had seven people altogether (Mom, Dad, Alyssa and her then fiance Tim, Deanna, Alex and I) Our itenrary was to spend a week in Italy and a week in France. We visited 8 beautiful cities.
Munich – Venice – Florence – Rome – Pisa – Milan – Paris – Strasbourg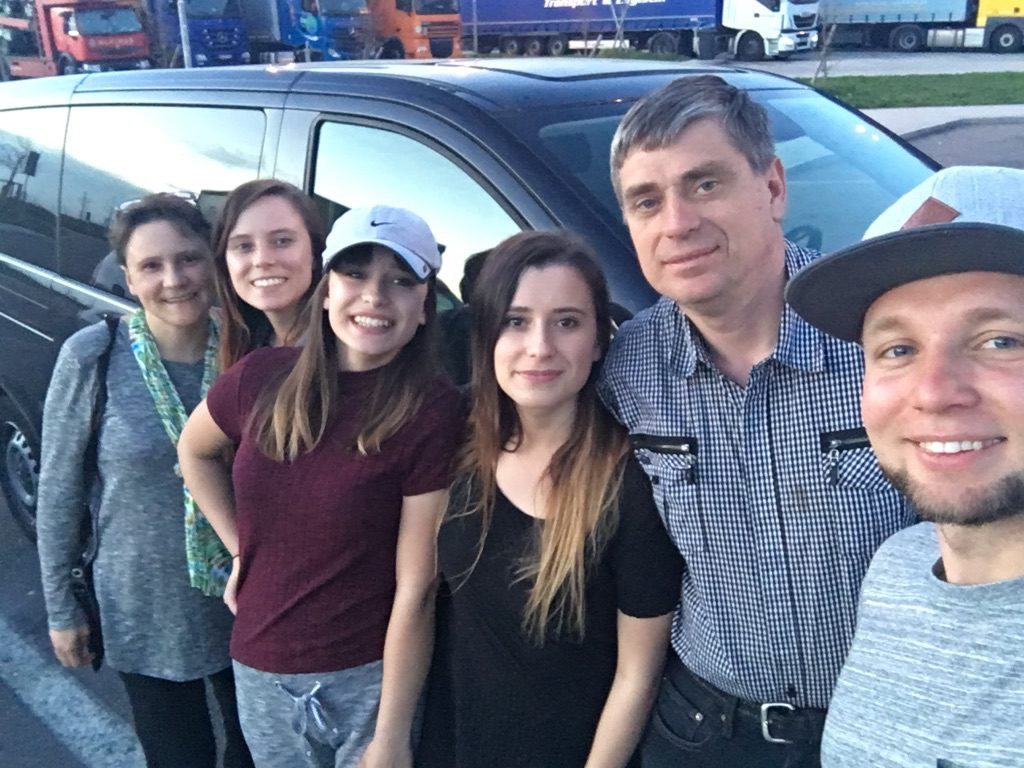 Neuschwanstein Castle, Germany (1 day)
After getting picked up at the airport we drove two hours to the Neuschwanstein Castle. It was all I imagined it to be. Snow capped mountains and a fairytale castle and bridge. The beautiful, pictureisque castle inspired Walt Disney to design the Disney Castle after it.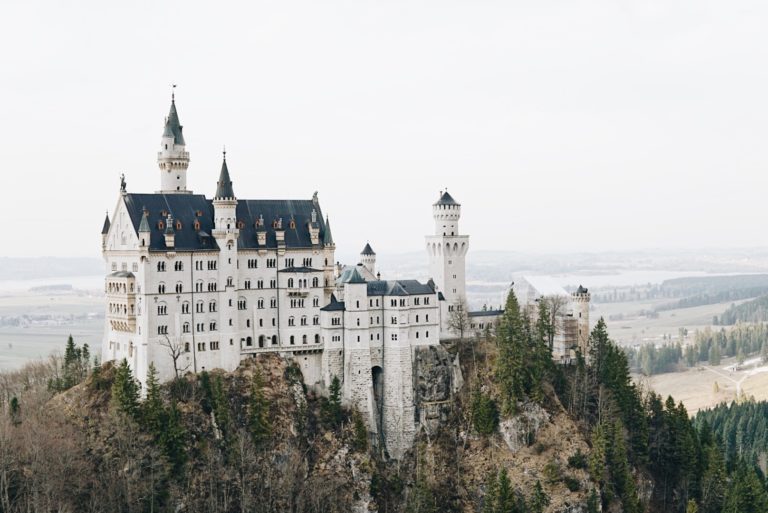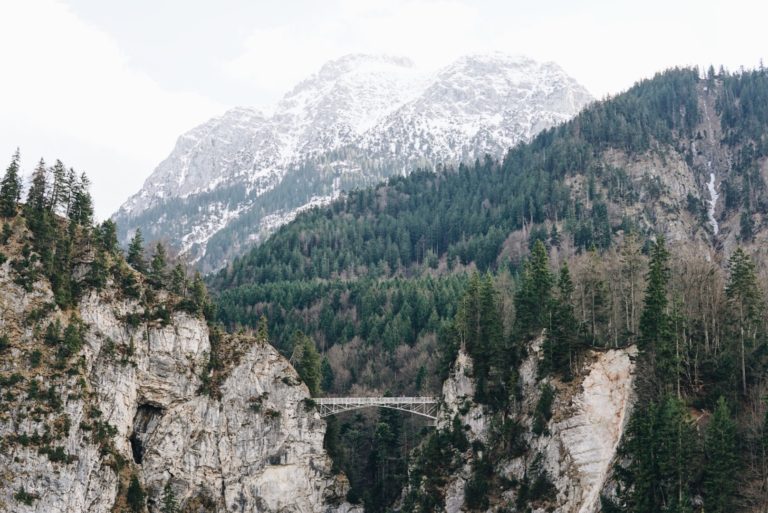 We arrived an hour before closing and therefore there was no line to buy tickets. We took the shuttle bus up the mountain and toured the magnificent castle that Ludwig II of Bavaria built as a place where he could get away from the public.  
Jet lag took over Alex pretty hard and he napped in every corner he could find.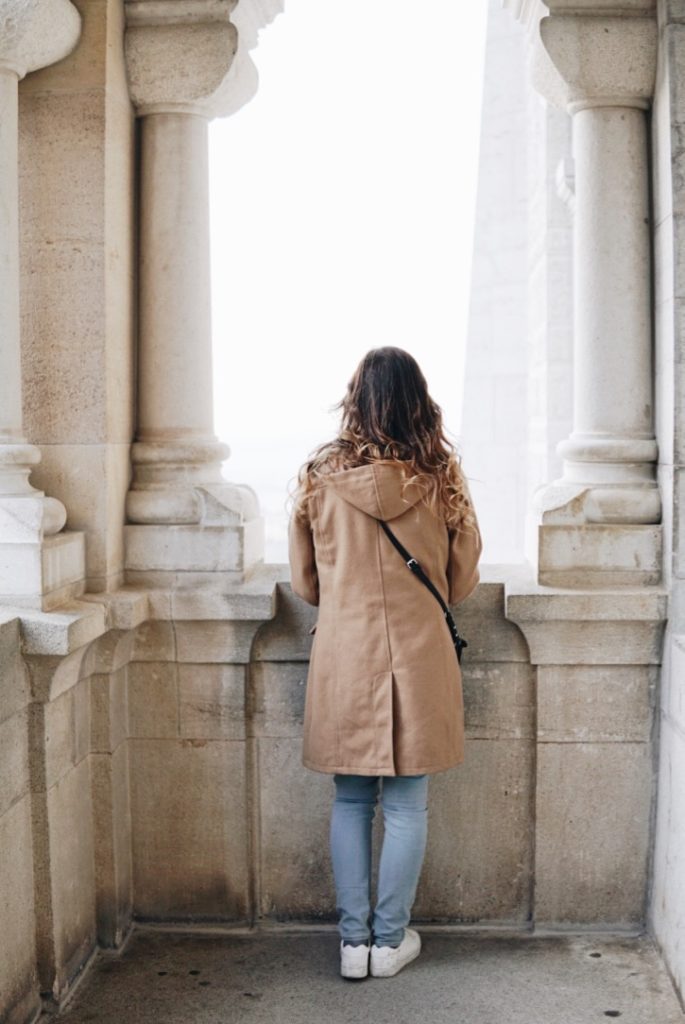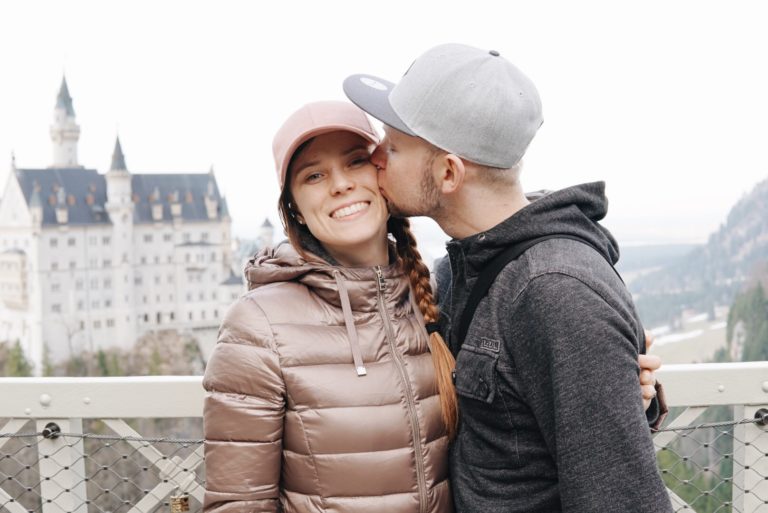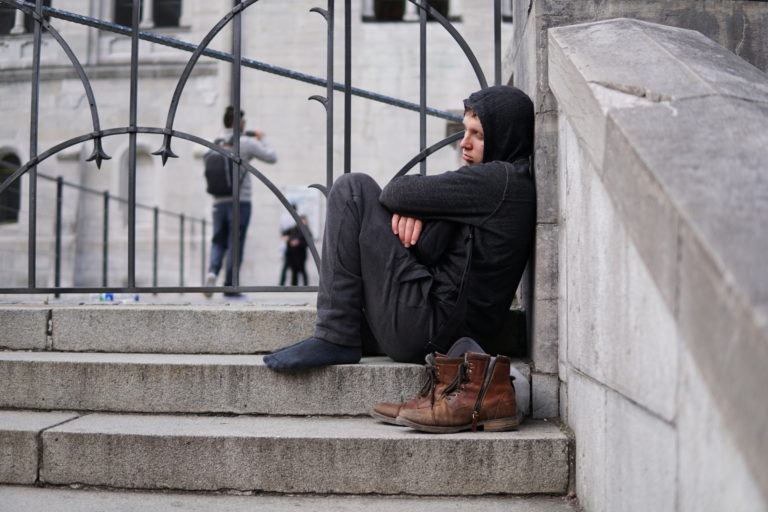 Venice, Italy (3 days)
We arrived in Venice during the night and settled in our Airbnb apartment. It was approximately 10 mins away from Venice by bus. This was the best option because finding a place in Venice was expensive and difficult to find for a group of our size. The next morning we took the bus into Venice. Venice has no cars only boats and gondolas. It's made up of narrow canals and a central canal. The Republic of Venice was a major financial  power during the Middle Ages and the Rennisance. It was also a very important center of commerce for silk, grain, and spice. This all made Venice a very wealthy city throughout its history. Everywhere you look buildings are old, but colorful and pictureisque.
We spent the first day mostly in St. Marks Square touring the Dodges Palace, St. Marks Cathedral, and walking around the plaza.  In the evening, we indulged in some gelato and had pizza and pasta for dinner. This is where we discovered that Italians are all about their dough and pasta. The pasta wasn't fully cooked and not a lot of sauce was poured on. The flavor is in the pasta not the sauce they say. Pizza was not what we were used to, it had minimal toppings, a thin crust, lots of cheese and less sauce. Delicious!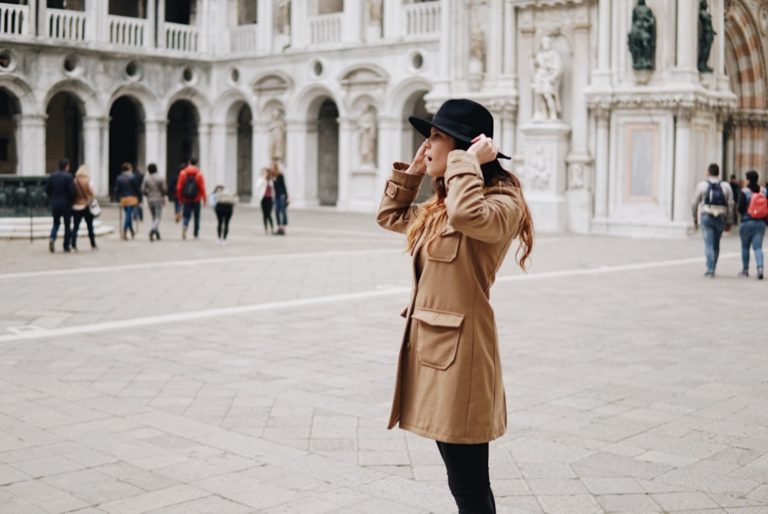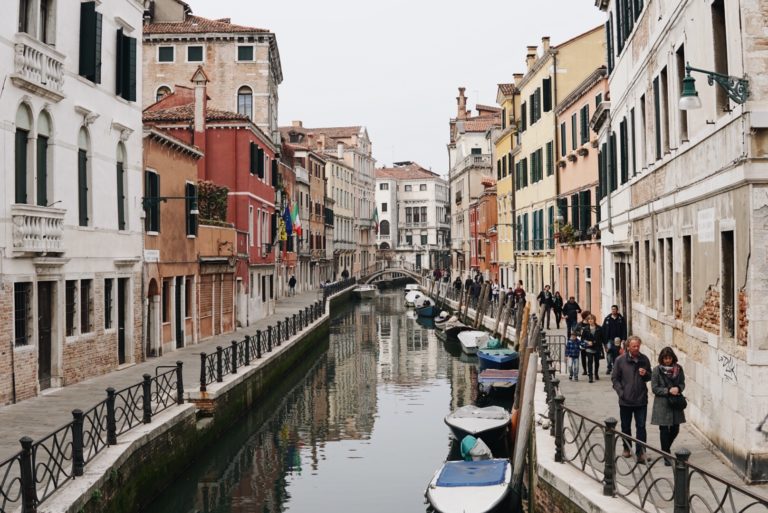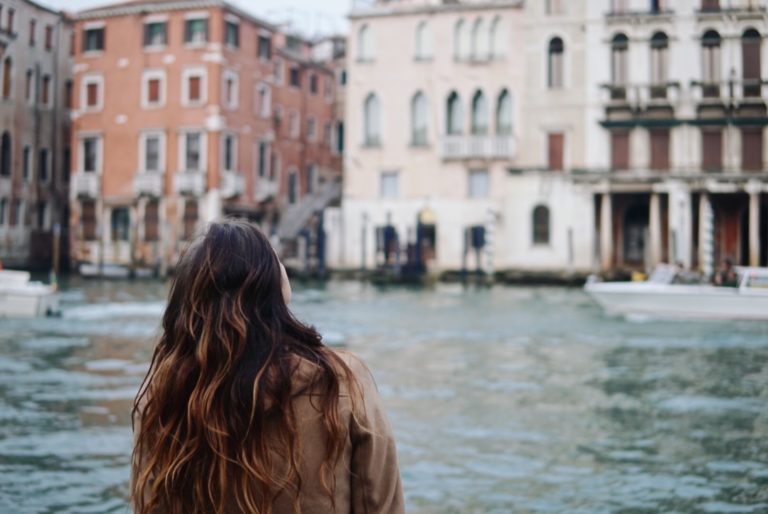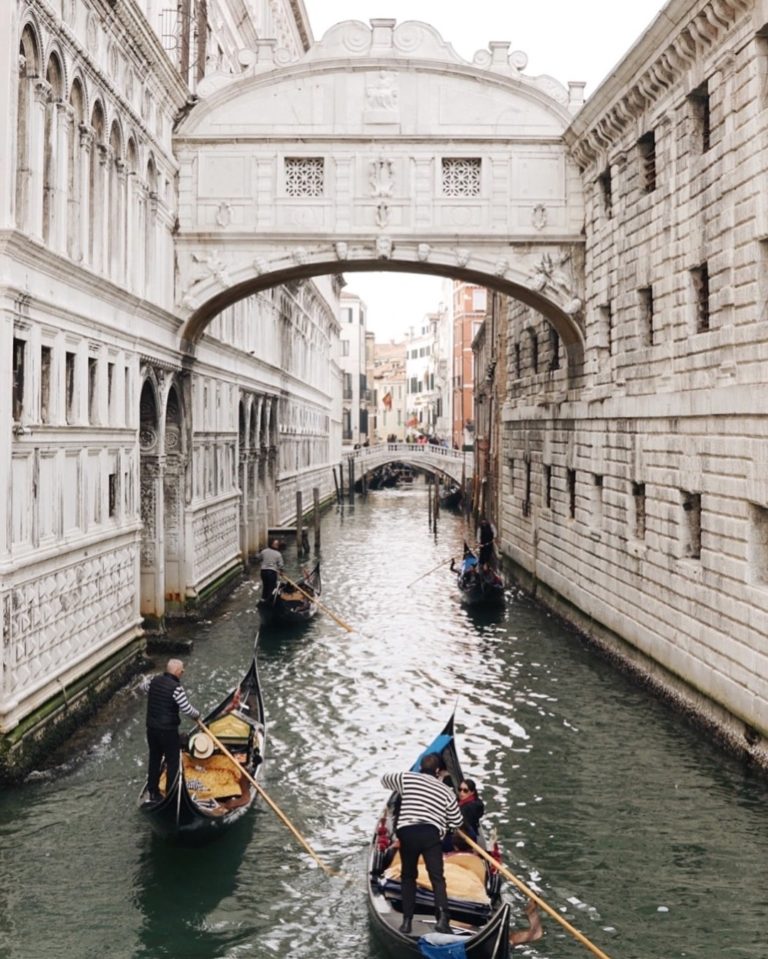 Day 2 & 3: The best way to explore Venice was to get lost. When we got lost in the narrow streets that's when we found the most unique and beautiful places. We found an old book shop, a street with laundry air drying, and many cute little cafes.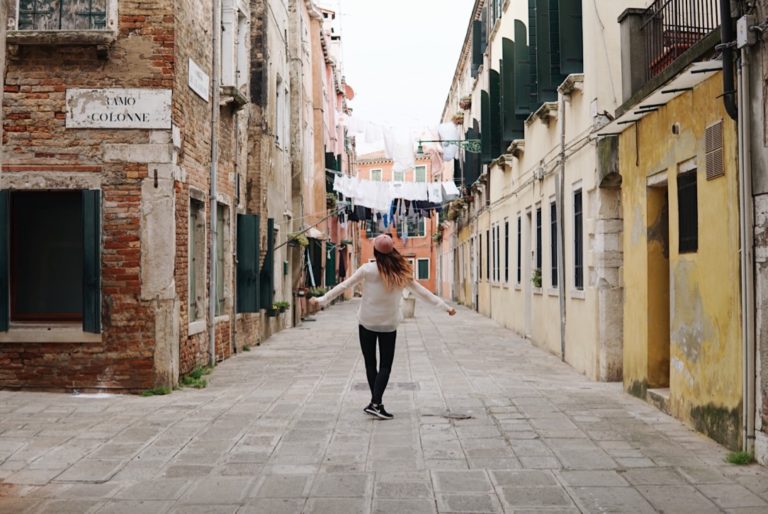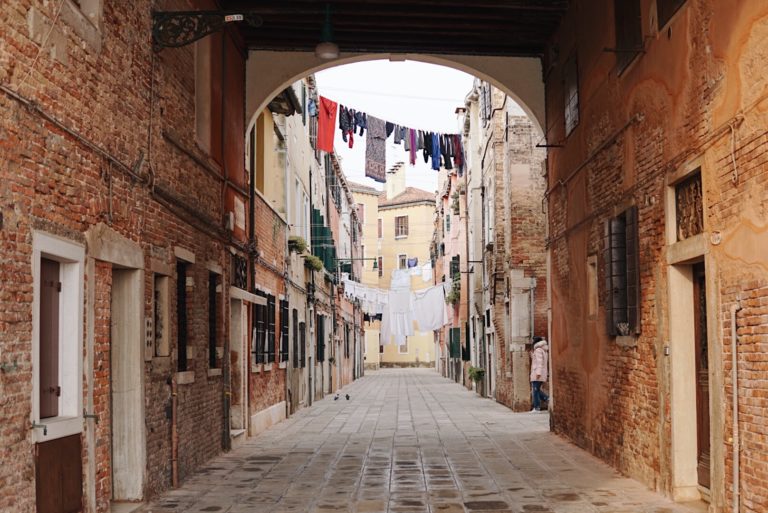 In the afternoon, we enjoyed a picnic by one of the canals which consisted of pizza and wine. On the last day we went on a gondola ride through the canals. Our driver navigated through the narrow canals and told us more about the city and its history. Our evenings were spent eating delicious cheese, bread, prosucitto and choclate at our Airbnb. It was close to a small grocery store where we would buy ingredients to make dinner altogether.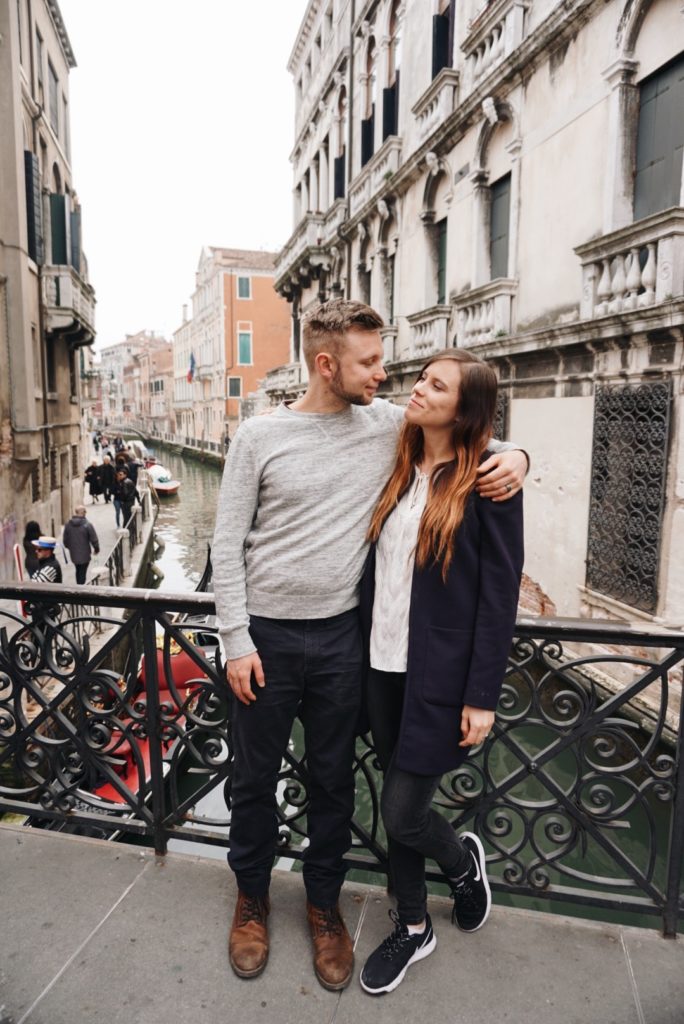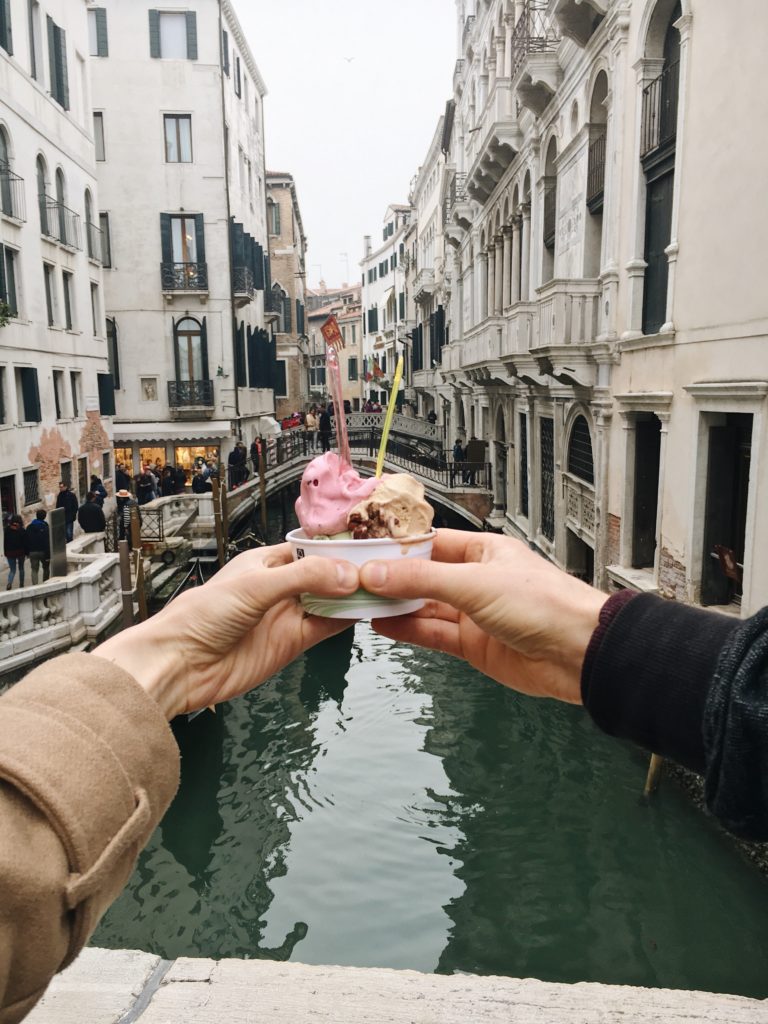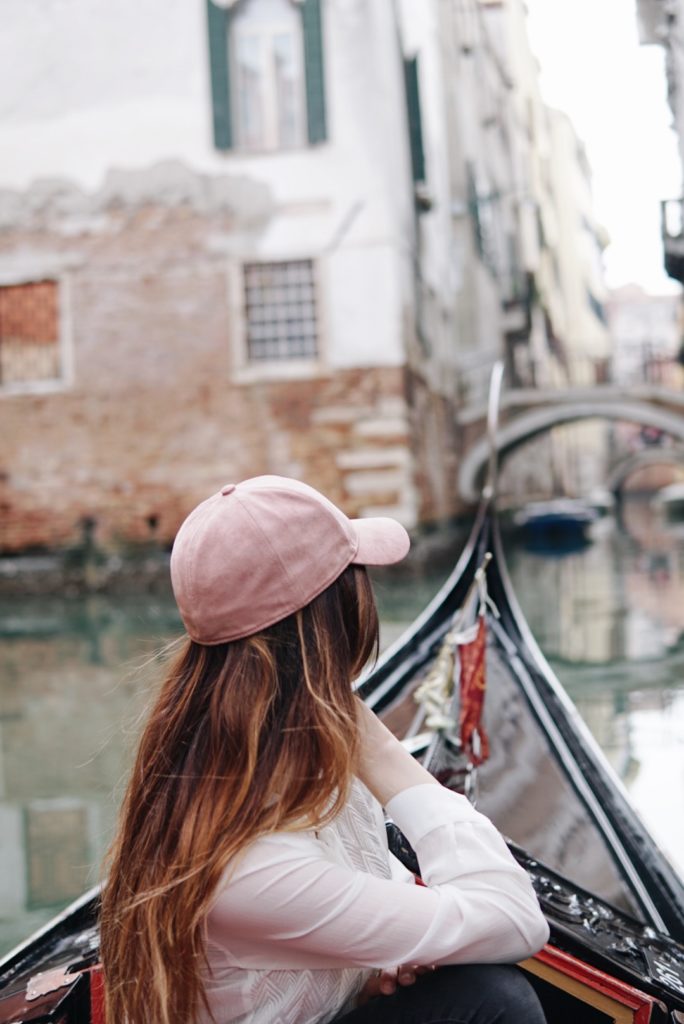 Florence, Italy (1.5 days)
Florence, the birth place of the Rennaisance. The Duomo, The Cattedrale di Santa Maria del Fiore was my favorite. The gothic cathedral was the first dome built since ancient Roman times and the colorful facade of marble panels in shades of green and pink bordered by white made the cathedral look magnificent. I stood there for a few minutes just looking up and admiring it. We started the day by going to small local cafe for some morning cappuccino and to try the famous flourintine panini. We spent the day doing a walking tour of Florence and all its major historial sites. Throuhgout this trip we used the Rick Steves Free Audio Guides.
We strolled along the same cobbled streets streets that once were walked by Michelangelo, Leonardo, and Botticelli themselves. We saw the Church of Santa Maria Novella with Masaccio's famous 3-D painting, the Duomo, the Campenile (bell tower), Baptistery, Ponte vecchio (the famous bridge lined with small shops) and ended off the evening by hiking up to the Piazzale Michelangelo. It had beautiful views of the city and the Duomo. Unfortunately, the Accademia Museum where Michelangelo's David now stands was closed but there was another David statue that we saw during the walking tour.
Tuscany is such a serene part of Italy. Farms, olive groves, and rolling hills are what you see and can't get enough of.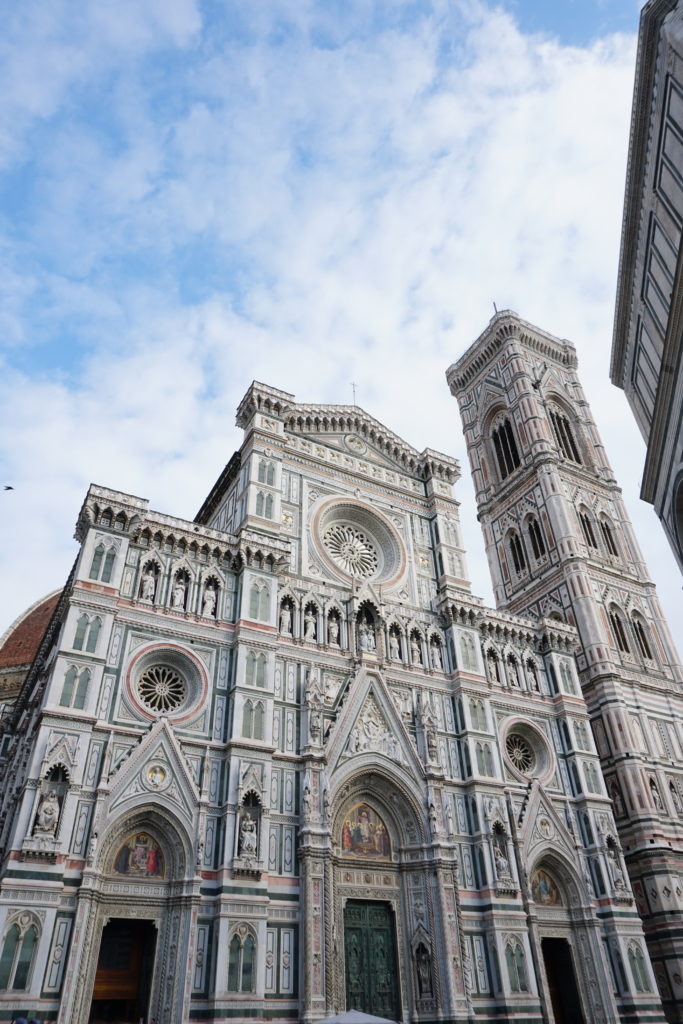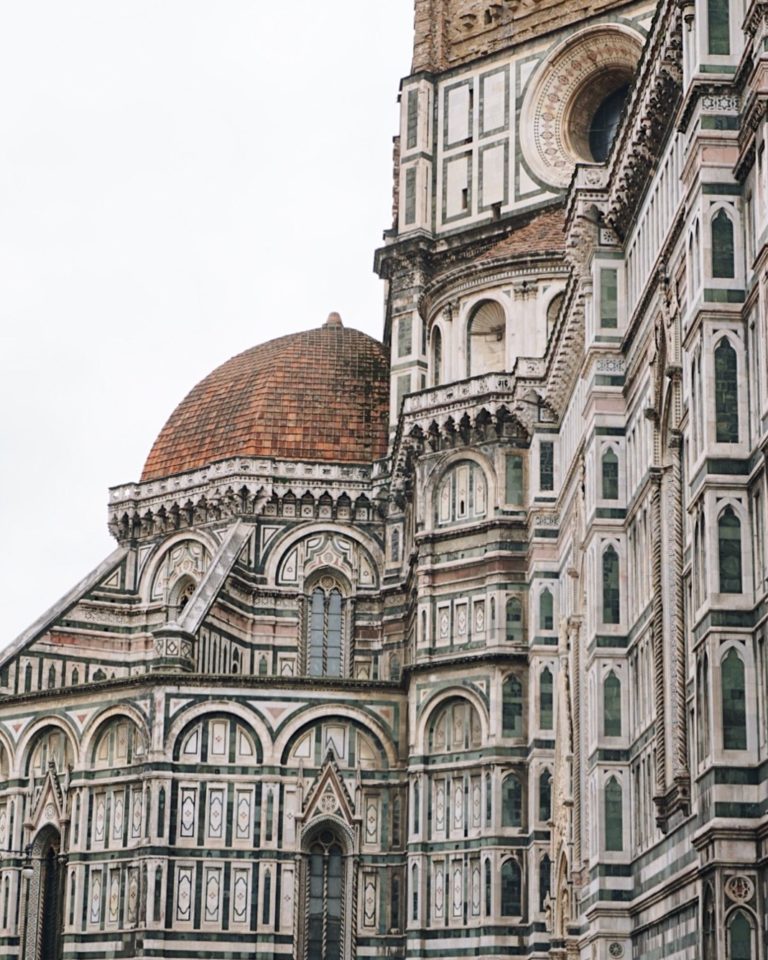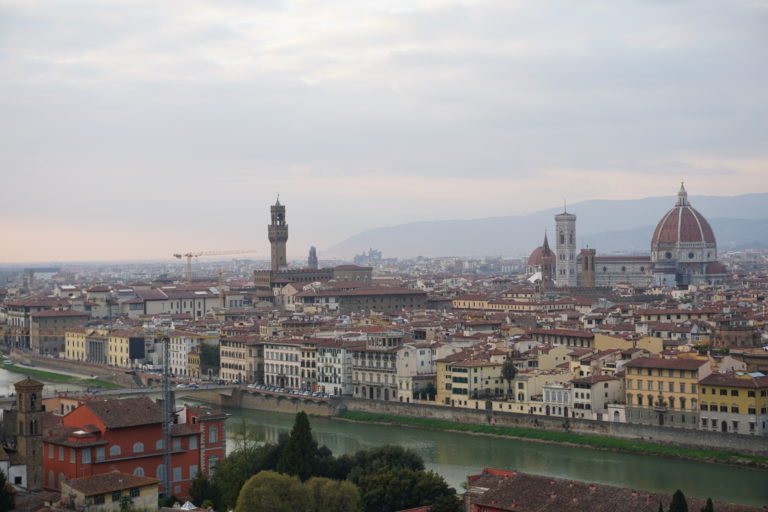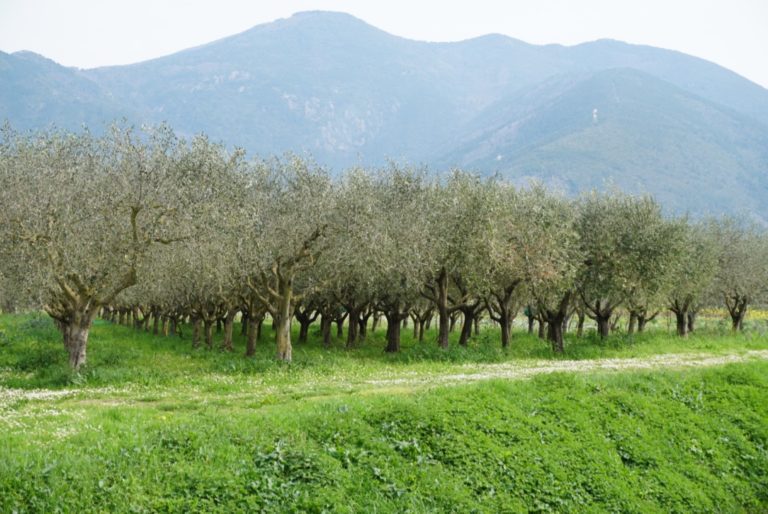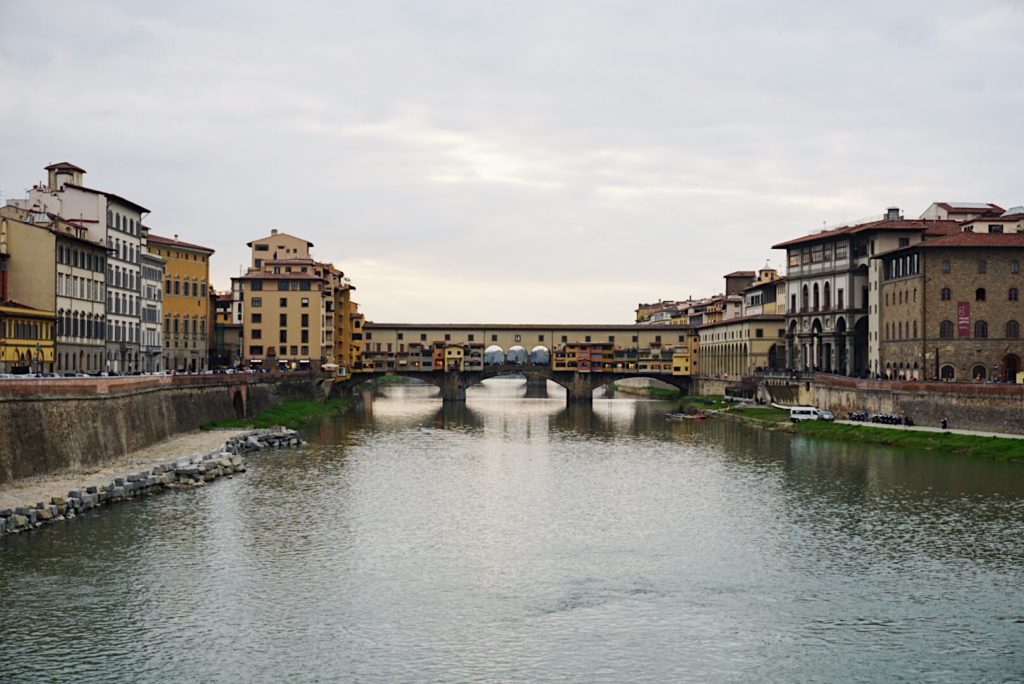 Rome, Italy (3 days)
The first day was spent in Vatican City. Did you know it's a city within a city?! We toured St. Peter's Basiclica and then spent a few hours in the Vatican Museum. My favorite was the Sistine Chapel ceiling which was painted by Michelangelo (1508- 1512)
Michaelangelo painted nine scenes from the Book of Genesis of which the creation of Adam is best known & recognized. During our stay in Rome we bought the Roma Pass which gave us free access to the Metro & bus system, discounted tickets to museums and one free pass to an attraction of our choice.
Day 2 &3 : Was bascially spent "Roaming in Rome". We went into the Colloseum and then walked through the Roman Forum (my favorite) where we saw ancient government buildings, temples, shrines, a triumphial arch, and even Julius Ceaser's grave.
The city has so many old ruins, but they are not forgtoten. They are beautiful and within them is history.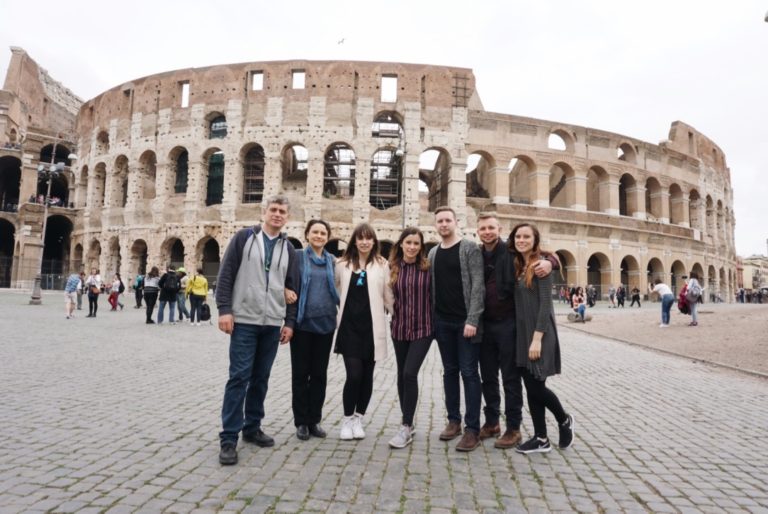 Some of our other favorite places in Rome were the Trevi Fountain, the Spanish Steps and the Cattacombs. It was fasinating to see the never ending tunnels of tombs that were hidden underground.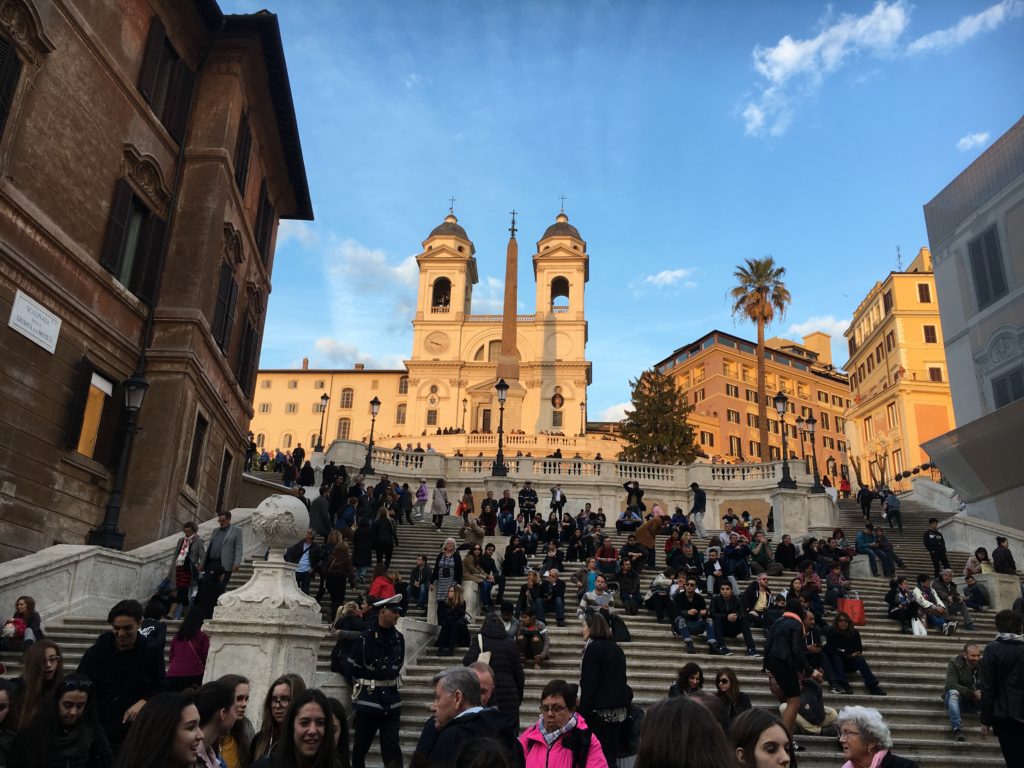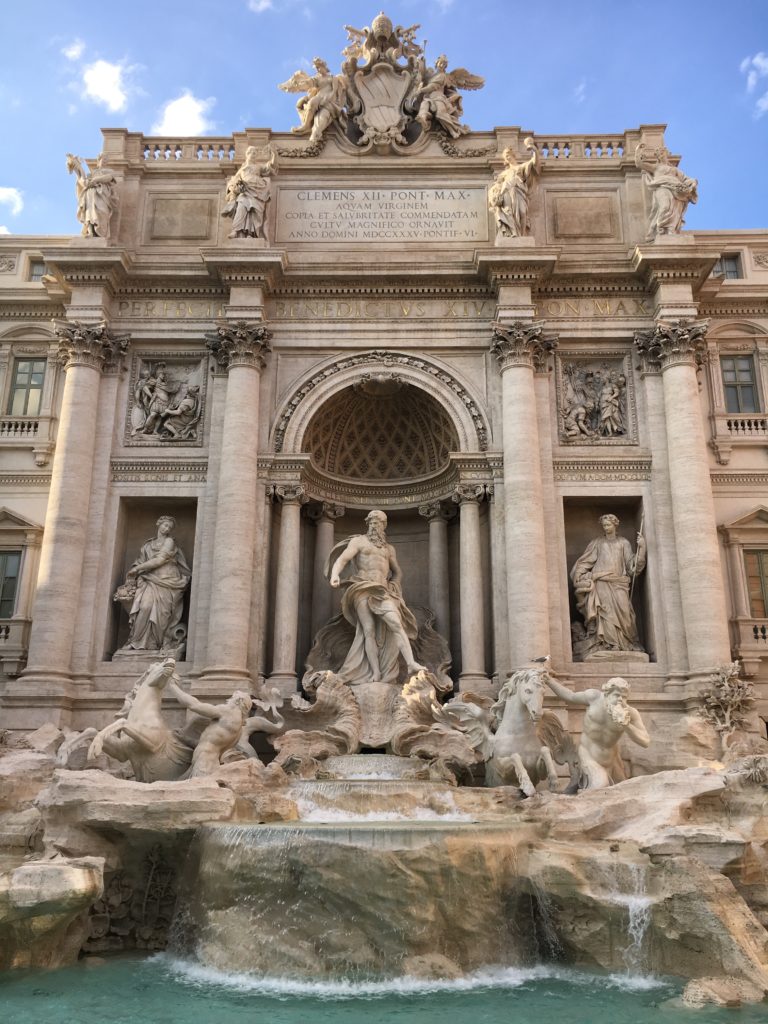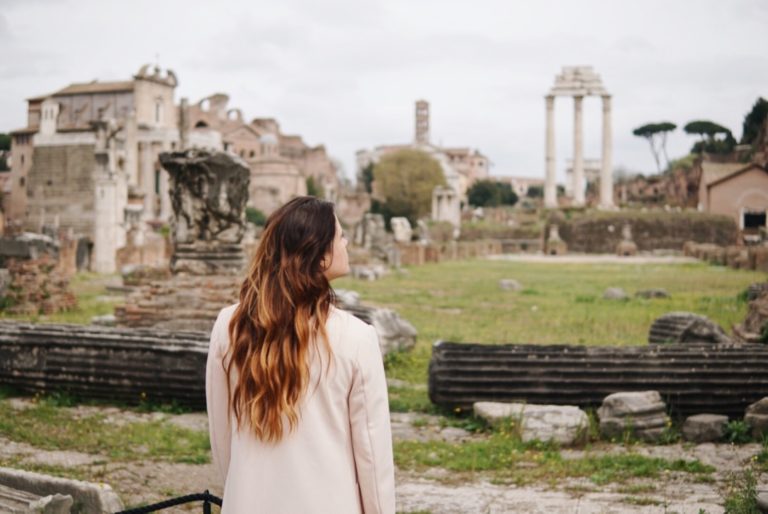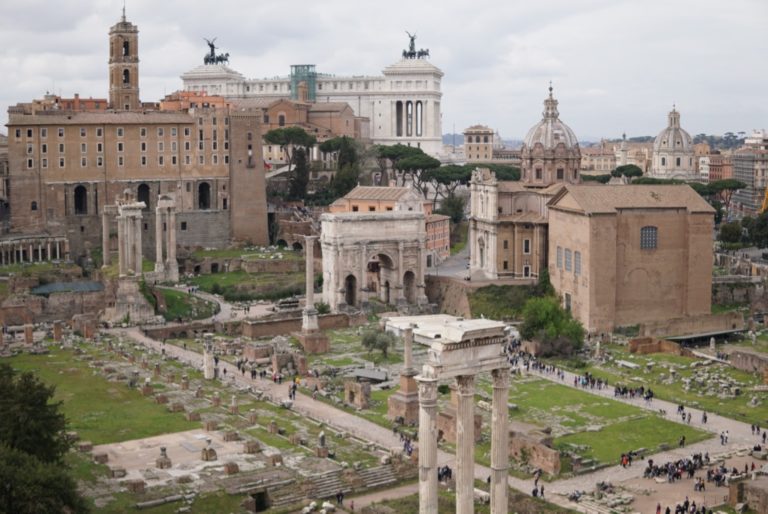 One of my favorite evenings in Rome was when we went into the neighborhood of Trastevere. It's a cute neighborhood with small shops, cafes, restuarants and cobbled streets. We walked around the tiny streets during the evening to romantic music coming from the restuarnts and along the way we stumbled upon a street preformance. It was a perfect night in Rome, with lights, Italian music, cheese and wine.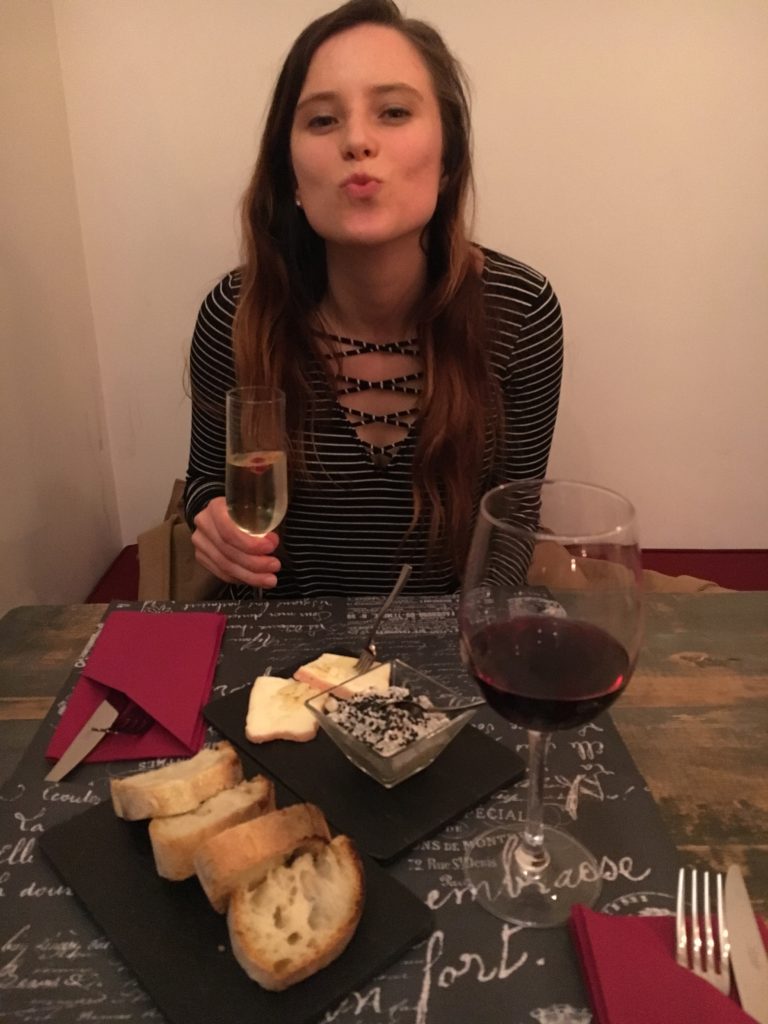 Below is the Pantheon. In tenth grade, I had a history teacher who made slideshows of his travels around the world. He taught us history through the picutres that he had taken. He told stories of the people, the culture, and the places. It really stuck with me. Several years later here I stand in front of the Pantheon one of the extraordinary buldings I learned aboutt in 10th grade. I think that's when I  decided that I wanted to have more stories to tell rather than things to own.
Pisa, Italy (Half Day)
Basically we came to Pisa to straighten out the tower 😛
The Leaning Tower of Pisa was a quick stop along the way to Milan. We mostly just walked around, took pictures and then enjoyed a very scenic drive up to Milan. Along the way we drove by an old roman aquaduct. So much history everywhere you look! Aquaducts were used to bring water from hills and mountains into the city down below.
Milan, Italy (Half Day)
Just a few weeks before this we were reading in our "100 Wonders of the World " book about this stunning cathedral. This gothic cathedral took nearly 6 centeries to complete!!! It's beyond beautiful.
We didn't have much time in Milan because it was more of a rest stop than anything but we made the most of it! We enjoyed the pigoens, which Alex attracted with his hands, explored The Galleria Vittorio Emanuele II, one of the world's oldest shopping malls and then went out for some Italian coffee and delicious sweets.
One of our favoite things about Italy is their coffee culture and how cheap a cup of good coffee is. We paid $1.25 for a really good cup of cuppocino.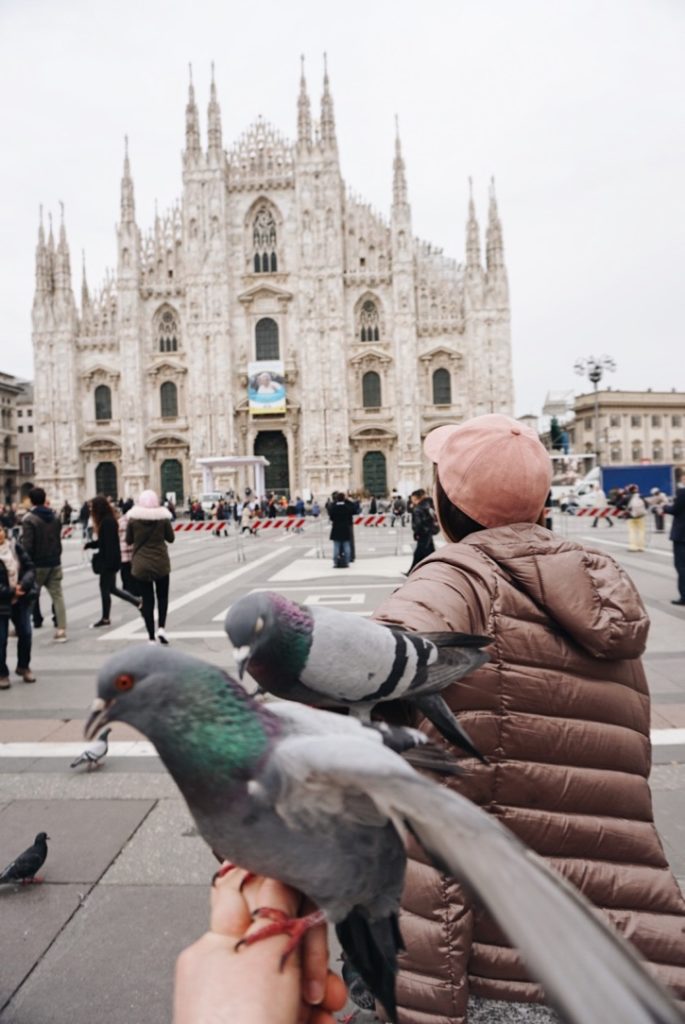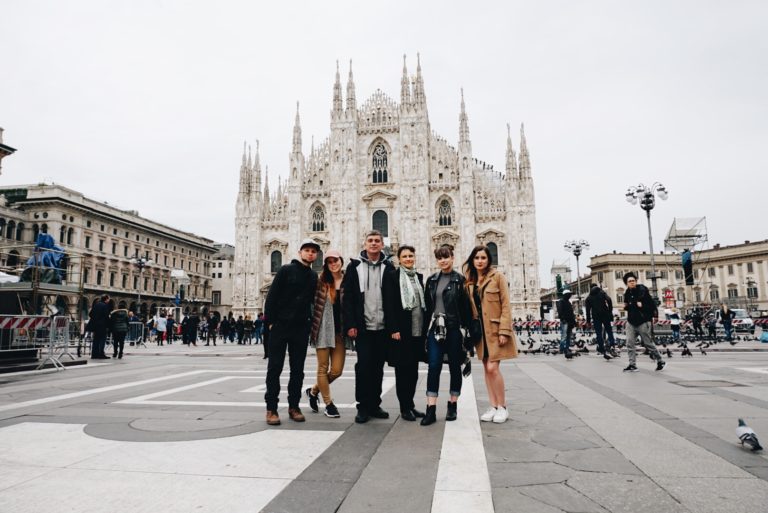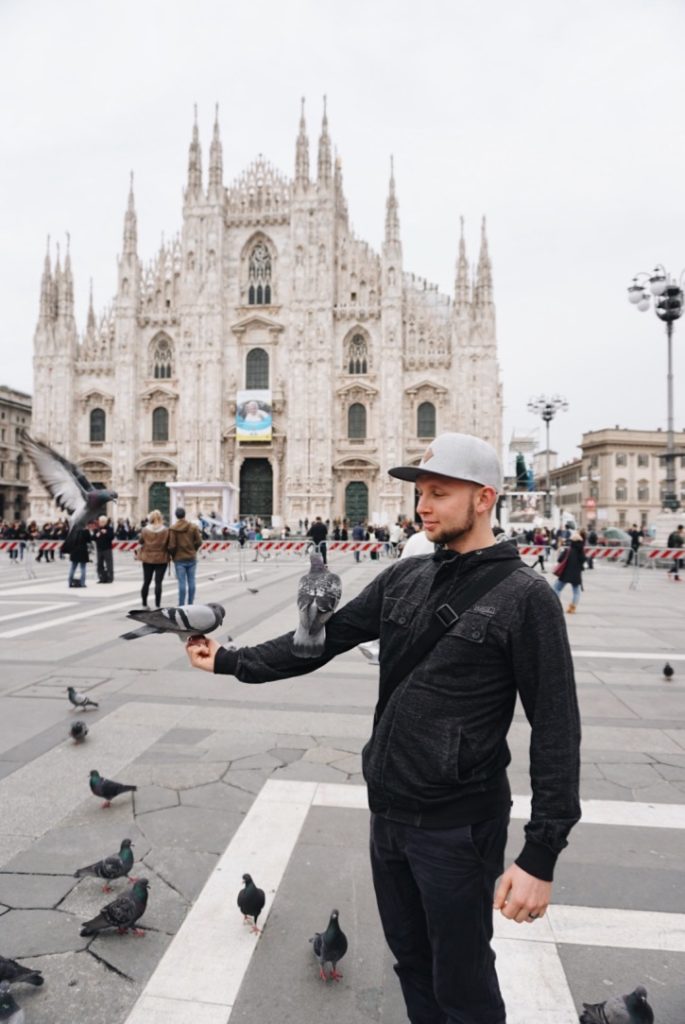 Paris, France (5 days)
"Paris is always a good idea"
Oh Paris, where do I even start! The city of lights, love, champagne, crossaints, and romantic walks.
Paris is divided into twenty arrondismants or as we know it, neighborhoods. Our Airbnb was out of the city limits so we became quite adept at riding the metro into and all over town. Again, it was a little bit hard to find something big enough for 7 people within the city otherwise the best option would have been to stay inside the city!
The first few days were spent at Notre Dame, Saint Chapele, Champs Elyyesse, Louvre,  and Arc De Triumph. On one of the days we made a day trip out to the Palaces of Versallies. After, so much art, archetecture and doing touristy things we were exhausted so for the last few days we decided to take it easy.
To the left : The big pyramid is the entrance to the Louvre. Right: The Arc de Triumph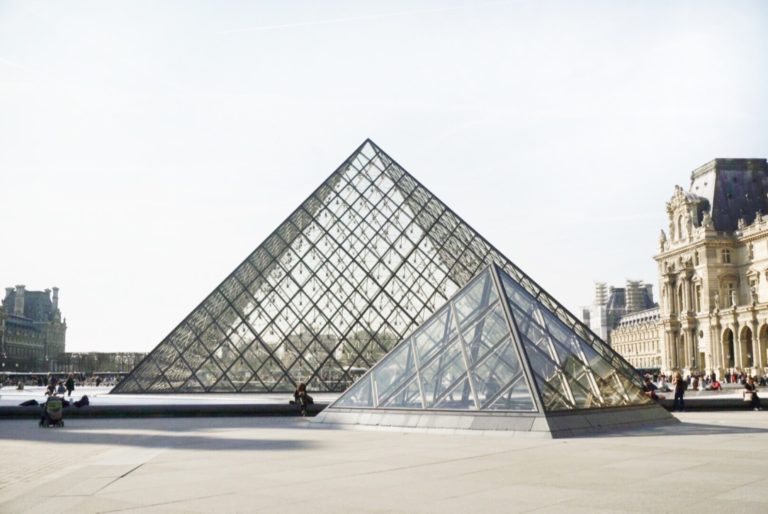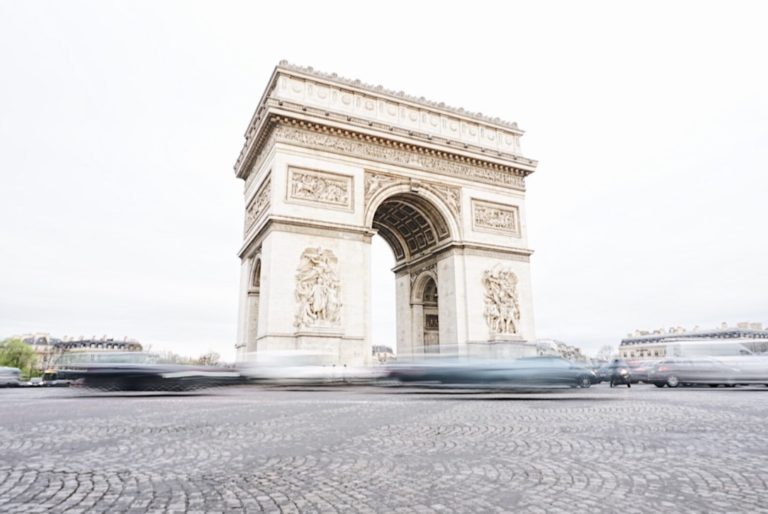 To the left: Love locks on the bridge by the Siene River. To the Right: Cute streets of Montmatre.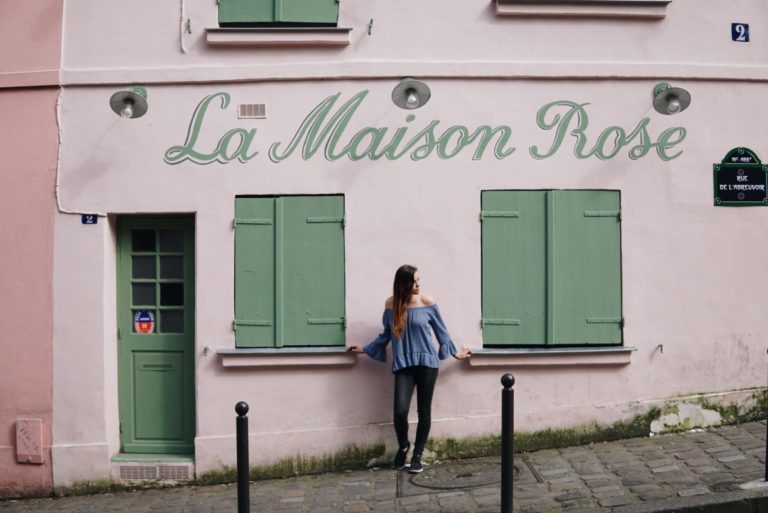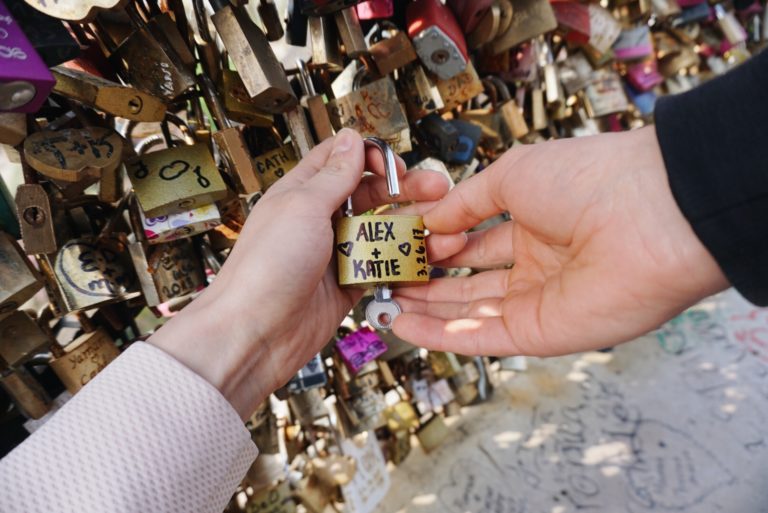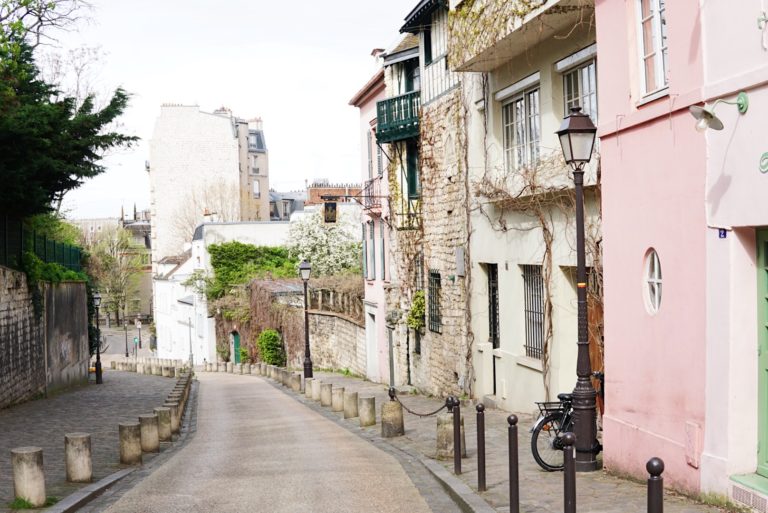 One of my favorite days in Paris was when we woke up early to greet the sun as it came up over the city and tower. We watched the sunrise and then rode city bikes to a very beautfiul part of Paris, Montmatre.
Paris has a really awesome bike system. You pay $1.75 to rent a bike for the day and you get 30mins free. If you use the bike for more than 30 mins at a time then you get charged a dollar every hour after that. The easiest and best thing to do is to ride for 30 mins, turn in your bike in one of the many bike stations that are all around the city and then check out another bike. That way you only pay the day fee and dont get charged more. It actuually works out perfectly becuase to get from one place to another it takes around 30mins or less.
Montmatre is a large hill in Paris's 18th arrondissement. It was still very early in the morning and no one was really out. We went to Sacre Couer a cathedral on top of the hill with beautiful views of the city. After walking around the cute streets we came upon the "Wall of Love" where in every language the phrase "I love you" is written. For breakfast we had a crossant with butter and jam and a latte each. A typical Parisian breakfast.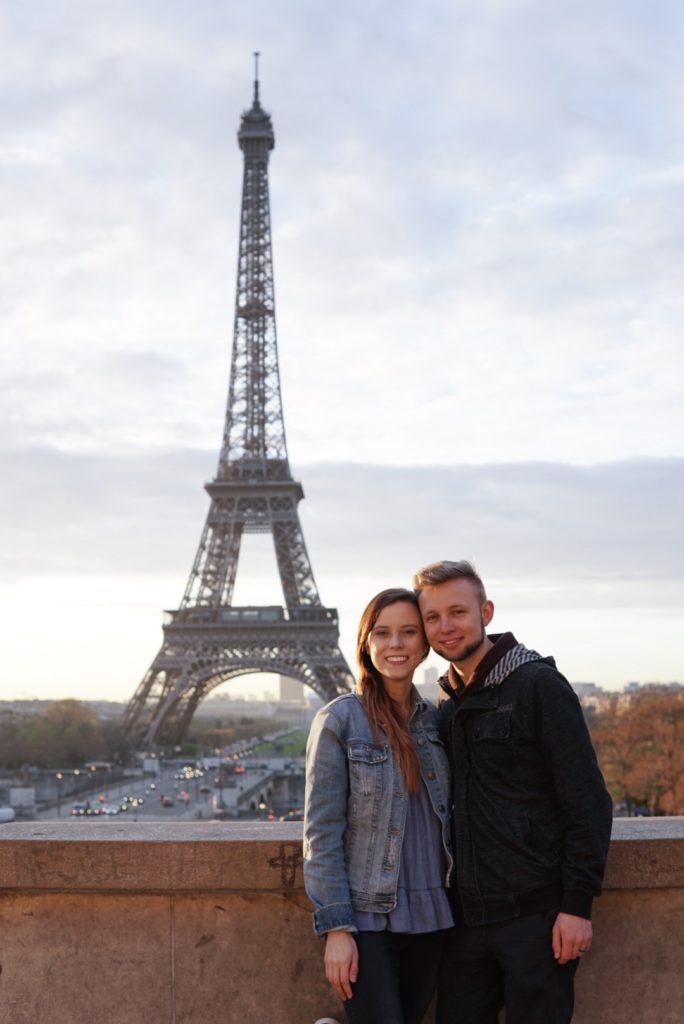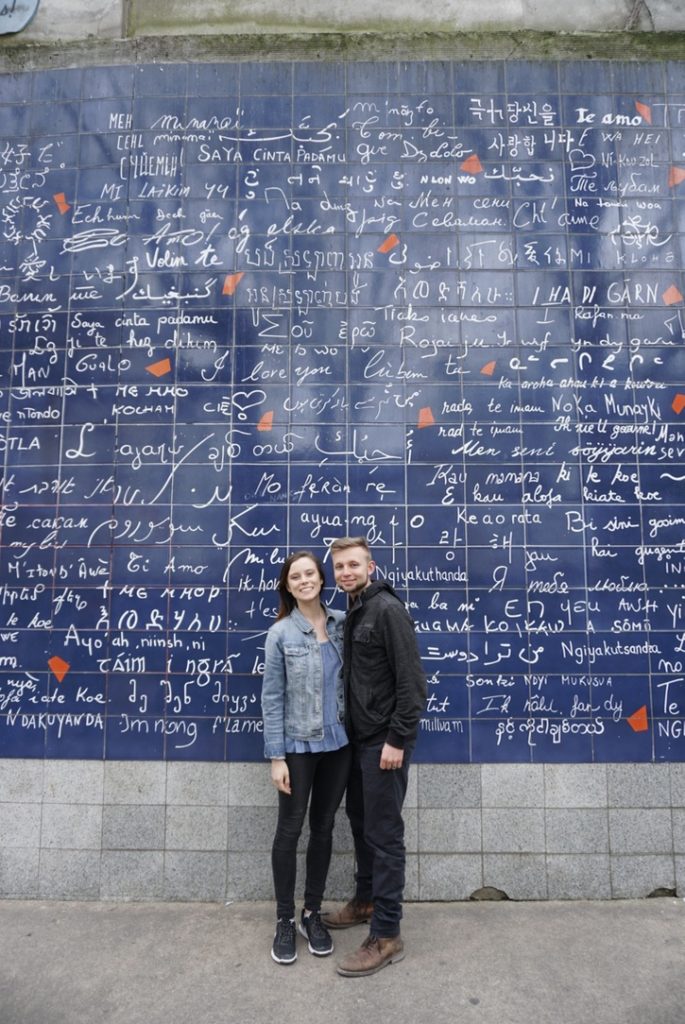 The other great thing about the neighborhood of  Montmatre are the street artists, crepes, macaroons, gelato and small souveier shops.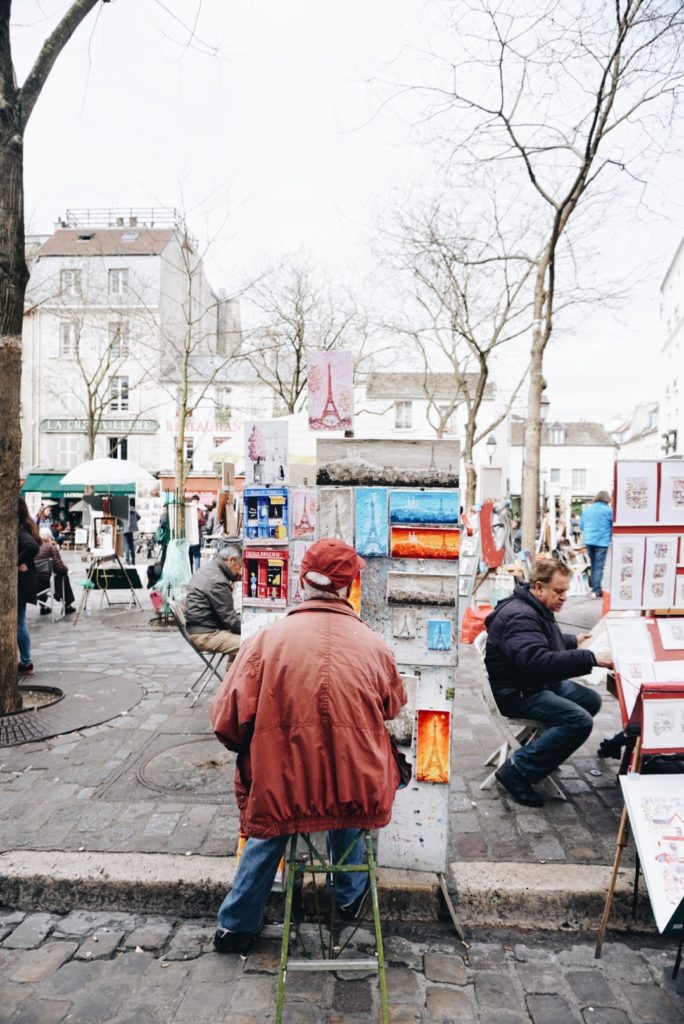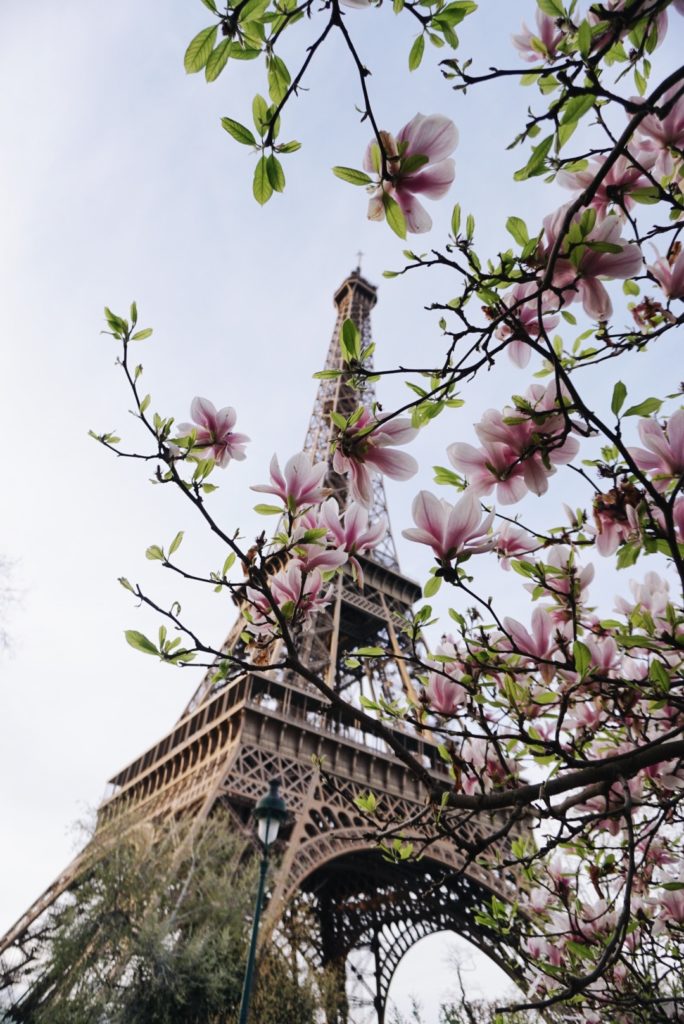 As we made our way down the hill we passed a backyard vineyard and many pattiseries that were full of freshly baked breads and sweets.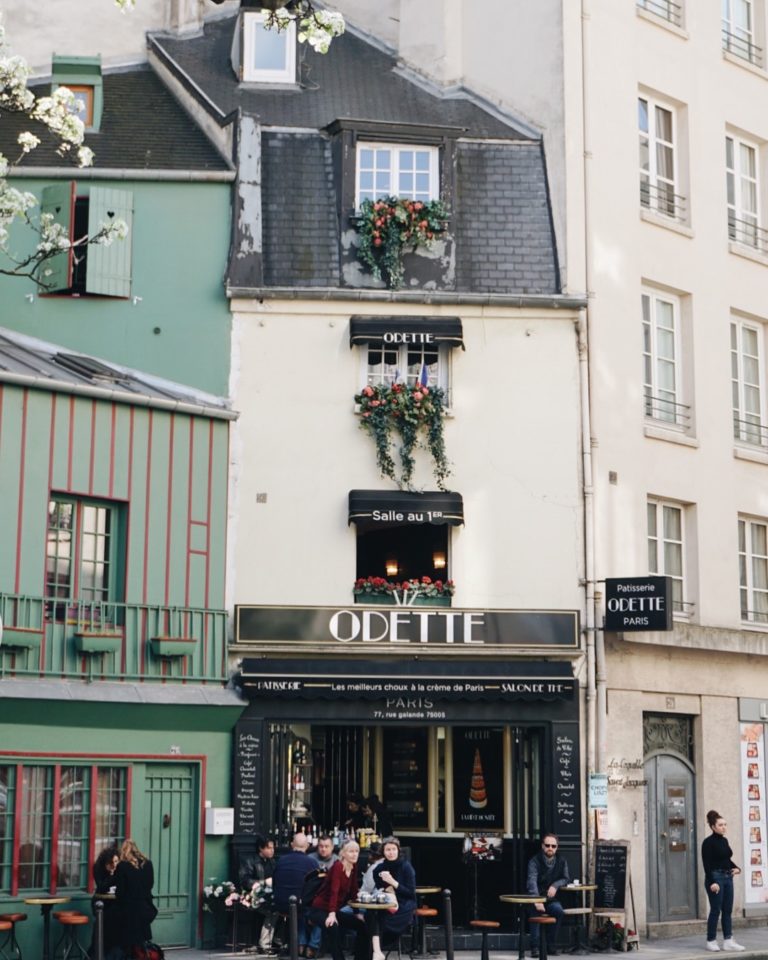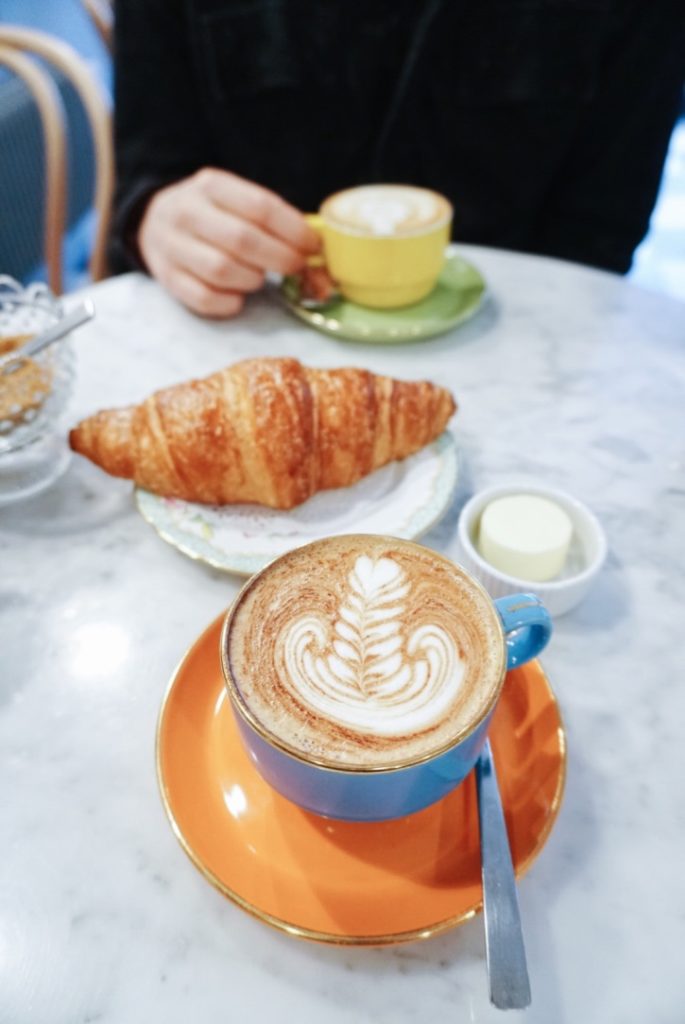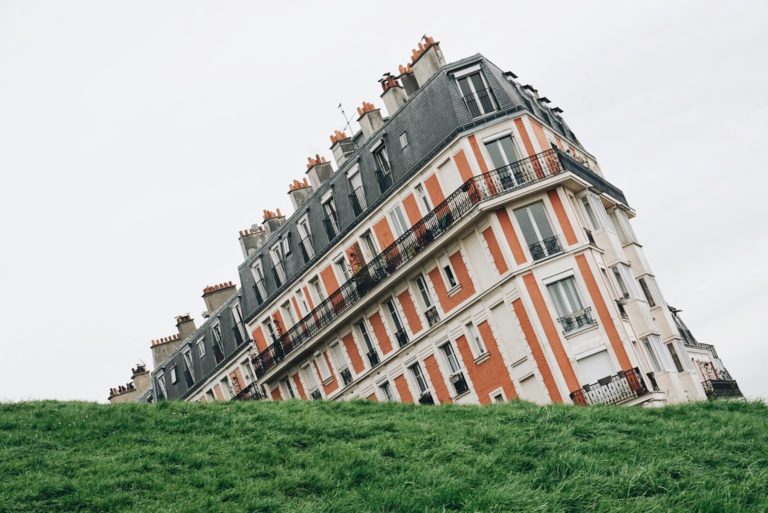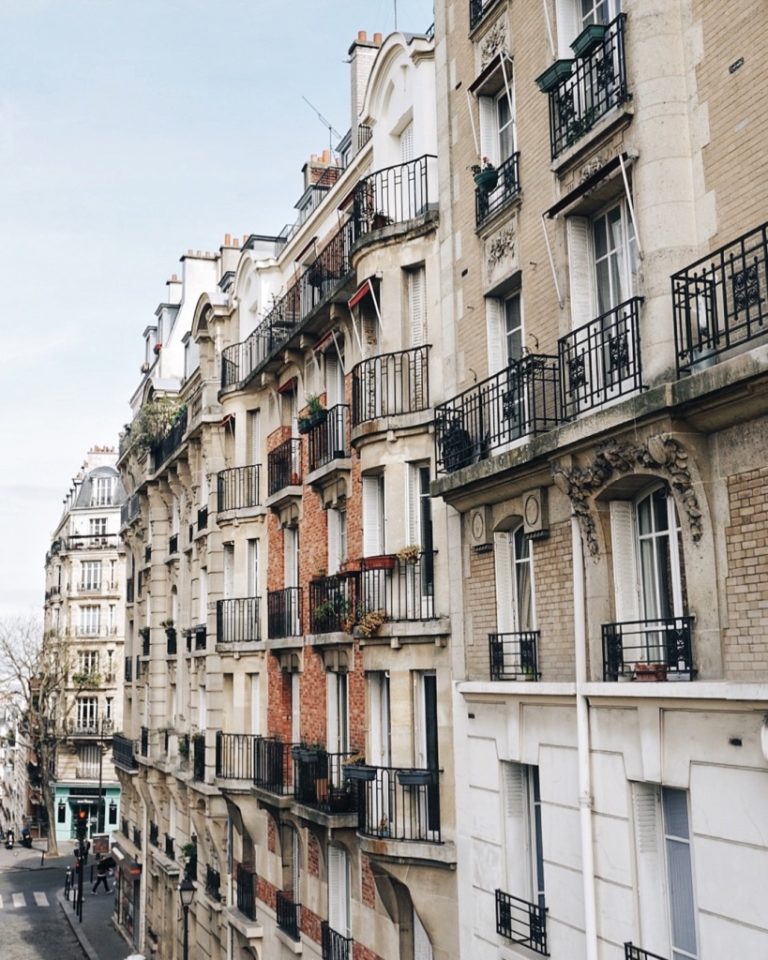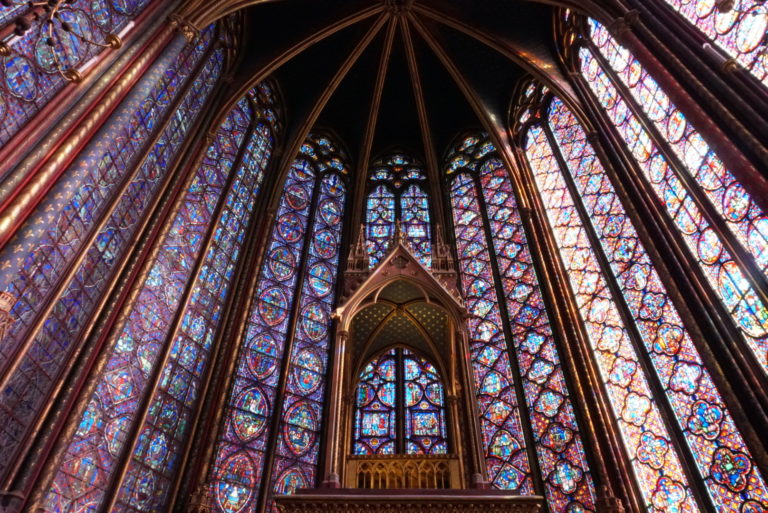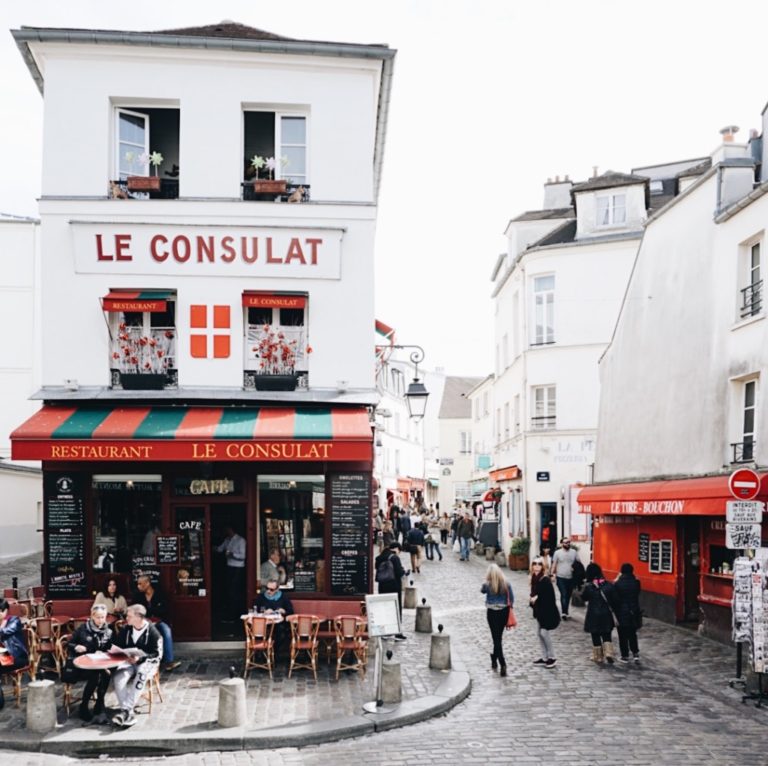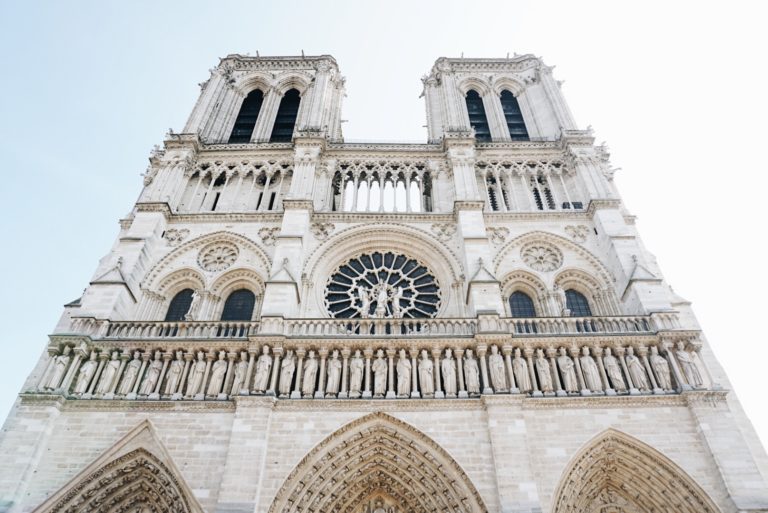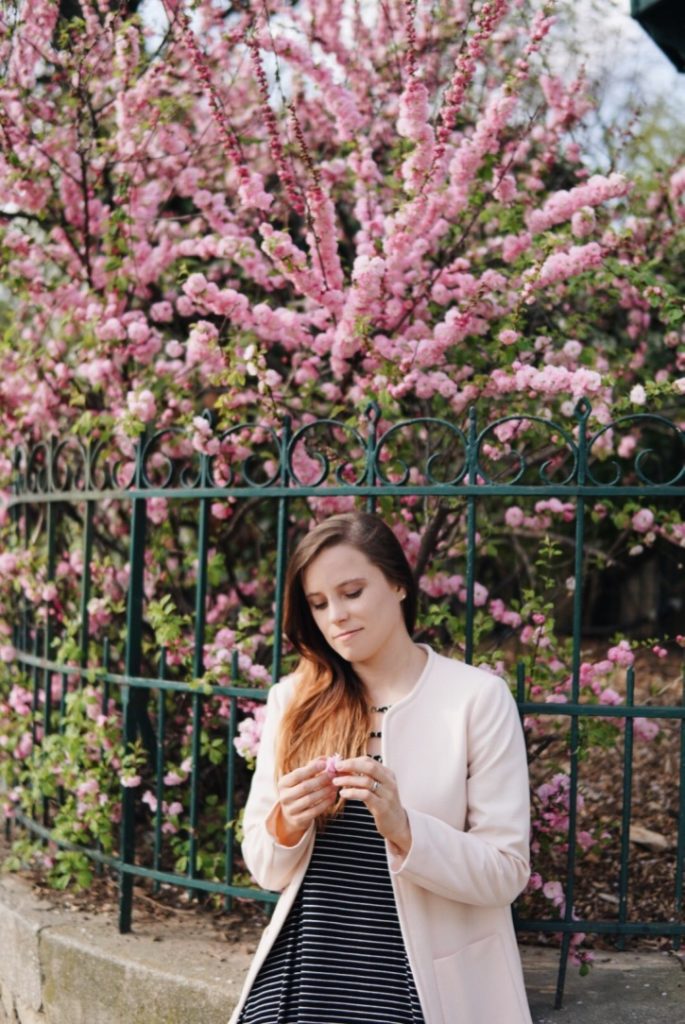 Paris has many markets. We found one and went shopping for picnic food. We had an evening picnic by the tower and as it got dark the tower started to sparkle. It was magical.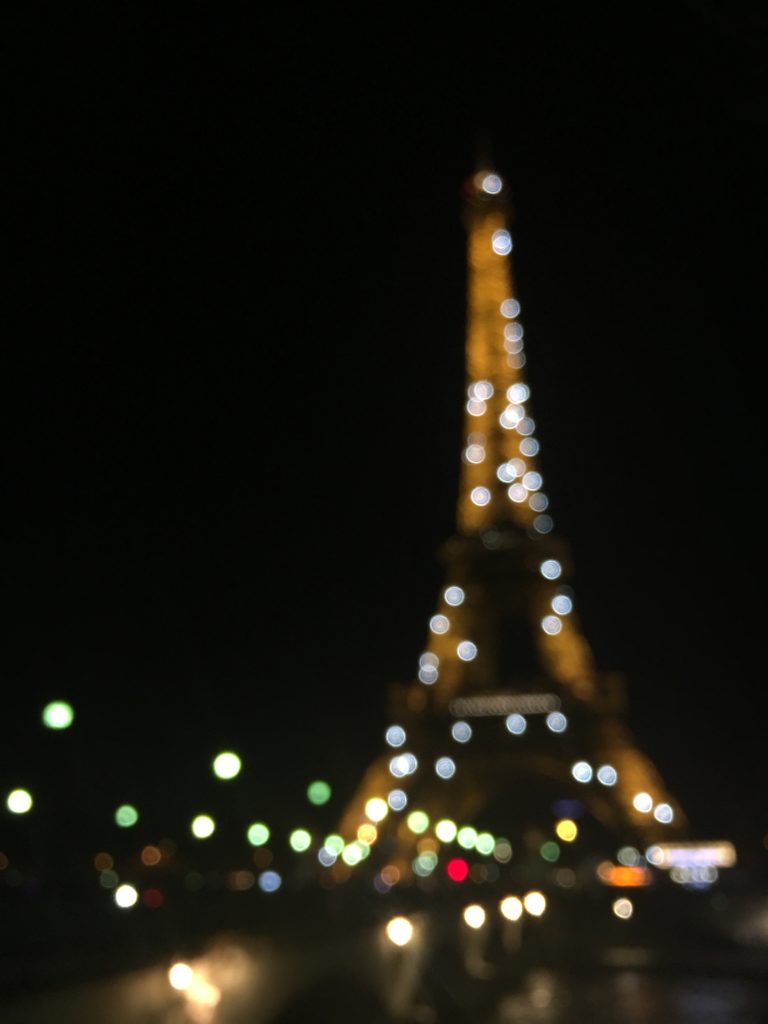 Strasbourg, France (1 day)
Strasbourg is a small city in France, a halfway point between Paris and Munich. It has a blend of German and French culture influences and especially in the architecture. It reminded us of Venice just a little bit because it also has a few canals and a river running through. We spent the day admiring the Gothic Cathedral Notre-Dam, walking through the narrow streets and canal bridges and walking alongside the river.
Strasbourg is a city that I would return to and spend another few days in. Its really a gem of a city. I loved poeple watching especialy the poeple sitting by the river and sketching the charming houses.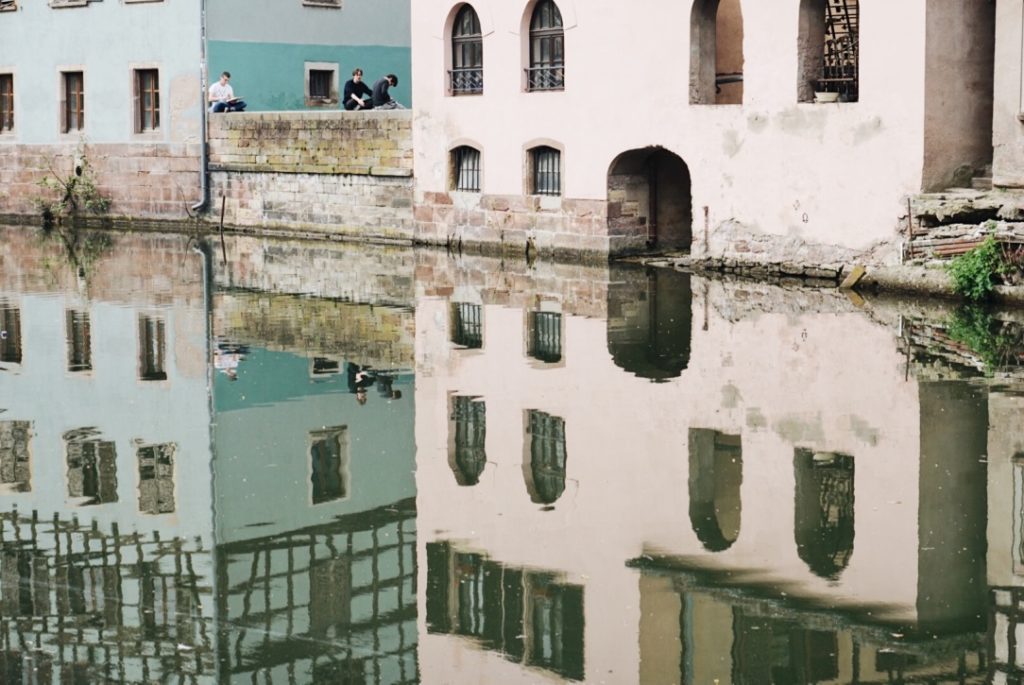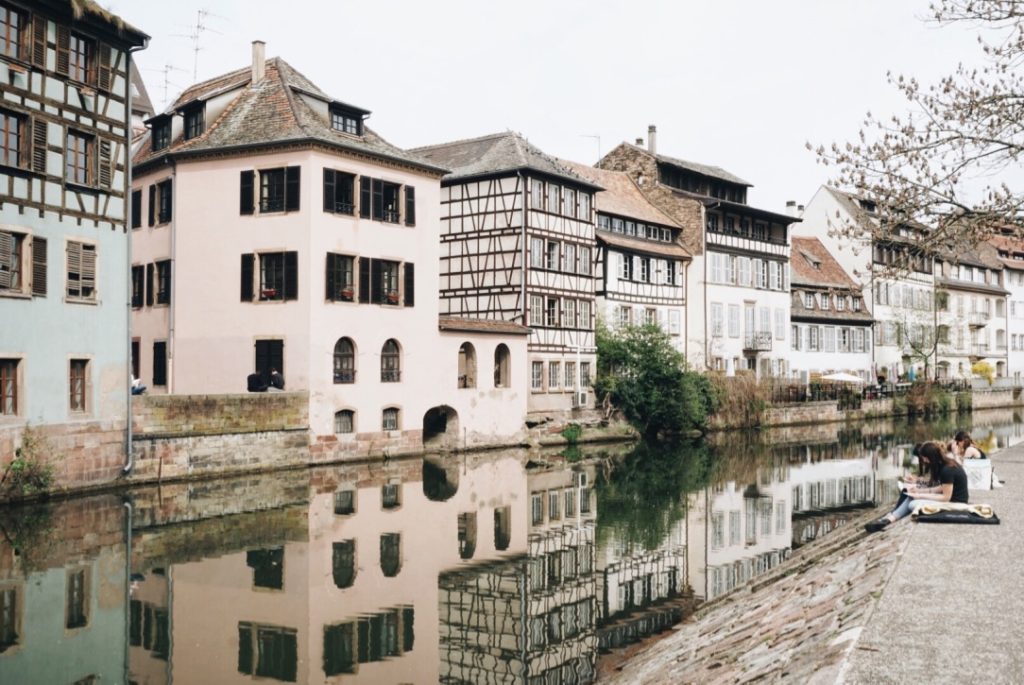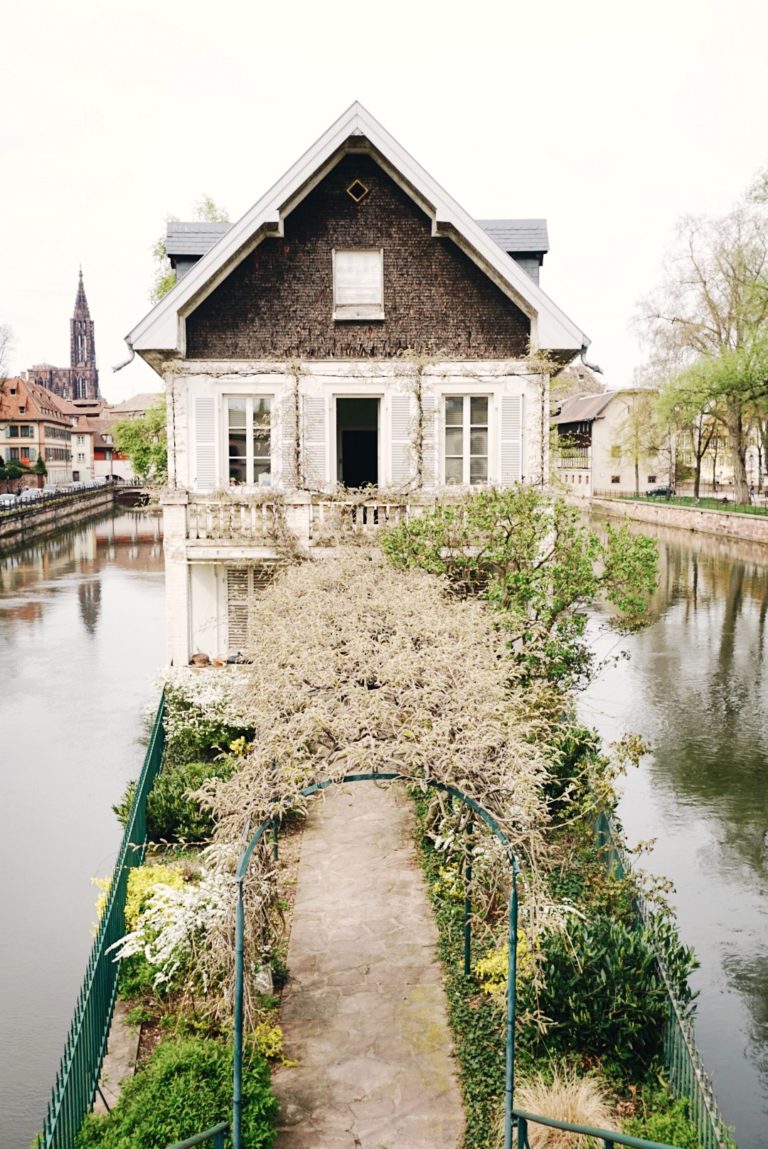 Dachau Concentration Camp in Munich, Germany
We made it to Munich in the evening after driving back from Strasbourg. My parents had their flight early in the morning but our flight wasn't until the next evening. We stayed in a private room in the Dachau region of Munich. Waking up early the next morning we took the city bus to Dachau Concentration Camp.
Touring the concentration camp brought the many movies and books that I have read about the Holocaust to life. It was hard to wrap my mind around all that happened there and how people could do such evil.
"Never Again" was written on a memorial site in the concentration camp.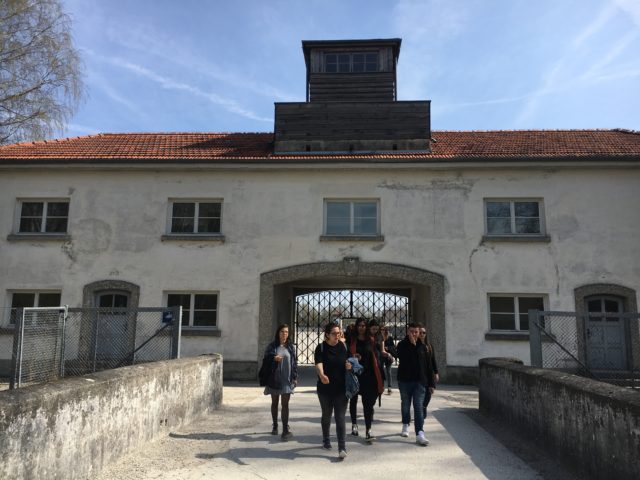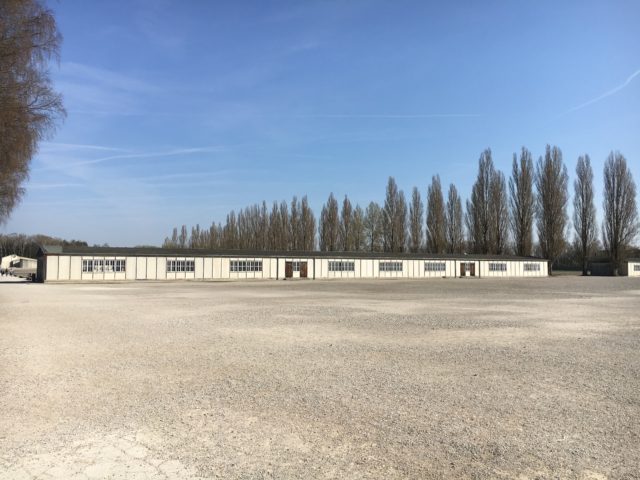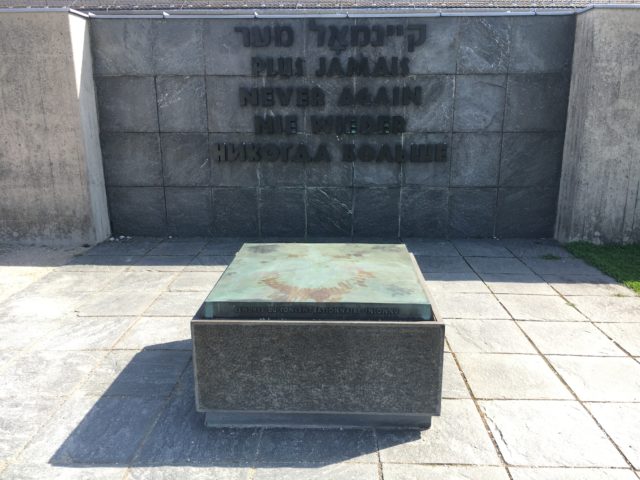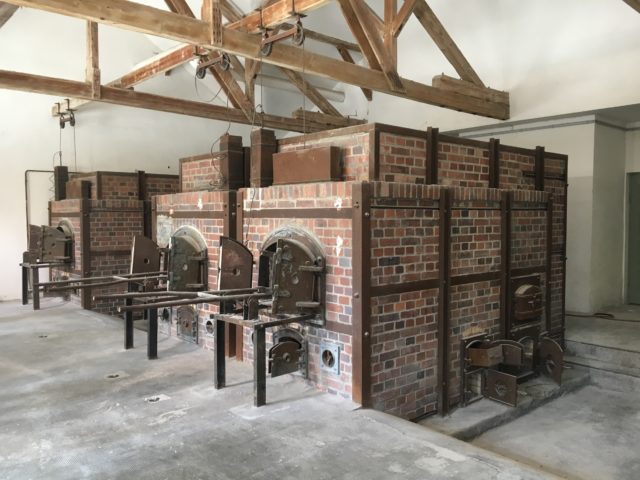 About Dachau Concentration Camp: It was opened in 1933 and its purpose was to include forced labor and imporionment of Jews, German and Austrain criminals and foreign nationals from countries that Germany invaded or occupied. Hudreds of people suffered and died or were executed in medical experiments. Dachau was a model for the other Nazi concentration camps that followed. 
What we learned
Time with family is priceless, especially traveling. You create lifetime memories. Even though we were saving up for a world trip it was important for us to spend time with family. Yes, we weren't able to save much in those two weeks of us being gone since we don't get vacation pay, but we were able to budget on this trip and make a plan to work a little bit harder afterwards to catch up with our saving goals for our world trip.
Traveling with a group is cheaper becuase you are splitting the cost of transportation, food, and lodging.
Traveling with a group is also diffiucult because everyone is different and as a result communication is very important!
Traveling out of season saves you lots of money because lodging, ticket prices are cheaper while lines to popular museums or attractions aren't long at all.
Spring is beautiful in Europe!
And much more!
We hope that you enjoyed the pictures and the stories that go along with them. If you have any questions or your hoping to visit some of the places mentioned in the post, please comment below and we will get back to your questions 🙂
Say YES to Adventures,
Katie & Alex