Arriving in Quito
Leaving on a trip of this length is a little intimidating. The balance between having money for the trip and buying the things needed for it can often be a fine line and sometimes expenses get cut that you are used to having. For example, we completely got rid of our cell phone service which means that our phones work only on WiFi wherever we go. If we don't have WiFi we are on our own.
We flew into Quito a little bit late at night, however we had no trouble finding a taxi directly to our hostel. The driver was friendly, had traveled before, and spoke great English. The cost is a standard $26 in the evening and the drive took about an hour.
Our only hiccup happened with the airlines who took about 3 days to deliver our bags to us. Needless to say this left us a little stranded without our shower essentials, or a change of clothes. We made the most of it, however, and spent our days exploring the city.
We found it very easy to pay for things since Ecuador uses the US dollar. Prices are actually fairly standard for many things such as the bus fare, cost of breakfast, or lunch, and etc.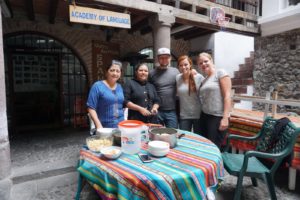 Taking Spanish Lessons
Our main difficulty appeared when we discovered it is practically impossible to travel in South America without at least a basic knowledge of Spanish. Katie had taken some Spanish in High School and College, but it had been a few years since she had used it. I, on the other hand, was completely ignorant.
To correct this deficiency we decided to take a crash course in Spanish. We didn't want to stay too much longer in Quito so we did three days at four hours a day. The teachers were amazing, patient, and very instructive. Part of our course involved going to the market, learning the names of the various fruits and vegetables, and purchasing the ingredients to a meal we then all made together!
Some highlights from Quito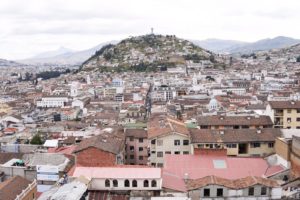 El Panecillo – A hill with the statue of a winged Virgin Mary crushing a Dragon
We hiked up about 3/4 of the way up this hill. At this point it got too sketchy and we jumped onto a passing bus the rest of the way. There are stairs that go all the way to the top which offer some of the best views of the city. Unfortunately they pass through a slummy area so they did not feel very safe to walk up. I could imagine a few locals being able to make a great business by escorting gringos up so they would feel safer!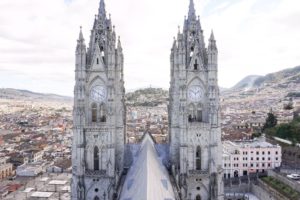 Basílica del Voto – Beautiful Cathedral
There are two paid entrances here, one to the church itself which is reminiscent of Notre Dam (a lot of the churches here are actually remind us of Norte Dam!) The other entrance is to the towers of which you can access two out of the three. One of the towers is accessed via a suspension bridge and allows amazing views from the pinnacle. The other tower is a clock tower which also has a restaurant inside with great prices!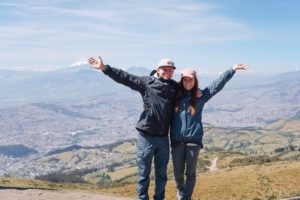 TelefériQo
This cable car takes you to an amazing view of the entire city of Quito. From here you can hike up to a volcano. We didn't get a chance to do it since we had Spanish class in the afternoon. Although the views almost made the cost worth it, to get your full value you'd probably want to do the hike since the cable car was fairly expensive. Alternatively you can bike down  the hill which I imagine would be a real thrill!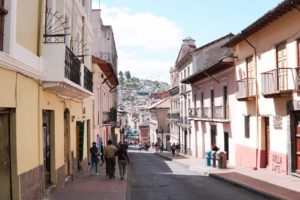 Exploring the city
We were very pleasantly surprised to find WiFi in the plazas and various busy city centers! Katie and I really enjoyed exploring the streets of the city. We saw Sunday service in the park, street vendors selling anything you could want, and beautiful buildings on every corner! We also stopped into every open church to see the beautiful paintings and decorations inside.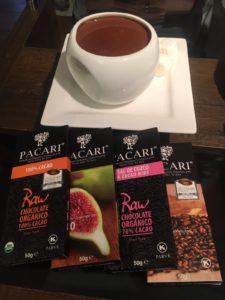 Drinking REAL Hot Chocolate
In Quito we tried real hot chocolate for the first time in our lives! Made with pure cocoa and milk we felt like we were drinking melted chocolate! Our favorite places for chocolate tasting in Old Town Quito, Chez Tiff Artesanal, Pacari Shop & the cafe right next to it.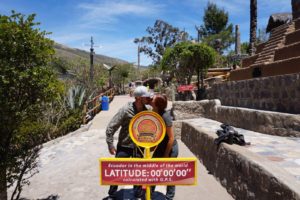 Mitad Del Mundo
The Middle of the World. There are two places that you can visit that claim "the middle of the world" but there's only one that's accurate called "Museo Intinan". It costs $4 to enter. The other museum has a monument and exhibits but isn't the true middle of the world. We spent a good hour at Museo Intinan taking part in the experiments like trying to balance an egg on a nail. We also witnessed how water spins in a certain direction in the Northern and Southern Hemisphere, but in the middle it doesn't spin and instead goes straight down. Since we are on the equator daytime in Ecuador is from 6am to 6pm every day.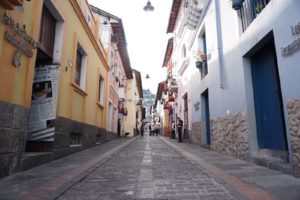 La Ronda
In the evening we strolled down this beautiful street full of fancy restaurants and boutique shops. We stopped into a small restaurant to try the local canelazo. Canelazo is a traditional spiced hot drink from the highlands in Ecuador. It is usually made with sugar cane alcohol, sugar, and boiled water with cinnamon. In ours they also added the fruit juice of naranjilla.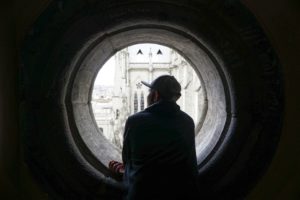 Observations about Quito
-The first thing we discovered as I mentioned above is that it's almost impossible to get around without knowing Spanish. It's definitely providing us with plenty of opportunities to practice our language skills!
-I'm only going to talk about this this one time because I don't want to be a "Negative Nancy". The air quality is nothing like I imagined it to be. My perception of South America was of this pristine land with clean, lovely air. To my surprise the fact that South America is less developed actually means that they have very little pollution control on their vehicles! Although in the country the air quality is very good overall, a single truck or bus driving past you will literally overwhelm you with smog for the next 5 minutes. As a result in the busy cities the air quality is not very good.
-We discovered that shopping at the central market and making food for ourselves helped us save a considerable amount of money!
Links & Favorite places in Quito

Hostel:
We stayed at Friends Hostel which had a great kitchen, a common area and a clean & big private room w/bathroom. It was in Old Town and was only a few blocks away from the central plaza. We recommend it!
Places to Eat at:
-Pizza SA (delicious pizza & salad)
-Galletti Coffee Roasters (a nice coffee shop to do work at or sip on a cup of coffee & people watch)
-Chez Tiff Artesanal (delicious chocolate) 
-Mercado Central – we only discovered it after a few days! It has very cheap but good food. "Almuerzos" are a standard $2-2.50. It usually consists of a soup, a main dish (rice, potatoes, a side of salad and meat) and fresh juice. There's also ladies who make fresh smoothies & juices, just make sure they use purified water.  There are lots of fresh fruit & vegetables to go shopping for if you cook your own food at the hostel.
If you have any questions about things that we did feel free to comment below, or send us an email. We would love to hear from you!