"The Tango is the natural pulse of Buenos Aires." – Leopoldo Marechal

"When walking along the wide avenues and cobblestone streets of Buenos Aires' barrios, it's almost impossible not to notice the fascinating array of architecture laid out before you."
Buenos Aires was everything we imagined it to be and even more! We spent a whole week in the beautiful city and are hoping to go back someday. Our favorite memories were made by stepping outside our Airbnb apartment and walking to the local market, taking a stroll through the local park and riding the metro to the unique places of Buenos Aires.
These are some of our favorite things about Buenos Aires.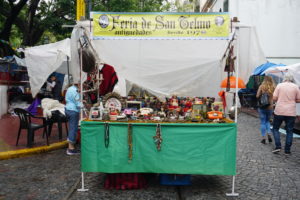 1.Visit the Sunday Antique Market (Feria San Telmo) & Boutique stores
Sunday is a perfect day to go out and explore the great markets that are set up that day. If you like vintage shopping and going into boutique store, this is the place! This Sunday market was full of people selling artisanal goods, vintage items, copper pots and pans and many other nicknacks. We wandered the streets admiring all the beautiful things even though we didn't buy anything. Later in the evening after 4pm you might even spot some street tango dancing. Stick around.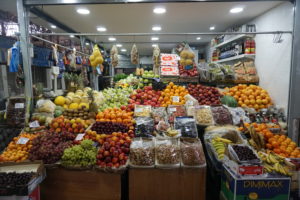 2. Enjoy coffee, snacks, & fresh fruit at the San Telmo Central Market
In the San Telmo area you will also find a big central market where you can buy local fruits and vegetables and sit down for a delicious cup of coffee and snack. This market is open everyday from 10am to sundown. Make sure to have cash on you, most of the shops don't take card. Also, don't forget to stop into Coffee Town  which offers high quality free trade coffee!
3. Watch an outdoor Tango Show
If you don't want to spend money on watching a tango show at a cafe or theatre you can spot many right on the street. The best place to spot an outdoor tango show would be later in the afternoon on a Sunday is at Plaza Dorrego. You will see professional dancers but they do expect you to tip if you watch.
If you can't make it on a Sunday the next best place to spot an outdoor tango show would be Avenida Florida really close to the Centro Cultural Burgess & the big mall. That street has a lot going on is a perfect place to visit in the late afternoon/evening for a stroll or even some shopping.
4. Watch a Tango Show in a Theatre
How can you visit Buenos Aires without watching a tango show. If the whole outdoor tango show doesn't work for you and you want something more organized and formal then visit the Centro Cultural Burgess for an evening tango show. It's not as expensive as all the other places and it is a lot more authentic! We enjoyed a show together and later that evening went out to eat. We watched the show called "Bien de Tango" and paid around $20-25 per person.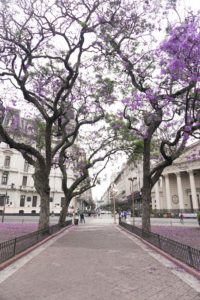 5. Walk in the Park, Bike or Roller Blade
There are many parks in the city where locals ride bikes, walk, run or roller blade. It's always fun to walk around in the park and people watch as everyone is doing something different. A great park to visit is usually known as Bosques de Palermo or Palermo Woods. It's the city's largest green space and has a patchwork of groves and gardens.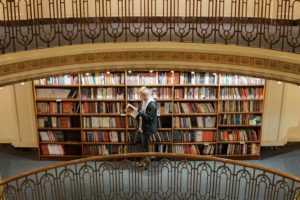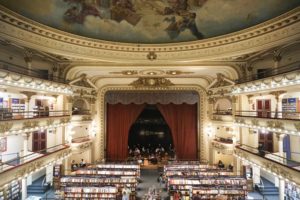 6. Read some books at El Ateneo Grand Splendid
This is the best bookstore we've been at so far! Even though most of the books are all in Spanish we enjoyed walking through it and admiring the beautiful architecture. The name of this place definitely fits it! Splendid!
7. Wander through the 'streets' of La Recoleta Cemetery
You can wander through the 'streets' of this cemetery which are lined with statues and mausoleums that contain notable people from Argentina. It was something we never saw before. Truly beautiful and a place to go on a walk through history! If you want a guided walk, there are many guides that can take you in a group tour and go into detail about certain notable people who have been placed here.
8. Watch a Soccer Game
The locals LOVE futbol and are wild about their team, Boca Juniors! The best way to get a ticket to a game is to go through a tour agency because you basically won't be able to just buy it yourself. There are also guides that can take you to the stadium itself and give you a tour of that. Make sure to check the schedule of games and plan it all ahead of time.
9. Go on a ferry ride to Colonia del Sacramento, Uruguay
If you have time and would like to visit Uruguay for a day or two you can take a ferry ride (1-3hrs) over to Colonia del Sacramento. It's a small town known for its cobblestoned streets, Barrio Historic and lined buildings from its time as a Portuguese settlement. It is especially beautiful during the spring/summer time when all the trees and flowers are blooming. There's many cute shops, cafes and restaurants. Hotels can get pretty expensive but as a day trip it's perfect! You can pretty much see everything in a day and walk throughout the little town. If walking is difficult then many stores rent out golf carts, bikes or cars for the day.
10. Visit Beautiful Neighborhoods
Palermo– is a wonderful neighborhood to stay in and explore because it has many shopping areas, cafes, restaurants and is a nicer part of town.
Sal Telmo– has an awesome central market to visit during the week or weekend and a HUGE antique and artisanal fair during Sunday. It's a fun neighborhood to visit for its boutique shops, cafes, Sunday fair, outdoor tango shows and restaurants!
Boca– it's a great place to visit for its colorful houses, tango, music, art and of course the stadium!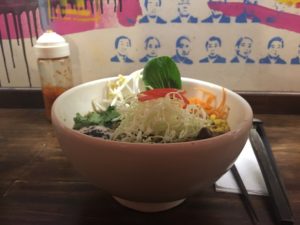 11. Eat some DELICIOUS food
Argentina loves its parilla (grill) so you have to try some!
Some of our favorite places were in the Palermo Neighborhood.
Fukuro Noodle Bar- ramen noodles & soup
Parilla 1880– Parilla
Green Bamboo– Vietnamese
Bio Solo Organico-vegan & vegetarian food
Full City Coffee House
Cafe Tortoni
LAB Tostadores de Cafe
Coffee Town
We also didn't go out to eat much because we cooked our own food at the Airbnb we stayed at. 
Where to stay
The first few days we stayed in Palermo Soho in an Airbnb and we loved it! It was a lot cheaper and better than staying at a hotel. We got to shop for fruits and veggies and cook our own food.
The next few days we stayed at Lopez Hostel & Suites. It was also located in Palermo Soho and was located near the metro station. It was in walking distance to cafes and restaurants. The owner was very kind, friendly and helpful in planning our time in Buenos Aires. The hostel is very clean and has been renovated from a colonial house so the architecture in the room is beautiful. There's a kitchen and breakfast is included.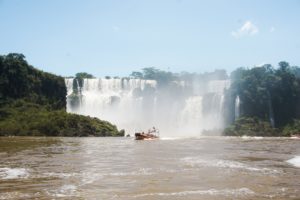 Bonus: Visit Iguazu Falls
Iguazu Falls is 18 hours by bus and 1 1/2 hour flight away from Buenos Aires. If you are in Argentina this is definitely a must see!
How to get around
The best way to get around is to walk and to take the metro. Taking the metro might sound a little overwhelming but it's actually very simple. All you have to do is buy a metro card (electronic card) and fill it as you go. A ride on the metro is AR $7.50 which is $0.40 in U.S. currency.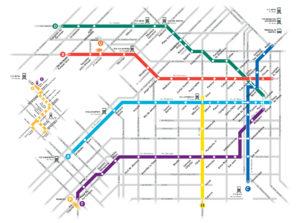 We hope that this guide has been helpful enplaning your time in Buenos Aires! Let us know if you have any questions or comments.
-Katie and Alex